When asked whether alternative medicines alone could cure cancer, nearly 40 percent of Americans recently surveyed answered yes.
"This is a dangerous misconception," said Victoria Manax, MD, chief medical officer at the Pancreatic Cancer Action Network (PanCAN).
"Standard cancer treatments are based on rigorous evidence proving they are safe and potentially effective for patients. On the other hand, alternative therapies do not require FDA approval and are often not tested in clinical trials or based on scientific data," she said.
The American Association of Clinical Oncology (ASCO) published results of their second National Cancer Opinion Survey on Oct. 30. Nearly 5,000 adults in the United States, including 20 percent who have or have had cancer, were asked a list of questions about cancer treatments, access to care, financial impact of the disease and more.
The most surprising finding surrounded the belief that alternative therapies alone could be curative.
Alternative medicine refers to strategies used in place of standard cancer treatments, like chemotherapy or radiation. Alternative approaches can include dietary supplements, acupuncture, massage and more.
"There is definitely a place in cancer medicine for these sorts of approaches, which can improve patients' wellbeing, quality of life and sense of control over their care," Manax said.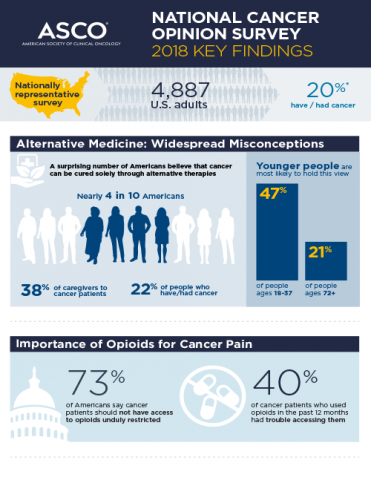 "But there is no evidence that alternative medicines can take the place of standard treatments – in fact, evidence suggests that patients' survival will be decreased if they only take alternative medicine," she continued.
The most important thing, Manax asserts, is for cancer patients to openly communicate with their healthcare teams about their treatment goals – and make sure to inform the team of any additional medications, dietary supplements, activities or interventions they're considering.
"Medicines that are considered 'alternative' can help patients manage pain, maintain a healthy weight and feel more relaxed," Manax said. "They can safely and effectively be administered alongside cancer-fighting treatments. This is known as complementary or integrative therapy."
The goals of complementary or integrative therapy align with supportive (palliative) care, which focuses on comfort, quality of life and a patient's total wellbeing during and after cancer-fighting treatment.
PanCAN strongly recommends that symptom management and supportive (palliative) care be provided early in a patient's pancreatic cancer diagnosis as well as during and after treatment.
A complementary approach that many pancreatic cancer patients ask about is medical marijuana. In ASCO's survey, 83 percent of respondents supported cancer patients' use of medical marijuana.
"There is insufficient large-scale data to date to establish whether medical marijuana can improve cancer pain or help stimulate patients' appetite," Manax cautioned. "Patients are encouraged to consult with their healthcare teams to determine the best strategy to manage these types of symptoms."
Other topics covered by the ASCO survey include the financial strain of cancer treatment and the government's role in regulating cost and funding potentially lifesaving cancer research.
"We applaud ASCO for undertaking this important survey and for sharing the results. Understanding public perceptions about cancer and its treatment can guide us to best support pancreatic cancer patients and their families," Manax said.
If you or a loved one is facing pancreatic cancer,
contact Patient Central
for information on treatment options, including integrative, complementary and alternative approaches, and for any other questions about the disease.