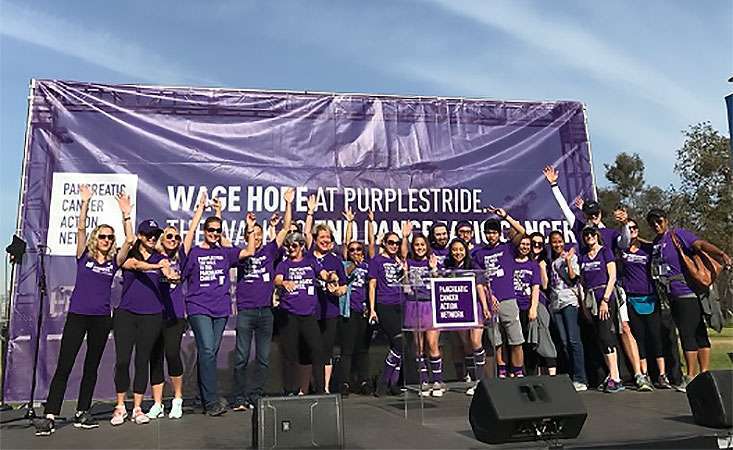 Raising more than $440,000 for the Pancreatic Cancer Action Network (PanCAN) was a walk in the park for PurpleStride fundraisers who turned out at Los Angeles's Exposition Park this past weekend. The LA 5K is one of the 55 signature events that take place across the country.
"PurpleStride demonstrates the importance of grassroots advocacy, volunteerism and fundraising," said Julie Fleshman, JD, MBA, president and CEO of PanCAN. "We had our first PurpleStride in 2008 and since then our dedicated supporters have raised more than $87 million nationwide."
.@erin_willett singing Hope's Alive at #PurpleStride LA with our survivors #WageHope pic.twitter.com/OBBrDLr3qn

— Julie Fleshman (@JulieFleshman) May 5, 2018
Among the fundraisers was singer-songwriter and reality TV star Erin Willett who flew in from New York to sing at the event. Before a crowd of more than 1,000 people, Willett sang her latest single "Hope's Alive" during the opening ceremonies.
"My dad didn't get to be a survivor, but our survivors are here today and you are the reason we fight harder, laugh louder and aim higher so that we can have more survivors," Willett said on stage. "Survivors are our motivation. You are why we Wage Hope. We are all here to fight for you. You are the true heroes in keeping Hope Alive."
Thank you @ll_popculture for chatting with @erin_willett at #PurpleStride #LosAngeles! @PanCAN appreciates your support! #hopesalive #wagehope pic.twitter.com/bypwoC9cj7

— Terra Hall (@TerraHall) May 5, 2018
"Hope's Alive" co-writer Liz Russo, who raised more than $2,100 between her birthday fundraiser and PurpleStride, sang in the chorus beside pancreatic cancer survivors, caregivers and volunteers. For some in the chorus, this was their second time singing with Willett and Russo, as they recorded the chorus of the track with her in January.
"Erin's anthem is so inspiring and heartfelt," said Mykel Crerie, who like Willett, wrote a song after losing a parent to the disease. "It's a powerful way to send positive energy to those affected by this disease. Being on stage singing along with her and the survivors is a moment I'll never forget."
Our tiny yet mighty team at #PurpleStride Los Angeles today #WageHope pic.twitter.com/f1lWkiWA8j

— utmosis (@utmosis) May 5, 2018
By the end of 2018, an estimated 55,440 people will be diagnosed with pancreatic cancer in the United States, and approximately 44,330 will die from the disease. Pancreatic cancer has one of the lowest survival rates of all major cancers with a five-year survival rate of just 9 percent.
While statistics like these never stray far from the minds of pancreatic cancer patients and their friends and family, PurpleStride remained an upbeat event where participants celebrated life.
"Money raised helps fund personalized support for patients, their families and caregivers, as well as support research that will lead to better treatment options to increase survival," Fleshman added. "Our goal is to bring the survival rate to 12 percent by 2020"
This past weekend was a busy one with PurpleStride walk/run events taking place from the west coast to New England. Between PurpleStride Los Angeles, PurpleStride Kansas City and PurpleStride Rhode Island, participants raised $732,000 for the cause.
PurpleStride fundraising efforts continue nationwide throughout the year. Additionally, there are several other events taking place in California:
Sign up for your local
PurpleStride
– the walk to end pancreatic cancer – today!