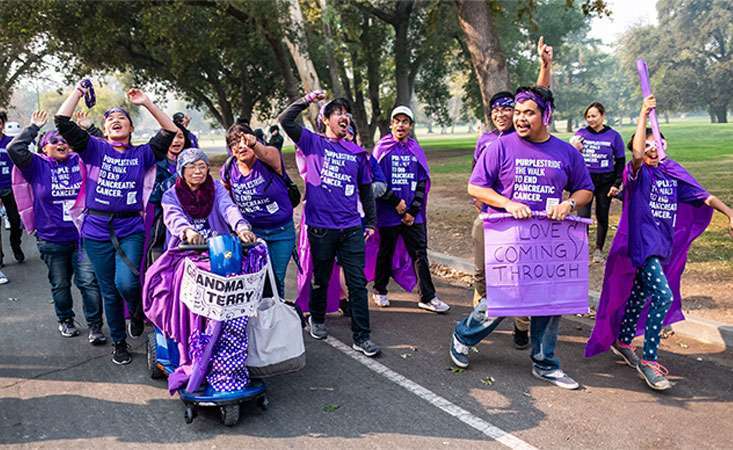 With 56 PurpleStride 5K walk/run events across the nation, 2018 was filled with an ever-present sea of "purple people." Joining the Pancreatic Cancer Action Network (PanCAN) at their signature events, thousands crossed the finish lines with arms raised to express their determination to fight and end pancreatic cancer.
Whether fundraising for the event, donating to a participant, striding in honor of a loved one or wearing purple during November or on World Pancreatic Cancer Day, supporters nationwide played a vital role in making this year of PurpleStride one of the most successful yet.
Fundraising for PurpleStride
Across the nation, volunteers and participants organized creative wraparound fundraising events to benefit their PurpleStride teams. Take a look at the following clever fundraising efforts from this year, and get inspired to step up in your own innovative way for PurpleStride 2019!
Wigging Out for Pancreatic Cancer
In New Orleans, one team hosted a "Wigging Out Day" at their office in which participants paid $5 to $10 to wear a wig for the day. The event raised around $100 and awareness of pancreatic cancer in their community.
Meanwhile, in Virginia Beach, Va., Captain Meagan Egan of Team Linda formed a CrossFit competition they dubbed "Wigs & Wods" to engage her gym and to honor her mother's memory. Participants entered the competition and donned purple wigs, T-shirts and ribbons as a registration fee.
Purple Spirits
Diane Borrison, volunteer and advocate, celebrated her 12th year of survival with PurpleFlight, a wine-tasting fundraiser to benefit PurpleStride Silicon Valley. A sommelier led guests through a tasting of superb wines, and Borrison collected over $6,000 for PurpleStride through her efforts.
In the same spirit, Karen Sharkey from Team Shark Attack in Central Florida raised nearly $1,200 through a fundraiser hosted at Florida Beer. The brewery donated 25 percent of their total sales from the night to the event, and raffles and participant donations rounded out the total. Even more exciting, the tap room manager at Florida Beer showed her support by offering a date in November 2019 to host the event again!
Awareness Activities
Creativity reigns when it comes to PurpleStride wraparound events! Fun and games are popular avenues for raising awareness and funds for your local event. For instance, in Virginia Beach, Team Hurwitz raised over $3,100 through a Zumbathon, where local sponsors, Zumba instructors and participants volunteered their time and danced to raise money for the cause.
Nearly 900 miles away, in St. Louis, The Fighting Irish PurpleStride team accrued more than $25,000 from 325 attendees at their 3rd Annual Trivia Night. For $20 a person, teams competed by answering trivia questions across different categories and difficulty levels. A silent auction concluded the night and helped The Fighting Irish surpass their fundraising goals.
In Columbus, Ohio, teams hosted various sporting events of their own. Team Mighty Ducks, Cathy's Cure and Chuck Neptune Memorial all planned respective golf tournaments that raised approximately $10,000 each. Presenting sponsor Mary Diaz Fund organized a tennis tournament that raised $10,000 as well.
Survivors Demand Better
Each year, survivors of pancreatic cancer come out to their local PurpleStride to demand better for this deadly disease. Their spirit and courage provide a beacon of hope to all event attendees and show why this fight is so urgent.
In 2018, a record-breaking number of survivors were present at PurpleStrides across the U.S. Philadelphia hosted 71 survivors, Charlotte, N.C., presented 63 and Dallas – Fort Worth welcomed 56. Each of the 53 other events celebrated their own group of survivors. In total, PurpleStride featured 1,628 survivors this year.
10 Years and Counting
Two of PanCAN's volunteer affiliates, Dallas – Fort Worth and Orange County, celebrated their 10th anniversary of PurpleStride in 2018.
Passion for the cause drives PurpleStride Orange County Chair and survivor Roberta Luna to continue showing up year after year to assist in planning the walk to end pancreatic cancer.
She remains a steadfast champion for PurpleStride because she believes that "the most important thing to know about PurpleStride is that you're not alone. A lot of people come in saying that they feel alone, and they don't know what to do. But when they leave our PurpleStride, they feel like they really have found a family."
Katy Palasek, affiliate chair of Dallas – Fort Worth, is dedicated to PurpleStride because "it is our biggest opportunity of the year to raise awareness and funding with both local and national efforts. It is for anyone, on any part of their journey. There is a huge community there waiting to lift you up."
Activities at PurpleStride
Erin Willett
Singer/songwriter Erin Willett from season two of NBC's hit show, "The Voice," brought her talent and energy to several PurpleStride events this year, including Los Angeles, Orange County and New York.
She continues to give back as an Influencer of Hope for PanCAN, fighting the disease that took her father's life in 2011. Willet co-wrote the song "Hope's Alive" with songwriters Liz Russo and Tova Litvin and performed it alongside survivors at the events. It is a powerful rallying cry for all those affected by pancreatic cancer.
All sales of the song benefit PanCAN through Dec. 31. Download "Hope's Alive" on iTunes, Spotify, Amazon Music, Google Play, and Tidal.
Preparing to Stride
From Zumba to energetic stretches, PanCAN makes sure all participants are warmed up and ready to take on the 5k walk/run. Check out this lively warm-up from PurpleStride Silicon Valley 2018 led by Esteban Deleon, dance instructor and choreographer.
Thank You for an Amazing Year
Each PurpleStride event this year helped to rewrite the future of pancreatic cancer thanks to their unwavering determination and spirited fundraising. While larger events, such as New York City and Boston, brought in $551,800 and $499,300, respectively, smaller events, like Sioux Falls, S.D., and Northeastern Pa., were just as tireless in the fight, bringing in $98,270 and $79,400.
PurpleStride is not the only thing PanCAN does, but everything they do depends on it.