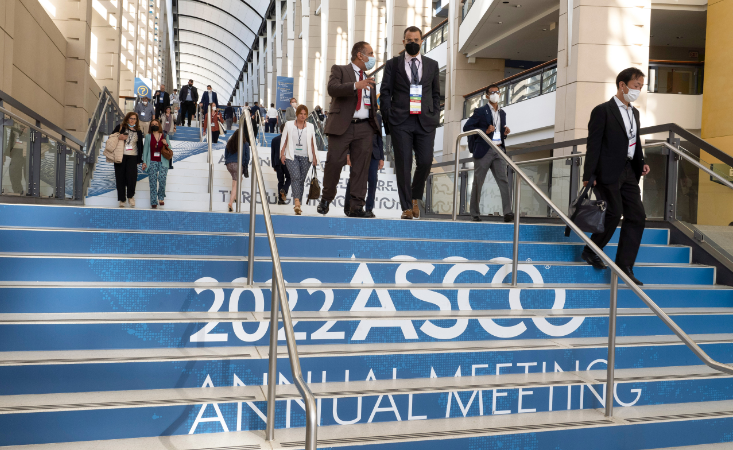 The American Society of Clinical Oncology (ASCO) Annual Meeting was back in person in 2022 for the first time since 2019. Included among the record attendance of 42,600 (73% in person) were oncologists, nurses, other healthcare professionals, researchers, biopharmaceutical companies, patient advocates and advocacy groups like PanCAN. PanCAN representation included our Chief Business Officer and Senior VP of Clinical Trials Operations, among other Scientific & Medical Affairs team staff.
Pancreatic Cancer Clinical Trials Updates
The ASCO Annual Meeting serves as an opportunity to highlight progress through clinical trials, which are the only way to bring new treatments to patients.
A phase III clinical trial conducted in China showed promising results for a subset of patients who have wild-type, or normal, KRAS in their tumors. KRAS is the most commonly mutated protein in pancreatic cancer, but not all tumors contain a KRAS mutation. This study evaluated treatment with an investigational drug called nimotuzumab followed by chemotherapy, or chemotherapy alone, in patients with locally advanced or metastatic pancreatic cancer with wild-type KRAS. The results showed that the average overall survival for patients who received nimotuzumab and chemotherapy was 10.9 months, compared to 8.5 months for patients treated with chemotherapy alone. It's important to note that additional testing will be necessary to determine if this investigational drug will be beneficial to patients in the U.S., and that the U.S. standard of care chemotherapy regimen is different from what was used in this trial in China.
Treating a patient's tumor based on its biological characteristics is known as precision medicine, and PanCAN's Know Your Tumor® service provides biomarker testing of tumor tissue and genetic testing to determine if there are treatment options that may align with each patient's unique biology.
Another clinical trial reported at ASCO that took a precision medicine approach tested an investigational drug called zenocutuzumab in patients with advanced solid tumors whose tumor tissue contained an alteration known as a fusion in the protein NRG1. The phase II clinical trial showed that 34% of 79 patients who could be evaluated had an objective response, which means that their tumor shrank or disappeared. Of the 19 patients treated within the trial who had pancreatic cancer, eight (42%) experienced an objective response.
There is a recent precedent for drug approvals for cancer treatments that are based on the biological features of the tumor and not its location within the body. Subsets of pancreatic cancer patients already benefit from Keytruda®, Vitrakvi® and other drugs that were FDA approved in a "tumor-agnostic" manner. Additional clinical trial investigation will be necessary to determine if zenocutuzumab is beneficial to patients with tumors with NRG1 fusions.
Looking toward immunotherapy approaches, which harness the patient's own immune system to recognize and attack the cancer cells, results from a clinical trial known as PRINCE were also presented at the meeting and published in the prestigious journal Nature Medicine. Sponsored by the Parker Institute for Cancer Immunotherapy, the PRINCE trial is led by PanCAN research grant recipient Robert Vonderheide, MD, DPhil.
The phase II PRINCE study included patients with previously untreated metastatic pancreatic cancer who received chemotherapy in combination with one or two investigational immunotherapy drugs. The investigational immunotherapy drugs tested were nivolumab and sotigalimab, which target different aspects of the patient's immune system. The combination of chemotherapy and nivolumab showed the highest one-year survival rate of nearly 58%, and the investigators presented early evidence of biomarkers that may predict which patient's tumor is most likely to respond to which combination treatment.
Results from a phase I/IIa clinical trial testing an investigational drug named nadunolimab were also presented at the ASCO Annual Meeting. Patients with unresectable (not removable by surgery), locally advanced or metastatic pancreatic cancer, who hadn't received prior treatment, were treated with nadunolimab in combination with chemotherapy. The patients' overall survival averaged 13.2 months.
Later in 2022, nadunolimab is expected to be further studied as part of the PanCAN Precision PromiseSM adaptive clinical trial platform. Precision Promise is a phase II/III clinical trial designed to determine if investigational treatments are effective for patients with metastatic pancreatic cancer faster and less expensively than traditional clinical trials.
PanCAN Initiatives Highlighted
Two poster presentations at the ASCO Annual Meeting highlighted progress through PanCAN's transformative clinical and scientific initiatives.
First, a poster described the novel design, current status and future goals of Precision Promise. Presented by Precision Promise Clinical Trial Consortium Chair Vincent Picozzi, MD, the poster explained the rationale and complex statistical design of Precision Promise, which allows multiple investigational treatments to be compared to two standard-of-care chemotherapy options. The adaptive nature of the trial means that investigational treatments that show promise can quickly progress to later stages of development, while those that don't benefit patients can be discontinued.
The second poster presented at the conference featured data from PanCAN's Know Your Tumor precision medicine service. Whereas the data that have been published and presented from Know Your Tumor to date pertain to pancreatic ductal adenocarcinoma, the most common type of the disease, this poster presented data about pancreatic neuroendocrine tumors (PNETs). PNETs represent less than 10% of pancreatic cancer diagnoses, and their treatment differs from adenocarcinoma.
The poster, in collaboration with the company Perthera and PanCAN partners at several hospitals and institutions, described an analysis of 23 patients with PNETs who participated in Know Your Tumor. All 23 patients received a combination of the chemotherapies capecitabine and temozolomide. Looking back at the biological characteristics of the patients' tumors, the researchers found that patients with PNETs that expressed a mutated version of a protein called MEN1 and a wild-type (normal) version of a protein called DAXX showed the best response to the chemotherapy regimen. The authors recommend a forward-looking study to confirm that patients with MEN1-mutant, DAXX-wild type PNETs will benefit from treatment with capecitabine and temozolomide.
Overall, the ASCO Annual Meeting serves as an important opportunity for stakeholders across the oncology field to come together and discuss clinical trial results, describe real-world observations and brainstorm future efforts to help patients with cancer live longer and better lives.
Contact PanCAN Patient Services
to learn more about the studies outlined above, for a personalized clinical trials search and for resources related to biomarker and genetic testing.