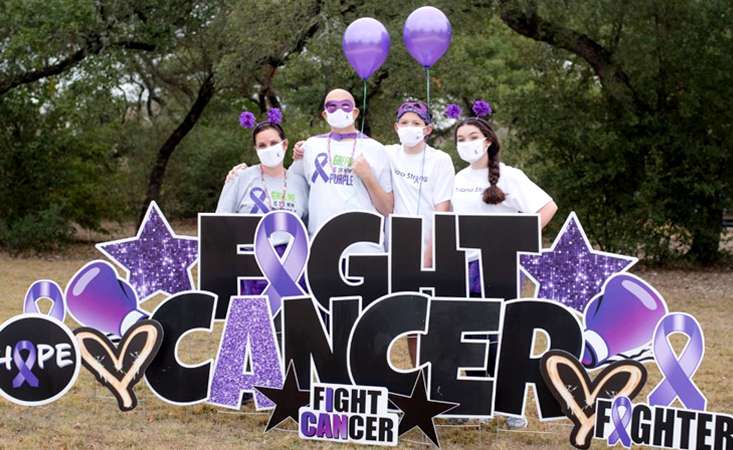 You did it! Your work to raise awareness during November, Pancreatic Cancer Awareness Month, paid off and purple was everywhere. As was awareness about PanCAN's critical programs and services that change patients' lives, from research to patient education and support.
From national, local and social media, to Virtual PurpleStride, to Congress and landmark monuments around the world, to the PanCAN website chock-full of your inspiring stories, here are a few of the top highlights (there are too many to list here in their entirety – but know that this November was the most successful yet!):
Mindy Kaling
The actor, author, producer/director and PanCAN ambassador, as well as the public service announcement Mindy created with PanCAN for November, was featured in major media outlets:
View this post on Instagram
Mindy shared the PanCAN PSA on her Instagram (with 5.7 million followers!), which received purple hearts, comments and shares from hundreds of people including actors Natalie Portman and Uzo Aduba, Deborah Messing and Angela Kinsey, who was Mindy's co-star on NBC's "The Office." Angela shared that her father died from pancreatic cancer and posted a story tagging PanCAN. Survivornet reacted with a story about the exchange.
PanCAN President and CEO Julie Fleshman, JD, MBA, was interviewed on CBSN about Pancreatic Cancer Awareness Month and she discussed Mindy's involvement with PanCAN.
Alex Trebek
We mourned "Jeopardy!" host Alex Trebek's passing of pancreatic cancer on Nov. 8, 2020.
PanCAN volunteers were interviewed on multiple local news media outlets, including in San Diego, where the NBC station KNSD-TV interviewed volunteer and survivor Anggie Becorest, who spoke alongside Alex on stage at PurpleStride Los Angeles 2019.
Alex posthumously opened "Jeopardy!" on World Pancreatic Cancer Day, Nov. 19, 2020, with a message recognizing the importance of knowing the signs and symptoms of pancreatic cancer. His message was picked up by media outlets across the country, including ABC News, which included PanCAN's social media post.
Still can't believe you're gone.

It's World Pancreatic Cancer Day. Please consider a donation in memory of the GOAT.https://t.co/JVkpnbFpQJ pic.twitter.com/vFLHa1l47H

— James Holzhauer (@James_Holzhauer) November 20, 2020
"Jeopardy!" GOAT contestant James Holzhauer posted this tweet asking people to donate to PanCAN—which was shared by the two other GOAT contestants, Brad Rutter and Ken Jennings.
Lisa Niemi Swayze
CBS's "The Doctors" featured a segment with Lisa about why she is involved with PanCAN, more than a decade after losing husband Patrick Swayze to the disease.
Yahoo! Life featured Lisa and her dedication to the cause
PurpleStride
Twelve Virtual PurpleStride events happened in November, making it one of the busiest times of year for volunteers and fundraisers. More than $2.2 million was raised, and counting! These dollars fund PanCAN's mission to take bold action on behalf of pancreatic cancer patients and their families.
Your Inspiring Stories
We also shared stories from our community that shine a light on research and how you are advancing breakthroughs by raising awareness and donating.
You posted nearly 70 stories on our Honor Wall.
NBC's "TODAY Show" interviewed pancreatic cancer survivor Mike Skaggs and the importance of disease awareness.
World Pancreatic Cancer Day
You asked members of Congress to wear purple on World Pancreatic Cancer Day and they did – Congressional champions including Sen. Chris Coons, Sen. Sheldon Whitehouse and Rep. Kay Granger posted on their social media.
Also, PanCAN's New York City Affiliate worked to light the skyline purple, including One World Trade Center and One Bryant Park. The Chicago skyline was also purple, and countless other city buildings and monuments were, too. Thank you, volunteers, for making this happen year after year!
There were moving TV interviews with PanCAN volunteers, including this one, with pancreatic cancer survivor Matt Wilson, who is co-chair of our Volunteer Advisory Council, on FOX's "Good Morning Philadelphia.
If you missed our webinar on World Pancreatic Cancer Day, Treatment Advances: The Latest in Pancreatic Cancer Clinical Research, you can still view it and see how your donations fuel progress.
And in other news surrounding PanCAN's work in accelerating progress against the disease, The Atlantic magazine's "People v. Cancer" summit features an interview at the start of the event with Julie Fleshman at the top of the program.
As a result of this high-profile coverage of PanCAN and the disease last month, PanCAN's web traffic, social media engagement, donations, and media and advertising impressions saw significant increases.
This elevates pancreatic cancer and the services we provide to patients and families in a huge way.
To you, our PanCAN supporters, thank you for all your hard work – let's keep the momentum going into 2021!
Donate
today – because you fund every bit of progress we make, giving pancreatic cancer researchers the funds to keep going, and giving patients guidance every step of the way.