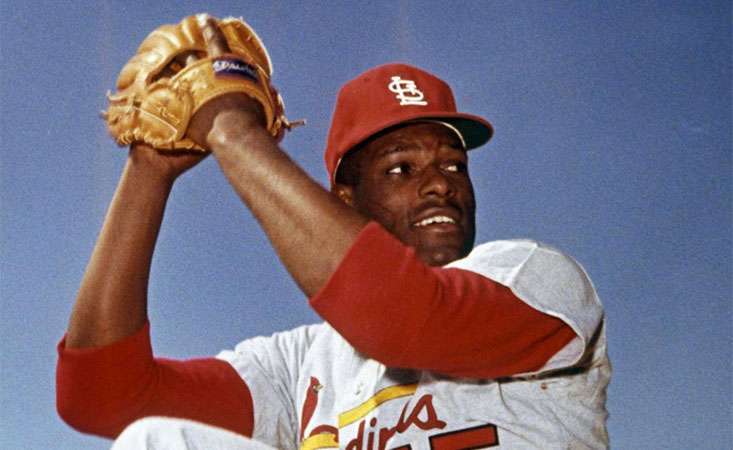 Right-handed baseball legend Bob Gibson, formerly of the St. Louis Cardinals, is battling pancreatic cancer. The news came on July 13 from a message he sent to the living Baseball Hall of Famers. According to his agent, Dick Zitzmann, who spoke with the St. Louis Post-Dispatch, Gibson was diagnosed a few weeks ago and is being hospitalized in his hometown of Omaha, Neb.
Widely considered one of the greatest pitchers of all time, Gibson spent 17 seasons with the Cardinals and won the Cy Young Award twice. He is a two-time World Series Champion and was named MVP both times the Cardinals played and won the championship.
"Get well soon, Bob. All of Cardinal Nation is behind you!" the Cardinals tweeted late on Saturday.
Zitzmann said in the article that Gibson would immediately undergo chemotherapy. "He's a fighter. He's a tough guy and everyone knows it in St. Louis. He's determined to go at this full speed ahead."
Gibson retired in the 1975 season and was inducted into the Hall of Fame in 1981. He turns 84 in November.
Pancreatic cancer is the third leading cause of cancer-related death in the United States with a five-year survival rate of just 9 percent.
Risk factors for developing pancreatic cancer include family history of the disease, age, chronic or hereditary pancreatitis, smoking, obesity and long-standing diabetes. These and other risk factors are still being investigated.
African-Americans are at an increased risk for pancreatic cancer. Black Americans have the highest incidence rate of pancreatic cancer of all ethnic/racial groups in the United States, up to 67 percent higher than any other group, according to the National Cancer Institute SEER data. Although there are many pancreatic cancer risk factors, there is evidence that this racial disparity is more related to social and access issues rather than biology.
Pancreatic cancer may cause only vague symptoms that could indicate many different conditions within the abdomen or gastrointestinal tract. Symptoms may consist of:
pain (usually abdominal or back pain)
weight loss
jaundice (yellowing of the skin and eyes)
loss of appetite
nausea
changes in stool
recent-onset diabetes
Gibson joins a growing list of notable public figures affected by the world's toughest cancer.
The Pancreatic Cancer Action Network (PanCAN) sends positive thoughts and well wishes to Gibson.
Contact Patient Central
with questions about pancreatic cancer risk factors and for other information and resources related to the diagnosis and treatment of pancreatic cancer.
Images used for this blog are assumed to be in public domain. If you are the owner of an image(s) used in this blog and believe their use on this site is in violation of any copyright law, please contact media@pancan.org.