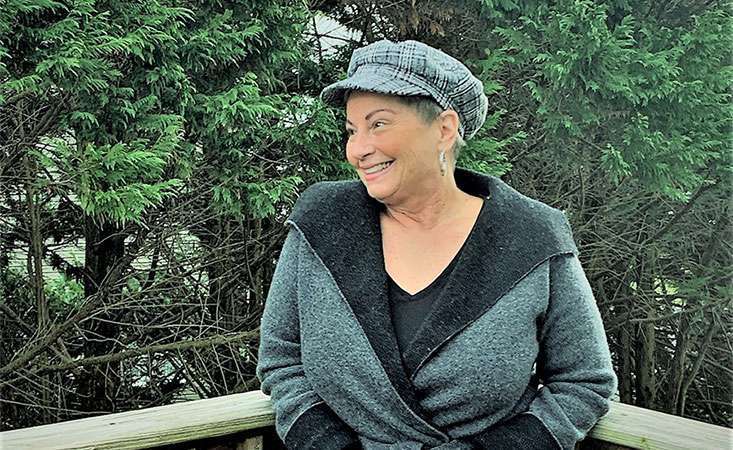 Editor's note: Sadly, Gina passed away in January 2021. We are so grateful she shared her story to inspire and help others. 
When Gina Harrison was diagnosed with pancreatic cancer in April 2018, she turned to a colleague and pancreatic cancer survivor, Matt Wilson, for advice. "Contact PanCAN Patient Services," Wilson told her.
And she is so thankful he did.
The 59-year-old mother of three and grandmother of three has gathered all the information about the disease she can get her hands on. The Pancreatic Cancer Action Network's (PanCAN) PanCAN Patient Services has been a valuable resource in that effort.
Now, she's starting a clinical trial based on the biology of her tumor – and she credits PanCAN for that.
Harrison's journey began with excruciating abdominal and back pain. "It was a pain I'd never felt before," she recalled. "It was worse than childbirth."
After initially blaming it on stress, she ended up going to the doctor. Several appointments and tests later, she learned the cause: Stage IIB pancreatic adenocarcinoma.
Harrison immediately saw a specialist about her treatment options. She had surgery, followed just weeks later by six months of chemotherapy.
She also enrolled in PanCAN's Know Your Tumor® precision medicine service. Tumor tissue removed during her surgery was used for molecular profiling to give Harrison information about its biology.
Harrison's Know Your Tumor report showed that her tumor had a BRCA1 mutation. The report also included a personalized list of relevant clinical trials, including one for patients with that mutation.
But Harrison's scans were clear for six months after chemotherapy. She didn't need more treatment yet.
Until, in July 2019, a CT scan revealed that the cancer had returned and spread to other organs. The disease was now stage IV.
Her oncologist recommended trying a different chemotherapy, but Harrison had her eye on a clinical trial at the University of Pennsylvania (Penn) that was identified on her Know Your Tumor report.
After conversations with her original oncologist – whom she loved – and doctors at Penn, Harrison decided on the clinical trial.
"I can't stay on chemo my entire life," Harrison shared. "I've seen what it does to my body.
"I think I need something different and something that my body is going to respond to. I'm hopeful that we can get this under control with the clinical trial."
First, she had to go through nine more rounds of chemotherapy at the end of 2019 to slow down the tumor growth.
Now, she's starting the new year with a new investigational treatment – a clinical trial that combines targeted therapy and immunotherapy.
Harrison is realistic but stays positive. "I'm pretty clear-eyed about what could potentially happen if things don't work out, but a positive outlook is critical.
"I was dealt a bad hand, but I'm not going to give up. I'm going to look for answers and remedies and hope for the best."
She also believes in the power of connecting with other survivors and appreciates the friendships she's made with people who truly know what she's going through.
"Meeting people who are in the same boat as you is very therapeutic. It's vital to reach out to someone like PanCAN who can connect you with others for support."
And Harrison has considered PanCAN an ongoing resource and ally throughout her journey.
"I feel very fortunate to have known about PanCAN. I have never seen an organization quite like this. They support every aspect of what you're going through."
Contact Patient Services
for free information about clinical trials – including a personalized clinical trials search – Know Your Tumor or anything related to the disease. They can also connect you with support resources, like the
Survivor & Caregiver Network
.