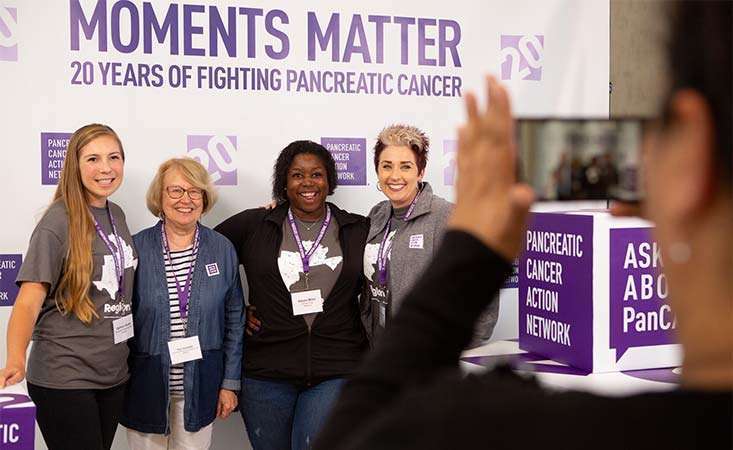 "The moment my mom's heart stopped beating, mine turned purple."
This moving quote was among hundreds posted on a story collection wall at the Pancreatic Cancer Action Network's (PanCAN) annual Volunteer Summit Aug. 15-17, 2019, in Manhattan Beach, Calif.
It was penned by a PanCAN volunteer – a volunteer who counts herself as part of a purple army of people who, over the past year, donated more than 115,000 volunteer hours to the pancreatic cancer cause.
More than 200 attendees, including PanCAN volunteer leaders from across the country, pancreatic cancer survivors, PanCAN fundraisers, PurpleStride team captains, members of the PanCAN Board of Directors and its Scientific and Medical Advisory Board, and other special guests, were on hand for presentations, interactive discussions, networking and training.
The theme of this year's event was, "Moments Matter: 20 Years of Fighting Pancreatic Cancer."
PanCAN was founded in 1999, and over two decades, the organization has celebrated numerous milestones, or moments that matter. In 1999, for example, the disease had little recognition and there was minimal national investment in pancreatic cancer research. Only a handful of researchers nationwide were studying the disease, and there were few options for patients.
Today, there are pancreatic cancer research programs at institutions across the country, different therapeutic approaches are being tested and federal investment in pancreatic cancer research is increasing.
Volunteers were recognized and thanked for their part in these and other achievements throughout the event.
During Summit's opening session, led by Julie Fleshman, JD, MBA, president and CEO of PanCAN, she said to the audience, "YOU make everything possible."
Attendees also spent time together in role-specific sessions, where they shared tips and best practices on everything from outreach in their communities about PanCAN's resources and support for patients and families, to building relationships with members of Congress, to ways to create a strong PanCAN PurpleStride volunteer committee, and more.
Telling the PanCAN story – and in turn, volunteers' stories of why they are involved, and why their own hearts have turned purple – was a key focus area, too. These stories serve as reminders of their own moments that have mattered throughout their PanCAN volunteer experience.
For many, Volunteer Summit is like a family reunion, with longtime volunteers coming together to share more than ideas and experiences. They also come to catch up on each other's lives, their families and insights into their community volunteer activities that support the pancreatic cancer cause. And volunteers new to the PanCAN "family" are welcomed with open arms.
Handshakes and hugs are plentiful.
Amid the buzz of conversation and laughter over the three days together, overheard were comments affirming volunteers' reasons for being at Volunteer Summit 2019:
"It's a family none of us would have wanted to join, but now that we are a part of this big purple family, we are so grateful to have each other."  
"I felt powerless when pancreatic cancer touched my life. Now I feel powerful, knowing the difference I can make in fighting back against this disease."
"I'm surrounded by people who have been through something similar to what I've been through. That simply does not happen in my everyday life. It's a healing experience."