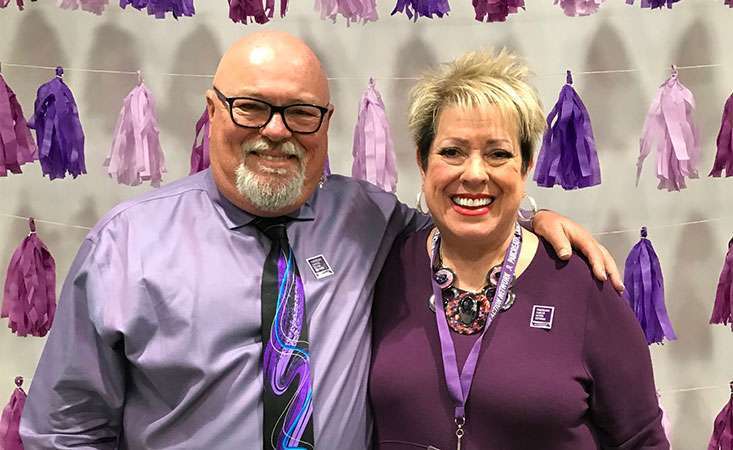 Anniversary Campaign, "Moments Matter," Celebrates Supporters' Roles in Organization's Milestones; Emphasizes that Pancreatic Cancer Patients Deserve More Moments with Loved Ones
MANHATTAN BEACH, Calif. (Feb. 22, 2019) – The Pancreatic Cancer Action Network (PanCAN) – the only organization that attacks pancreatic cancer on all fronts, from research and clinical initiatives to patient services and advocacy – commemorates two decades of service this month. At the time of PanCAN's founding, only a handful of researchers were studying the disease. Today the trusted national nonprofit has invested more than $50 million in research, created a patient support center that speaks to more pancreatic cancer patients than any other organization in the world and inspired more than one million people to take action against the world's toughest cancer.
A special event to thank supporters and staff for their generous and tireless commitment kicked off the 20th anniversary celebration at the nonprofit's headquarters in Manhattan Beach, Calif. More than 100 donors, volunteers, researchers, healthcare professionals and pancreatic cancer survivors – some traveling across the country to mark the occasion – were in attendance.
The launch of a new yearlong anniversary campaign, "Moments Matter," coincides with the celebration. The theme pays tribute to all who have worked to achieve key milestones throughout the organization's history – from creating and expanding the services and resources available to pancreatic cancer patients and families, to sustained increases in research funding, to advocacy efforts that led to the passage of the Recalcitrant Cancer Research Act, to increases in pancreatic cancer survival rates. It also reiterates the importance of continued work to ensure patients have more time – more moments – to spend with their loved ones.
PanCAN Founder Pamela Acosta Marquardt lost her mother to pancreatic cancer six months after diagnosis in 1996. Julie Fleshman, JD, MBA, president and CEO of PanCAN, and the organization's first full-time staff person, lost her father to pancreatic cancer four months after diagnosis in 1999. These losses fueled their desire to work to ensure others wouldn't have to go through the same thing they did.
"Pam's vision was that volunteers, advocates, donors, scientists, healthcare professionals and other generous people would work together to create awareness for pancreatic cancer," Fleshman said. "Thanks to that vision, this community has rallied together and turned sadness and anger into action for the past 20 years and today, PanCAN is a beacon of hope for people facing pancreatic cancer. Without Pam and our amazing supporters, people affected by this disease would still be walking a lonely path.
"We are deeply grateful to all those who are a part of the PanCAN family. Your efforts are working – patients are living longer, and our community has never been stronger. Certainly, there is much more progress to be made and we will keep fighting harder than ever to give patients the extra time and moments they deserve."
PanCAN urges more people to get involved in its national movement to change outcomes for pancreatic cancer patients and give them more moments with their loved ones. Those who have been affected by pancreatic cancer or know someone who has are asked to share a cherished moment that has mattered to them – or to share the moment they dream of for the future of pancreatic cancer.
A commemorative art installation featuring the shared moments will be showcased throughout the year in PanCAN's Manhattan Beach headquarters. Stories and photos will also be highlighted on pancan.org, with additional options to share on social media with #MomentsMatter.
More than 56,700 Americans will be diagnosed with pancreatic cancer in 2019 – representing a 2 percent increase over last year – and more than 45,700 people will die from it. Pancreatic cancer remains the third leading cause of cancer-related death in this country, killing more people than breast cancer.
From 2014 to 2017, the five-year survival rate increased from 6 percent to 9 percent. Despite the single digit five-year survival rate, progress is being made toward improving pancreatic cancer patient outcomes through more effective, personalized treatment options.
For more information about PanCAN, visit pancan.org or follow the organization on Twitter, Instagram and Facebook.