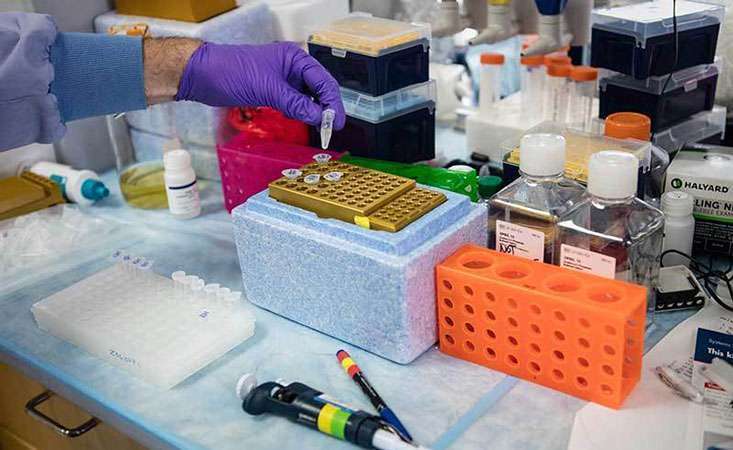 Editor's note: Welcome to the first article in our 2018 Year in Review series! Over the next couple weeks, we'll recap the year's top stories in pancreatic cancer research, national news, volunteer contributions and more. Like last year, we're thrilled to have two articles' worth of research updates. Be sure to check out even more research highlights tomorrow.
The more researchers and healthcare professionals learn about the biological and clinical features of pancreatic cancer, the better equipped they are to fight it.
This year saw treatment advances in targeted therapies, the management of patients before and after surgery, immunotherapy and a movement toward precision medicine – personalizing a patient's care to the biological characteristics of their tumor.
Progress Toward Better Treatments
To support urgently needed lab-based research, the Pancreatic Cancer Action Network (PanCAN) awarded eight grants to 11 researchers at 10 institutions in the United States, Canada and France this year, totaling $4.2 million. Recipients were selected through a competitive peer-review process.
Thanks to the generosity of supporters like you, included in this year's grants portfolio were five Translational Research Grant awardees whose projects aim to speed the advancement of scientific discoveries into clinical testing of new treatment strategies.
Read more about progress through awarding treatment-focused grants:
Because every pancreatic tumor is different, PanCAN strongly recommends molecular profiling to help determine each patient's best treatment options.
Pancreatic cancer patients can access molecular profiling, which provides a detailed report of the biological alterations that are present in a patient's cancer cells, through their treating institution or through PanCAN's Know Your Tumor® precision medicine service.
In 2018, PanCAN reached the milestone of providing Know Your Tumor reports to more than 1,000 patients since the service's inception in 2014.
In addition, the organization, along with Perthera Inc. and other partners, published findings about the first 640 patients to receive molecular profiling reports through Know Your Tumor.
Importantly, the data suggest that patients who went on treatment that aligns with a "highly actionable" alteration in their tumor had better progression-free survival than those whose treatment was not aligned to their tumor's biology.
For more information about molecular profiling, targeted therapies and other pancreatic cancer treatment options, contact PanCAN Patient Services.
Based on PanCAN's and other research groups' findings, treatment guidelines are now recommending that tumor tissue is stored for potential future molecular profiling to help determine the best treatment options for each patient.
Read more about progress in molecular profiling:
One of the types of alterations that can be discovered through molecular profiling is called a gene fusion. This year, a new targeted therapy, called Vitrakvi® (larotrectinib), was approved for the treatment of any locally advanced or metastatic solid tumor, anywhere in the body, that has an NTRK gene fusion.
NTRK gene fusions can occur in pancreatic tumors, although they are very rare.
Vitrakvi's approval represents the second time a cancer drug has been approved based on the tumor's biological qualities, rather than its location within the body. The first was the landmark approval of immunotherapy drug Keytruda® (pembrolizumab) in 2017. (And the discoverer of the biological pathway leading to Keytruda's effectiveness shared in winning the Nobel Prize in Physiology or Medicine this year!)
Another 2018 drug approval that can benefit a subset of pancreatic cancer patients is Lutathera® (lutetium Lu 177 dotatate) for the treatment of gastroenteropancreatic neuroendocrine tumors (GEP-NETs), including pancreatic neuroendocrine tumors (PNETs), that express somatostatin receptors.
PNETs make up about 6 percent of all pancreatic cancer diagnoses. The remaining cases are exocrine tumors, most often adenocarcinoma.
Vitrakvi and Lutathera were approved this year based on rigorous clinical trials. Pancreatic cancer patients who participate in clinical research have better outcomes. Every treatment available today was approved through a clinical trial.
PanCAN strongly recommends clinical trials at diagnosis and during every treatment decision. Contact PanCAN Patient Services for a free personalized clinical trial search. Or, start your own search using the Clinical Trial Finder.
Read more about progress in new drug approvals:
This year also saw encouraging clinical trial results surrounding the management of pancreatic cancer patients before and after surgery.
Presented at the 2018 American Society of Clinical Oncology (ASCO) Annual Meeting, two clinical trials shed light on treatment strategies for pancreatic cancer patients before surgery, known as neoadjuvant treatment, and after surgery, called adjuvant treatment.
The neoadjuvant trial results suggested that a combination of chemotherapy and radiation therapy can be beneficial before a patient undergoes surgery. And the treatment regimen even made some patients eligible for surgery when they otherwise may not have been able to have their tumor surgically removed.
The adjuvant trial showed a dramatic improvement in survival in patients who were treated with a combination chemotherapy called modified FOLFIRINOX after surgery, as compared to those who were treated with gemcitabine alone. These full results were recently published in the New England Journal of Medicine.
Read more about progress in treating patients before and after surgery:
In all, 2018 saw a great deal of progress toward recognizing pancreatic cancer cells' vulnerabilities and devising better treatment strategies for patients. Many of the projects and advancements mentioned above were made thanks to PanCAN's steadfast commitment to research progress, investing more than $8.5 million in research this year.
Improve the lives of patients
by helping us continue to fund potentially lifesaving research and conduct critical scientific and clinical initiatives.