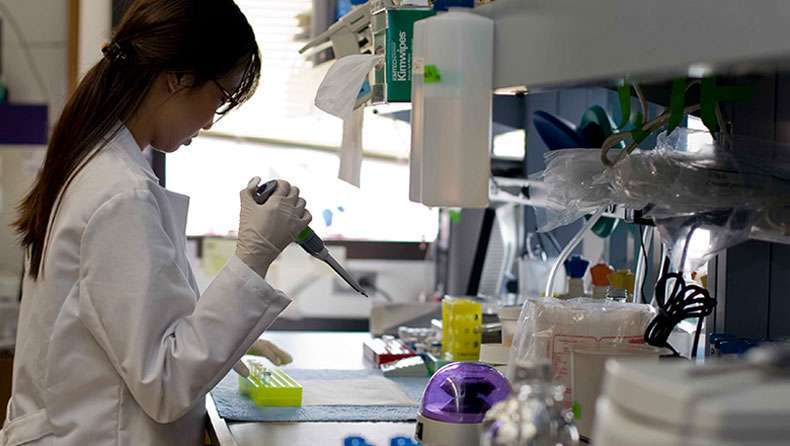 Editor's note: This article is the first in our "Year in Review" series recapping the year's top stories in pancreatic cancer research, national news, volunteer contributions and more. Keep an eye out for additional articles this month. And stay tuned for part 2 of research highlights, which will be published tomorrow. How amazing to have two articles' worth of research excitement to share!
2017 saw great momentum in pancreatic cancer scientific and clinical research directed toward improving treatment options for patients: the first cancer drug was approved to treat any type of solid tumor that displayed certain biological features. A nationwide effort dove into the genetic differences and similarities among pancreatic tumors, defining subtypes that may respond well to certain therapies. Large-scale precision medicine studies showed meaningful and promising results.
And the progress taking place in laboratories and clinics is paying off – for the third straight year, the five-year survival rate for pancreatic cancer increased by one percentage point. While there is clearly a lot of work to do, research advancements are moving us closer to our goal to double pancreatic cancer survival by 2020.
Progress toward better treatments
One of the year's top stories in treatment involved the drug Keytruda. Thanks to patient participation in clinical trials, it was determined that Keytruda is particularly effective against tumors with certain molecular features, known as microsatellite instability or DNA damage repair defects. This was found to be true for any solid tumor, leading to the FDA's first approval of a drug for tumors regardless of their organ of origin within the body (e.g., pancreas, breast, colon, etc.).
Keytruda behaves as an immunotherapy drug, harnessing the patient's own immune system to recognize and fight off the cancer cells.
Read more about Keytruda:
Unprecedented Drug Approval Can Benefit Pancreatic Cancer Patients
The Road to Effective Immunotherapy for Pancreatic Cancer Patients
5 Things to Know About New Drug Keytruda
Pancreatic cancer patients can determine their eligibility for Keytruda via molecular profiling from their healthcare team or through Know Your Tumor®, PanCAN's precision medicine service.
Precision medicine, or analyzing a tumor's biological characteristics to help determine treatment options, was a hot topic in 2017. Efforts conducted at Memorial Sloan Kettering and through the American Association for Cancer Research suggested that a significant percentage of patients who undergo molecular profiling receive meaningful information that can direct them toward personalized and potentially effective treatment options. These research groups' findings align with outcomes from Know Your Tumor that have been published and presented at national meetings.
Read more about precision medicine:
Large-scale Study Shows Benefit of Molecular Profiling
New Study Evaluates Molecular Profiling for Pancreatic Cancer Patients
Results of Large-scale Molecular Profiling Effort Are Published, Shared
Biological characteristics identified through molecular profiling can guide doctors to prescribe targeted therapies, or drugs that are directed toward abnormalities within the cancer cells that impact their survival and growth. Research published this year described a rare alteration, known as an ALK fusion, that can be directly and effectively targeted by an inhibitor against ALK.
Read more about ALK fusion research and a survivor story:
Rare but Targetable Genetic Change Discovered in Pancreatic Cancer Patients
Discovery of Rare Mutation Gives Survivor Options, Hope
Additional opportunities for targeted therapies can be identified through large-scale genomics efforts, like studies conducted by the federally funded The Cancer Genome Atlas (TCGA) pancreatic cancer team. Subtypes and clusters of the disease were defined that could impact treatment directions for those patients. Also, work showed that patients' prognosis can be linked to the genetic changes that do – and don't – occur within their cancer cells. This knowledge can influence treatment decisions as well.
Read more about genomics and genetics efforts:
Nationwide Effort Uncovers Genetic Clues in Pancreatic Cancer Cells
Tumor's Genetic Changes Can Impact Patient Outcomes
Many of the projects and successes described above involve work conducted by PanCAN research grant recipients and members of the organization's Scientific and Medical Advisory Board. In 2017 alone, PanCAN awarded approximately $4.9 million to scientists and clinicians across the country – including funding two new Precision Medicine Targeted Grants aimed to support high-priority projects that utilize patients' tumors' molecular characteristics to help determine the best treatment options.
None of this would be possible without your support. Please help ensure that we can continue to fund innovative and important research into the new year and beyond.