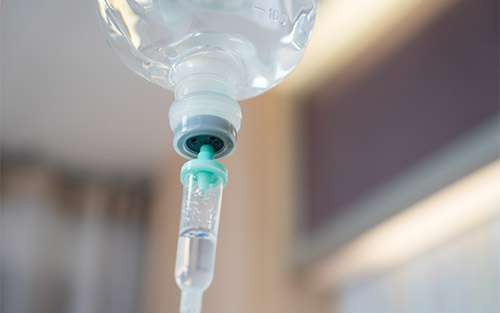 A type of treatment that doctors in Europe have administered for more than a decade is now available for use in the United States. In January, the U.S. Food and Drug Administration (FDA) approved Lutathera® for the treatment of gastroenteropancreatic neuroendocrine tumors (GEP-NETs), including pancreatic neuroendocrine tumors (PNETs), that express somatostatin receptors.
While somatostatin receptor targeting drugs are available to patients, Lutathera takes treatment a step further by selectively delivering radiotherapy to PNETs. It does this by attaching a radioactive substance to a somatostatin analog, which specifically delivers the therapy to cancer cells and not to healthy cells. Somatostatin analogs alone have been previously approved to treat PNETs and can slow tumor growth and relieve symptoms by stopping your body from producing too many hormones.
"It's about time," said Marcie Reber, a 56-year-old grandmother from Pensacola, Fla. "Being diagnosed with a PNET is not always a death sentence. But you must remember, to help yourself, you must educate yourself. You have to find hospitals and doctors that specialize in your specific type of pancreatic cancer."
Reber can offer this advice because she lived it. In the summer of 2000, doctors diagnosed her with PNETs. They initially gave her a projected three months to live, but a successful Whipple procedure ended up extending her life by eight years.
When the tumors returned in 2008, Reber once again acted as her own advocate by seeking out experts in the field of pancreatic cancer.
Reber's decision was an important one because PNETs only make up about 6 percent of all pancreatic cancer diagnoses, while the other 94 percent is made up of exocrine tumors. With such a low rate of occurrence, finding a physician who diagnoses and treats a high volume of this type of pancreatic cancer patients is key to improving outcomes in PNET patients. In fact, the Pancreatic Cancer Action Network (PanCAN) strongly recommends consulting with pancreatic cancer specialists who have experience diagnosing and treating the disease.
Reber's inquiries paid off and her search led her to a specialist who knew of a treatment in Europe that had garnered success in PNET patients, but at the time this treatment wasn't available in the United States. Determined to try all potential therapies, Reber asked her medical team to link her up with the University of Basel in Switzerland.
The university's hospital enrolled her into its Lutathera clinical trial and she flew from her home in sunny Florida to Basel, Switzerland, to receive it. The result – her tumors gradually shrank until they completely disappeared.
"One of the reasons I am alive today is because of my persistence," she said. "Lutathera absolutely helped save my life."
While Reber took a risk by going to Europe to receive Lutathera, PNET patients in America no longer have to make that decision since the FDA has approved the drug.
It's important to note that Lutathera has not been approved for, nor shown to be effective in, patients with the more common form of pancreatic cancer, adenocarcinoma.
Watch PanCAN's exclusive webinar on PNETs.
To learn more about Lutathera and other treatment options available for PNETs or other pancreatic cancer patients, contact PanCAN Patient Services.