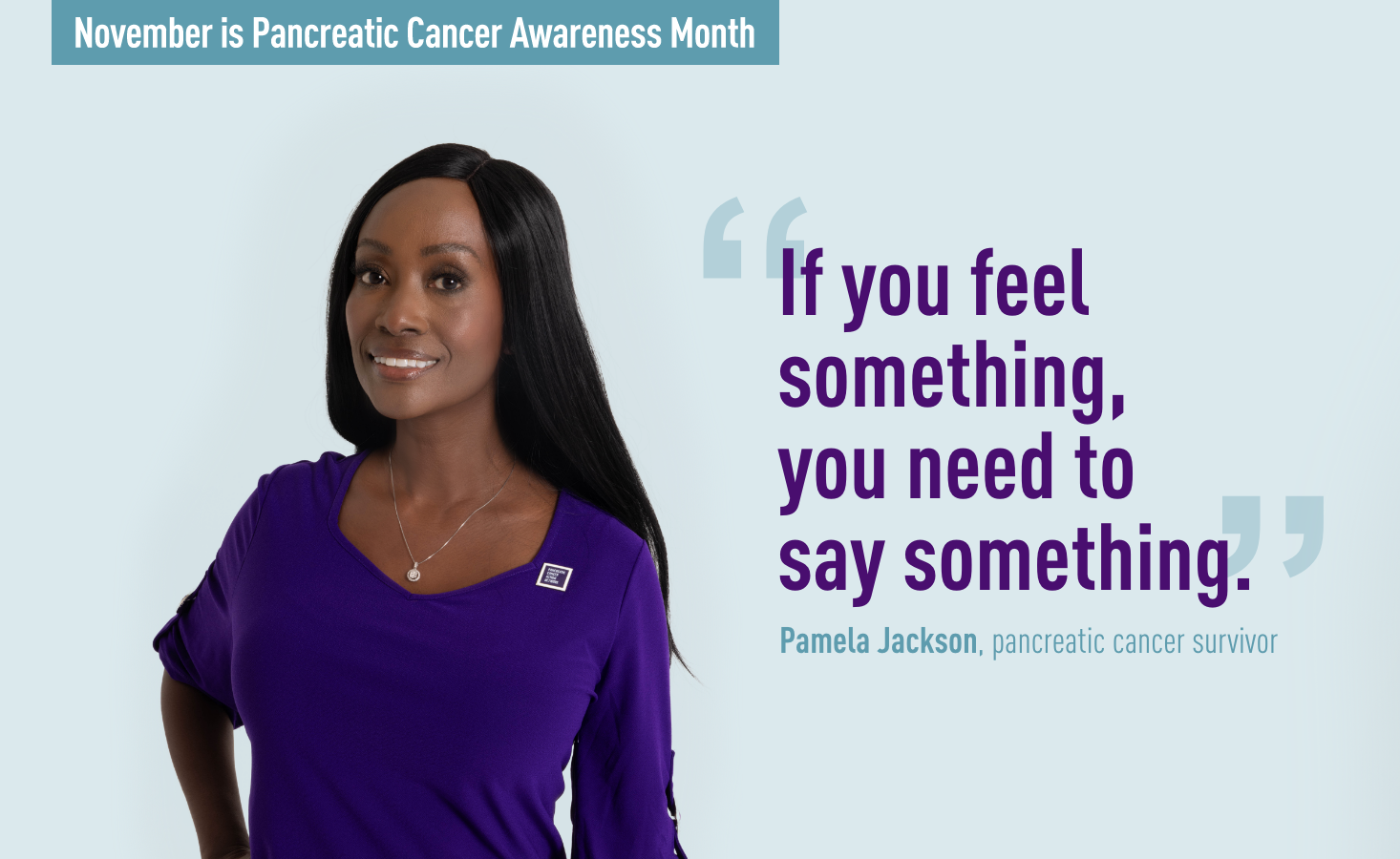 Pamela Jackson is changing the course.
The 12-year pancreatic cancer survivor is on a mission to spread awareness about the disease, its symptoms, risks and the importance of early detection – specifically in the Black community. Information she wished she knew about before her own diagnosis.
Pamela was no stranger to abdominal pain. She experienced pancreatitis at least six times when she was pregnant with her second child, Nicole, now 13. But eight months after giving birth, while on a trip to Florida, Pamela experienced pain so intense she was relying heavily on painkillers. Her husband insisted she go to the ER.
That visit eventually led to a diagnosis of pancreatic cancer. Adenocarcinoma, the most common form of the disease, was found on the tail of her pancreas. The tumor had been blocking her bile duct, which was the source of the pain.
"When I was having pancreatitis attacks, I didn't realize what the outcome could be," Pamela said. "I assumed I was young and fairly healthy. It never crossed my mind what could be wrong. I was quite surprised when the doctor told me."
At the time, Pamela didn't know that Black Americans are more likely to be diagnosed with pancreatic cancer than any other racial or ethnic group.
"I've worked in healthcare for a number of years. I've worked with the African American community. I did outreach from a health perspective, and I had no idea that pancreatic cancer was even prevalent, let alone prevalent in the African American community. I didn't even know where the pancreas was, to be completely honest. So, I was quite surprised. And I was emotional because I had an eight-month-old daughter. I had a five-year-old son and was recently married."
Pamela was lucky – she was diagnosed early enough that she was eligible for the Whipple procedure. Three weeks after returning home from Florida, she had surgery to remove the tumor – it had grown nearly five centimeters in that short time.
Hear more from Pamela during our World Pancreatic Cancer Day webinar, "Change the Course: Early Detection for Pancreatic Cancer." She's one of our special guests for a discussion about the latest in early detection strategies.
RSVP now
.
Once recovered, Pamela had six months of chemotherapy followed by six weeks of radiation. After treatment, she got involved with PanCAN.
She shared her story at PanCAN PurpleStride Los Angeles 2013, and she attended PanCAN's advocacy event in Washington, D.C., to urge Congress to make pancreatic cancer research funding a priority. Now, she speaks out in a bigger way about the disease, joining PanCAN's Survivor Council and sharing her experience more broadly in hopes of helping others who have faced pancreatic cancer, too.
During Pancreatic Cancer Awareness Month, Pamela is working with PanCAN as an ambassador for change. She wants the Black community to know what she now knows: that understanding personal and family risk, learning signs and symptoms, and advocating for yourself and your community can all make a difference.
"I think there's a stigma in the African American community around going to your provider and/or seeking treatment," Pamela said. "So, pain is something people have come accustomed to living with – out of fear. I would say that if you feel something, you need to say something. If you catch it early, you have your best chance of survival."
Pamela also wants healthcare providers to know that there are free resources through PanCAN Patient Services and people that can support patients no matter where they are in their journey.
She is hopeful for a future where everyone knows their risks and what symptoms to look out for.
"PanCAN is dedicated to stepping outside of the box. They go beyond traditional nonprofit events and really try to find a way to engage people in the communities. I think that is awesome."
Twelve years after her diagnosis, Pamela enjoys the simple things in life like spending time with her three children and husband.
"I've always been a happy person," Pamela said. "I think now I am still that way, but it's increased. So, I stop and smell the flowers. I appreciate butterflies. I'm rubbing the dogs. I try to show, especially for my children, that I'm thankful for being here every day. I really do. I like to do nice things for other people."