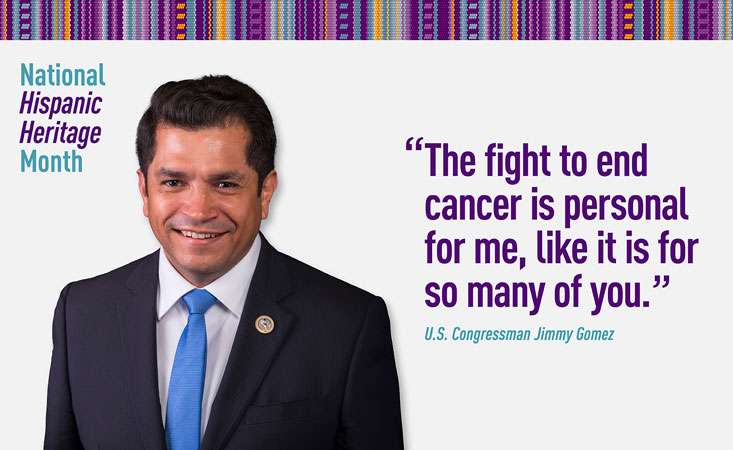 For U.S. Congressman Jimmy Gomez, the fight to end pancreatic cancer is personal: He lost his father to the disease. Now, as a representative for California's 34th district, he said he "strives every day to honor the legacy of my father and all the working people who built this country."  Here, Rep. Gomez talks more about the power of advocates from the PanCAN community, the need for more cancer research funding and how he plans to honor Hispanic Heritage Month.
We'd love to learn more about your dad. How does his memory inspire the work you do? 
My father, Joseph Carmen Gomez, came to this country from Zacatecas, Mexico, after working as a bracero, or farmworker, for the chance at a better life. He worked long hours as a cook and handyman to support our family. As a brand new father myself, I understand now the desire to do anything for your children, to make sure the world we leave behind is better for them.
I strive every day to honor the legacy of my father and all the working people who built this country. Just like my father worked to provide me with opportunities he never had, I am fighting to keep the American Dream alive and build a better future for my son and all the other children growing up across our country.
Funding for cancer research is critical for progress. What more needs to be done on this front? 
I believe we are on the verge of exciting new developments in cancer research. We have seen the amazing power of mRNA vaccines in saving countless lives during the pandemic and I am hopeful this and other new technologies will further spur advances in our fight against cancer.
There has never been more support and momentum here in Washington, D.C. – with the new Advanced Research Projects Agency for Health (ARPA-H) and new leadership at the National Cancer Institute (NCI) — for making cancer a thing of the past once and for all. It is our job as members of Congress to ensure that funding continues to keep pace and ramps up so that we capitalize on this momentum and catalyze future research.
PanCAN is an advocacy organization – your office has met with our advocates in the past. Thank you! Is there any advice you would give to someone in our network considering joining our advocacy efforts?
When you lose someone you love to cancer, you never forget that experience – the pain and tears, of course, but also the little joys that bring you together as a family. It also makes you want to tell your story, to share with others what made your loved one so special. That's why I'm so grateful for the opportunity here to talk about my father and the legacy he left behind. The fight to end cancer is personal for me, like it is for so many of you.
As for advice, I would say the reason we have such strong, bipartisan support for cancer research is because of the power of these stories. When advocates who come from every walk of life and every corner of our country share their stories and ask their representatives for support, their voices cannot be ignored.
Let's talk about health equity – Black Americans have the pancreatic cancer highest incidence rate of any racial/ethnic group. Hispanic American enrollment in clinical trials is low. Native American/Alaska Native populations have the lowest pancreatic cancer survival rate. What do you hear from your constituents about health disparities? What is happening now to address these and other disparities? Ultimately, how do we ensure that ALL Americans have equitable access to cancer care and treatment? 
Too many people — particularly people of color — are still not getting the health services they need because of a system that often fails to address racial disparities and social determinants of health. During the pandemic, Hispanics were at a greater risk of being hospitalized or dying from COVID-19 than other racial and ethnic groups in the U.S. due to lack of access to health care and jobs that place this community at a higher risk of being exposed to the virus. The disproportionate impact that COVID-19 and other diseases have had on communities of color is especially apparent in my district – one of the most diverse in the country.
Advances in cancer treatment will mean nothing if they are not accessible to all Americans. That means ensuring that you can access these treatments no matter your zip code or your ability to pay.
National Hispanic Heritage Month is celebrated from Sept. 15 – Oct. 15. What does this month mean to you? How do you plan to celebrate it? 
To me, Hispanic Heritage Month is a chance to have our stories told, to celebrate our culture and our history, and to uplift voices from our Latino community. In my district, we don't need a month to celebrate our heritage—we live it every day. This month, I had the honor of riding in the East L.A. Mexican Independence Parade – the nation's largest and oldest Latino parade – and I'm looking forward to bringing my son next year dressed head-to-toe in a traje de charro!