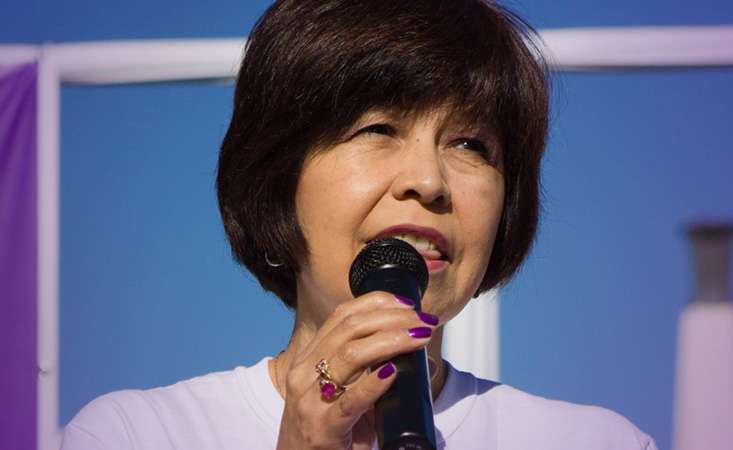 Lupe Romero, Pancreatic Cancer Action Network (PanCAN) volunteer, advocate and inspiration to many pancreatic cancer survivors, died of complications related to the disease on Saturday, Feb. 2, 2019.
Romero will be fondly remembered by all those she inspired, both at PanCAN and throughout the pancreatic cancer community.
"We are all saddened by this news," said Julie Fleshman, JD, MBA, PanCAN's president and CEO. "Our thoughts are with Lupe's family and friends at this time. Her enthusiasm for life was infectious. Her dedication to spreading hope to those facing pancreatic cancer has had, and will continue to have, a lasting impact on the PanCAN community."
Romero was diagnosed with pancreatic cancer in 2012, and since then, she fought several recurrences of the disease.
Throughout her fight, she remained determined to live every day to the fullest. One example: After her diagnosis, she did not set aside her love of running. She ran the last mile of the Los Angeles Marathon – her 11th time – six weeks after her Whipple procedure.
She went on to run another marathon and two more half marathons. Romero also continued to travel and even indulged her sense of adventure – she went skydiving multiple times with fellow pancreatic cancer survivors in Southern California.
Romero was dedicated to raising awareness for pancreatic cancer. She participated in multiple PurpleStride events, the walk to end pancreatic cancer, throughout the country, including Los Angeles, Orange County and New York City.
Romero also attended National Pancreatic Cancer Advocacy Day and every opportunity she could to be involved, while making lasting friendships with PanCAN staff and volunteers.
Julia Tominaga, PanCAN staff member and friend of Romero's, explained how much of an impact she had on the PanCAN community.
"From the day I met Lupe, she was a fighter. I have never met anyone with so much strength. I am so thankful that we connected through a mutual friend and that PanCAN was such a great resource for her throughout her fight. The friendships that she developed with other survivors and the Orange County Affiliate will be cherished forever. Her smile, faith, strength and love will never be forgotten."
Romero was always willing to share her insights and stories regarding her pancreatic cancer diagnosis in an effort to help others and communicate that people do not have to face this disease alone.
In 2018, Romero wrote a personal reflection on how the scars from her Whipple procedure were symbols of "honor, strength and hope" – and said that she hoped other survivors were empowered by their experiences.
In another story, Romero shared that her "purple family" was always with her, in her heart and soul.
She will certainly remain in ours.
"On good days and bad days, I inhale life to the fullest, with my three children and my purple family beside me. They're always in my heart and my soul."
The Pancreatic Cancer Action Network is the only organization attacking pancreatic cancer on all fronts through research, clinical initiatives, patient services and advocacy. Help us reach our goal to double survival by
donating today
.