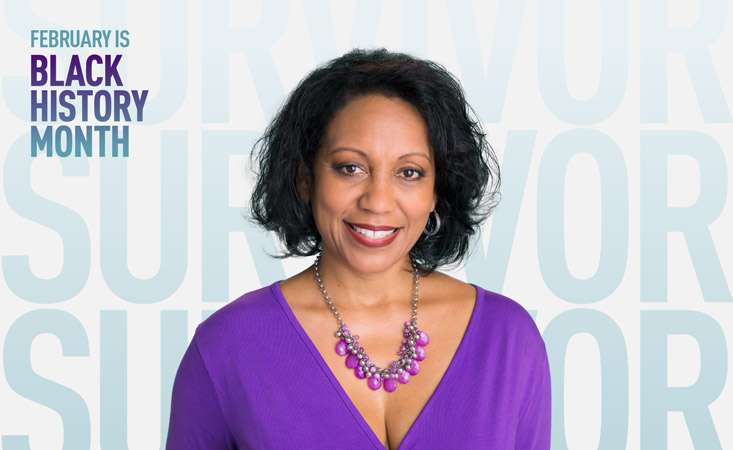 Editor's note: In honor of Black History Month, we're sharing inspiring stories from our community to pay tribute to those who are making progress against pancreatic cancer. Here, we share Teona Ducre's story, a pancreatic cancer survivor and PanCAN volunteer from Atlanta, Georgia.
Since being diagnosed with pancreatic cancer in 2016, Teona Ducre has been on a mission. She wants to raise awareness of the signs and symptoms of the disease. And she wants everyone – but especially those in the Black community -- to feel empowered to ask questions and advocate for themselves.
"Advocate, advocate, advocate," she said. "Members of the Black community often put the needs of others first. We need to prioritize our health and our needs so that we can live longer, better, healthier lives."
Teona points to her own story as an example of just how important patient self-advocacy can be.
Doctors thought the severe stomach pain she had been experiencing for some time was from an ulcer. At just 41 years old, pancreatic cancer wasn't a consideration. When she was finally diagnosed with stage 3 pancreatic cancer – on April Fool's Day 2016 – it came as a shock. She quickly entered a new reality of doctor's appointments, meetings with surgeons, bloodwork and scans.
She went through six months of chemotherapy, followed by surgery, and then five more months of chemotherapy. Looking back, she feels grateful that her cancer was caught early, despite the difficult road to diagnosis.
Now, she's focused on helping others affected by pancreatic cancer – in the hopes that earlier detection leads to more lives saved. In addition to serving on PanCAN's Survivor Council (she recently completed her term of service), she's appeared in public service announcements for PanCAN to spread the word about the important of genetic testing and biomarker testing to help determine treatment options and familial risk.
RSVP for our free virtual event
, "A Conversation About Pancreatic Cancer in the Black Community," on February 23. Hosted by Teona Ducre, the event features an empowering discussion with healthcare professionals, a member of our Board of Directors and a PanCAN Patient Services representative.
And she wants patients to know just how much of a lifeline PanCAN can be for patients and loved ones. When she was diagnosed, she called PanCAN Patient Services right away. She spoke to a Case Manager who talked through treatment options including clinical trials and provided a list of pancreatic cancer specialists in her area.
She also participated in PanCAN's Know Your Tumor® precision medicine service, which provides eligible pancreatic cancer patients and their oncologists with information about the patient's biology through tumor tissue biomarker testing and genetic testing for inherited mutations.
"Since having testing done, I have spoken with my family and both my children – now young adults -- about how important it is for them to consider having genetic testing to see if there is a familial link," she said. "I firmly believe that knowledge is power."
As Teona looks ahead to the PanCAN initiatives she's involved with, she's optimistic about the future. She points in particular to the January 2023 announcement that the five-year survival rate for pancreatic cancer had increased to 12%, a one percentage point increase from last year and the first time since 2017 that the survival rate has increased two years in a row.
That milestone carries weight, as when she was diagnosed, five-year survival was in the single digits. It's an upward trajectory that brings hope – and leaves her energized for what's next.
"Step by step we've made progress," she said. "It's so rewarding to know that I – along with so many other people -- played a role in getting there. And we're still going."