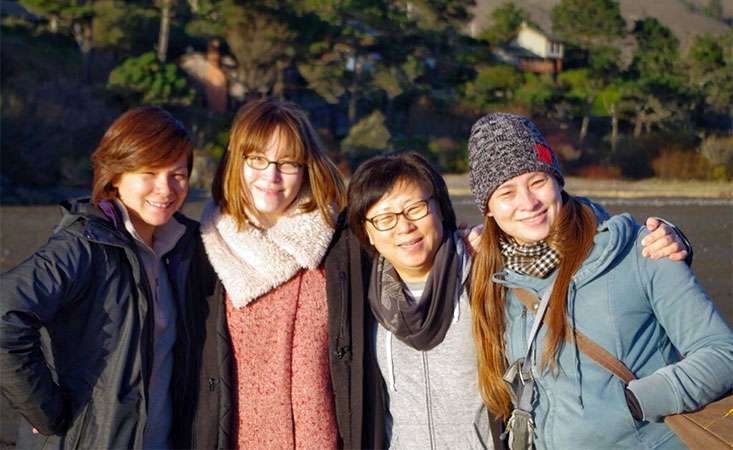 Editor's note: We recently announced the recipients of our 2019 research grants, awarded through a competitive, peer-review process. Now we'd like to introduce you to each investigator and share what drives them to work in the pancreatic cancer field.
Dannielle Engle, PhD, may've been a violinist, if she hadn't made the last-minute decision to switch her college major from music to biology. And in graduate school, she may've continued studying fruit flies as a budding basic genetics researcher if pancreatic cancer hadn't impacted her life.
"I lost my father to the disease in 2006, the year I started graduate school," Engle said. "I used every connection, scoured the literature, searched for clinical trials, and did everything in my power to try to help him and it still wasn't enough. At that point, I decided to dedicate my life's work to pancreatic cancer."
This wasn't the last time pancreatic cancer stole something from her. "About 10 years later, I also lost my uncle to this disease," she said.
"In those 10 years, basically nothing had changed. That sense of frustration still burns, and it drives me every day to examine what I am doing and whether it has the potential to help patients and their families."
Engle pursued her postdoctoral studies in the lab of Pancreatic Cancer Action Network's (PanCAN) grantee David Tuveson, MD, PhD. During this time, she became interested in studying CA19-9 and its connection to pancreatic cancer.
CA19-9 is a substance that's known to be elevated in blood samples of patients with pancreatitis (inflammation of the pancreas) or with pancreatic cancer, as well as other non-cancerous conditions. Chronic pancreatitis is a risk factor for pancreatic cancer, yet there are few options for preventing or treating the condition.
Commonly, CA19-9 is used as a biomarker to track disease progression. But in Engle's work with mouse models, she discovered that CA19-9 can cause certain biochemical reactions that in turn can cause pancreatitis.
Importantly, she found that blocking CA19-9 reduced the severity of the pancreatitis. These findings suggest that CA19-9 could be a promising therapeutic target, leading to treatments that may help patients reduce their pancreatitis and by extension, their risk for developing pancreatic cancer. These findings were recently published in the journal Science, with Engle as the lead author.
Engle was awarded a 2019 Career Development Award, funded in memory of Skip Viragh, enabling her lab to continue to pursue this exciting research. "Science is inherently risky, requiring a certain level of fortitude, preparation and luck," Engle said. "This funding lets us go after those high risk, but also high reward, ideas."
She continued, "I think it is important to note that in the beginning, we could not get the CA19-9 related work funded because it was deemed too risky and unlikely to succeed. The nature of science shows that it is the unexpected findings, like penicillin, that propel the field forward. And that is exactly what this funding will do for my lab."
Reflecting back to when she first learned she was awarded the early-career researcher grant, Engle said, "As a scientist, I felt proud of my research and that it has advanced to a point where it has the potential to actually help people. As a person, I felt incredibly grateful to the advocates, donors and patients who make this research possible."
Research is necessary to understand the biology of the disease and to develop improved early detection tools and better treatment options for patients. PanCAN's grants program, funded by generous donors, has awarded 174 grants to 170 scientists at 64 institutions to date.
Today, Engle is an assistant professor at the Salk Institute for Biological Studies, and she could not imagine herself as anything but a scientist. "I think that even after we have cured pancreatic cancer, I will still want to stay in the lab, but chase different scientific questions."
Your support
enables PanCAN to fund motivated scientists like Dr. Engle who are working to develop better treatments for pancreatic cancer.