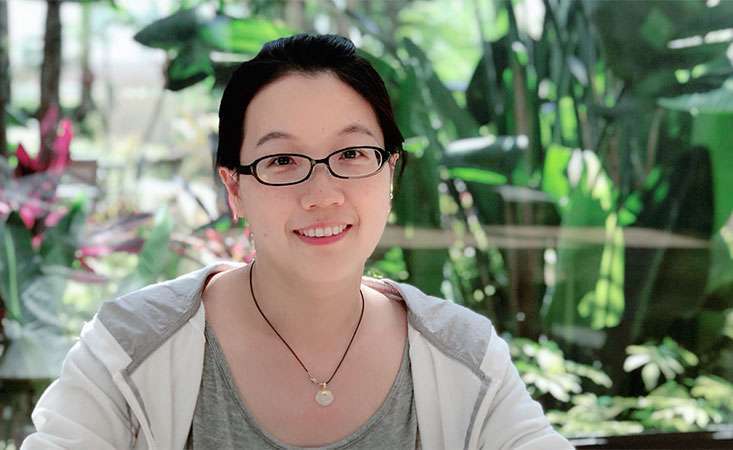 Editor's note: We recently announced the recipients of our 2019 research grants, awarded through a competitive, peer-review process. Now we'd like to introduce you to each investigator and share what drives them to work in the pancreatic cancer field.
"My mom was a doctor at a local cancer hospital in a northeast coastal city of China," said Wantong Yao, MD, PhD, two-time Pancreatic Cancer Action Network (PanCAN) research grant recipient.
"During my childhood, I often went to the hospital with my mom on the weekend or holidays because she had to work. I saw many cancer patients there and witnessed how they suffered. My mom and her colleagues worked tirelessly to bring them comfort."
She continued, "I grew to understand my mom's commitment to her work, and to be inspired to help her and to help others. I remember declaring, 'I can help you cure cancer, Mom!' in my naïve optimism. She smiled and responded, 'Sweetie, there is still too much to learn about cancer,' and encouraged me to study hard."
With her mom as a role model, Yao completed her medical and PhD training in China, where she studied pancreatic cancer cell regulation, function and pancreas surgery.
Pursuing further postdoctoral training at MD Anderson Cancer Center in Houston, Yao joined the laboratory of Giulio Draetta, MD, PhD, principal investigator of PanCAN's 2014 Research Acceleration Network Grant, funded in memory of Skip Viragh.
While working in Draetta's lab, Yao was awarded a 2016 Pathway to Leadership Grant from PanCAN, funded by PanCAN Board of Directors member Craig Rogerson and his wife Irene, in memory of Carina Rogerson.
Through this funding, she discovered that syndecan-1 (SDC1), a protein that sits on the surface of pancreatic cancer cells, could be a new potential therapeutic target.
Yao and her colleagues found that SDC1 plays a role in macropinocytosis, a process in which pancreatic cancer cells engulf surrounding fluid to search for nutrients. They also found that SDC1 is controlled by KRAS, a gene mutation found in most pancreatic cancer cases that drives tumor growth.
Yao's initial SDC1 research, recently published in Nature, has characterized the protein's biological function within pancreatic cancer cells.
Now that she's running her own lab at MD Anderson, Yao and her team seek to determine whether blocking SDC1 may cause the pancreatic cancer cells to starve and inhibit tumor growth. Testing this theory, they've developed antibodies to target SDC1.
Building upon her findings through her early-career Pathway to Leadership Grant, Yao's lab's research into SDC1 antibodies was awarded a 2019 Translational Research Grant, also from PanCAN.
"I really have to say that I am very grateful to be selected for these very prestigious grants," Yao said. "I commit to working tirelessly to live up to the trust and honor PanCAN's donors have given me and to spend every day pursuing the discovery of new therapeutics and diagnostics for pancreatic cancer.
"I find great fulfillment in the idea that my expertise may, someday, contribute to curing pancreatic cancer patients, and I thank the donors for their kind support."
When Yao's not in the lab, she enjoys spending time with her family, especially her young daughter, Abigail.
"I hope I can influence Abigail as my mom influenced me," Yao said. "I hope one day she will join the next generation of cancer clinicians and scientists."
Make a gift
to support researchers like Dr. Yao who are dedicated to improving outcomes for pancreatic cancer patients.