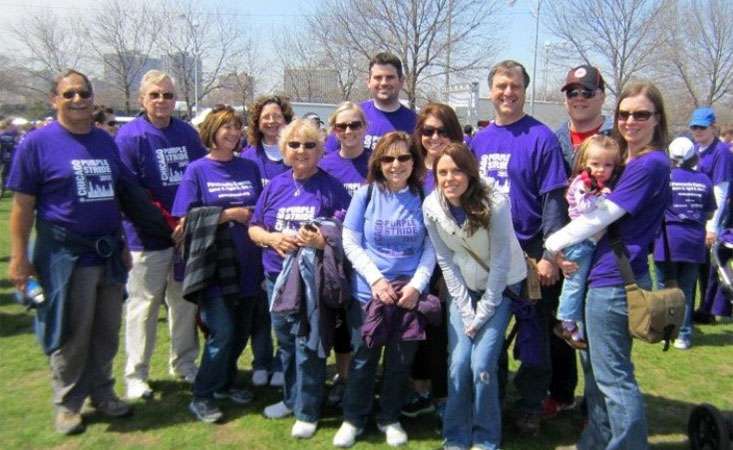 Editor's Note: In honor of Parents Day on Sunday, July 28, we're re-publishing this article about Michelle Abraham supporting her mother, Susan, as a pancreatic cancer survivor in many ways such as participating in PurpleStride Chicago.
When Susan Abraham's daughter, Michelle, found out that her mom's favorite TV host, Alex Trebek, was diagnosed with stage IV pancreatic cancer and is in fact succeeding in his fight, Michelle knew she had to share her mother's story with the world.
In 2006, after a week of severe abdominal pain and doctor's visits, Susan was diagnosed with stage II pancreatic cancer just after Thanksgiving. Not long after her diagnosis, she was scheduled for the Whipple procedure.
After Susan's surgery, and in the weeks leading up to her recovery, she began undergoing intense chemotherapy and radiation. She maintained a consistent schedule of checkup visits, annual scans, and improving her  diet as a pancreatic cancer patient. Twelve years later, Susan is surviving her pancreatic cancer diagnosis.
"It's hard talking about my mom being a 12-year pancreatic cancer survivor," Michelle said.
"Being a long-term survivor in the pancreatic cancer community is such a rarity that it tends to freak people out. Having Trebek openly share his experience has been so encouraging. I thought it would be a great opportunity to tell my mom's story in a different light."
Since everyone's pancreatic cancer diagnosis is so unique, Michelle says it's hard to say why her mom has survived so long. "It can be difficult to talk to people about survival and health improvements of such a deadly disease."
In Michelle's open letter to Trebek, she describes her appreciation of the success of his treatments. "We are lucky that Trebek is so open about his pancreatic cancer journey. He is sharing a lot about his story in the public eye – the hardships and the successes of it."
Every year for the past decade, the Abraham family celebrates another cancer-free year for Susan by attending their local PurpleStride Chicago, the walk to end pancreatic cancer. What started as a one-time outing to get more information about the disease has turned into a purple family tradition.
Michelle recalled, "When my family and I first went to PurpleStride Chicago, the attendance was really small. Over the years, the event has grown immensely. Now my mom has six grandchildren striding with her at the event."
For Susan, being a survivor, seeing the local pancreatic cancer community expand, and having the family blossom are all moments that matter.
"It's been great to see the community grow," Susan said.
"You want this deadly disease to go away. But it's amazing to see how many people who are affected by it come together to bring about awareness and support the cause. The number of survivors on stage grows every year, and it's encouraging to see."
Michelle added, "I'm so grateful for my mom's pancreatic cancer journey. My life would be so different if she wasn't here. But now she gets to see all of the moments that matter to me, too!"