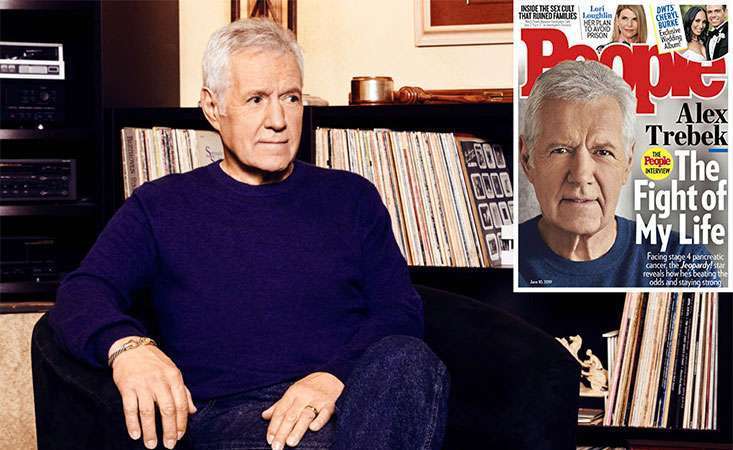 This week, Alex Trebek appeared on the cover of People magazine sharing a positive update in his journey with stage IV pancreatic cancer. Trebek has responded well to his chemotherapy treatments so far, and his oncologists report that some of his tumors have already shrunk by more than 50 percent.
The five-page spread opens with a quote from Trebek's recent appearance at PurpleStride Los Angeles, the walk to end pancreatic cancer. "Survivorship is measured starting from the date you are diagnosed with cancer. On that scale, my gosh, I'm a 62-day survivor. But I'm working on it," he told the crowd.
Now, as Trebek approaches his 100th day as a pancreatic cancer survivor, he is sharing his encouraging results as a way to raise awareness about the disease and remind other patients that there is hope.
"Medicine is constantly coming up with new ways to deal with different kinds of cancer, so my message is to try and be hopeful," Trebek told People. "There can be a way out of this."
In an online version of the People article, Pancreatic Cancer Action Network (PanCAN) President and CEO Julie Fleshman, JD, MBA, explained the need for more awareness and funding for pancreatic cancer research.
"Pancreatic cancer is the third leading cause of cancer deaths in the U.S., and when people hear the survival rate is only 9 percent, it's pretty shocking," Fleshman said. "To me, it's a call for urgency. We have to raise more dollars, we need more research efforts and we need more treatment options."
When discussing his symptoms, Trebek told People he "hadn't been feeling right in his stomach" for several months before his pancreatic cancer diagnosis but at the time, he simply chalked it up to indigestion.
"One of the issues with your pancreas is you can't feel it or touch it because it's deep inside your abdominal cavity, so it's not like you can feel a tumor," Fleshman said in the People article.
Therefore, it's important to pay attention to symptoms such as persistent stomach pain, lower back pain, unexplained weight loss and jaundice.
While Trebek's initial response to treatment is promising, he will continue to undergo more rounds of chemotherapy in the hopes that he continues to experience a reduction in his tumors. Still, in his journey with pancreatic cancer, Trebek recognizes the role he plays in helping bring more public attention to the disease.
"If I'm going to be the spokesperson for pancreatic cancer, my message to others is this: 'Let's be positive.'"
Fleshman echoes Trebek's sentiment, sharing that PanCAN is a resource for those who are currently facing pancreatic cancer. "We want to spread the message that there are options, and hopefully we can provide you with options and empower patients so they can make informed decisions."