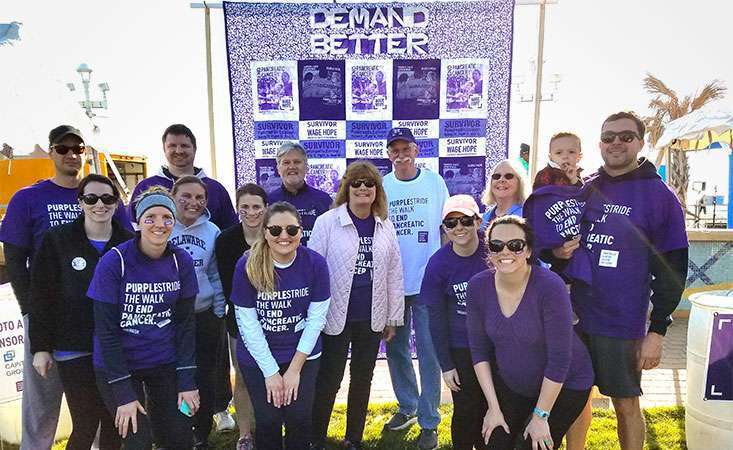 In April 2011, then 56-year-old John O'Grady was undergoing chemotherapy and radiation treatments. Several months previously, he had been diagnosed with stage II pancreatic cancer and had already undergone a Whipple surgery to resect the tumor. Although it was a nearly five-hour drive from his home in Chesapeake, Va., O'Grady traveled to Johns Hopkins in Baltimore, Md., for his surgery and treatments.
"There were no specialists in my area to do the Whipple surgery, but I was lucky that the doctors I encountered kept steering me in the right direction," O'Grady said.
He admits the long-distance travel for treatment was not easy.
"It may have been a lot of miles, but for me, it was worth it," O'Grady said.
While he credits being in good shape to a relatively smooth recovery from surgery, O'Grady explained that nothing could have prepared his body for chemotherapy and radiation treatments.
"The first three to four hours after getting out of a radiation treatment, I would just be exhausted," O'Grady said. "I always looked forward to going back to the hotel room in Baltimore, curling up with a blanket and taking a nap to just put the day in the rearview mirror, so to speak."
Once his treatments were complete, O'Grady knew he wanted to get involved to help others going through their own treatment journeys. At a post-op check-up, his radiation oncologist, Dr. Joe Herman, shared information about the Pancreatic Cancer Action Network (PanCAN), where Herman serves as a member of the Scientific and Medical Advisory Board.
"I immediately got in touch with the local affiliate to see how I could help," O'Grady said.
O'Grady now volunteers as a member of PanCAN's Survivor and Caregiver Network, which connects current patients and caregivers one-on-one with others who have been through a similar situation to provide support and inspiration.
"I get calls from folks from all over," O'Grady said. "We often talk about the surprise and shock of the diagnosis. I can relate to it and I understand what they're feeling. It is critical to have that support system."
The next moment in O'Grady's journey is a unique one. When he noticed a neighbor advertising free fabric on a community website, he happily took all the purple material she had. When his wife asked him what he was going to do with the fabric, O'Grady said he'd make a quilt.
"I didn't even own a sewing machine at the time, but I was going to figure it out," O'Grady said. "I remembered back to those days curling up in the Baltimore hotel room after treatment, and I wanted to be able to give others that same comfort."
O'Grady found people to teach him quilting basics and continued to hone his technique. He sent one of his first quilts to a woman from Silver Spring, Md., with whom he had connected through PanCAN's Survivor and Caregiver Network.
"She called me crying because she was so happy. She just loved it," O'Grady said. "She took it with her everywhere. To the doctor's office, on vacation. And when she passed away, they kept it in the family."
As he developed his craft, O'Grady also created several quilts to bring to his local PurpleStride, the walk to end pancreatic cancer, where he is joined by family and friends each year as part of "Team Kick PC." He created a Wage Hope quilt with banners from previous events and collected t-shirts from PurpleStride events for a survivor quilt as well. These custom tapestries are used as backdrops for photos and activities at PurpleStride Virginia Beach and PurpleStride Washington D.C.
When thinking back on the moments throughout his journey from pancreatic cancer patient to volunteer and quiltmaker, O'Grady reminisced about one moment that stood out to him from the Washington, D.C., event in June 2018, where his survivor quilt was on display.
"As the walk started, I stayed back to take in the beauty of the event – all the volunteers, participants and teams who worked so hard to raise funds, the sponsors who are proud to put their name out there with support," O'Grady said. "That's when I saw an elderly woman standing in front of my quilt, deep in thought."
When he noticed she had started crying, O'Grady walked over to ask if she was alright. It turned out that she was a retired medical oncologist.
"She told me that when she was practicing medicine, she had little to no resources to help people with pancreatic cancer," O'Grady said.
"To her, the quilt represented progress. Seeing all the survivor shirts and realizing how far we've come, she was crying tears of joy. She was thinking about all the advancements that have been made in treatment and she saw a bright future."
In addition to displaying his quilts at PurpleStride events, O'Grady also sells quilts at craft fairs to raise money for PanCAN and participates in quilting shows and competitions. Most recently, his survivor quilt was on display at the Mid-Atlantic Quilt Festival, the largest quilt show on the east coast, which draws upwards of 15,000 visitors in a single weekend.
O'Grady uses these events as an opportunity for outreach. He always brings PanCAN resource materials and flyers for local PurpleStride events to share with those he meets.
"I don't anticipate winning anything, but the exposure is invaluable," O'Grady said.
And to those who are currently in their own fight with pancreatic cancer, O'Grady offers this advice: "Don't give up. You don't have to tackle this alone, you have a whole army. There is a community out here that's willing to help you and wrap you up in warmth."
Just like a quilt.
Inspired by John O'Grady's story? You too can
get involved
as an advocate, fundraiser, volunteer or donor.