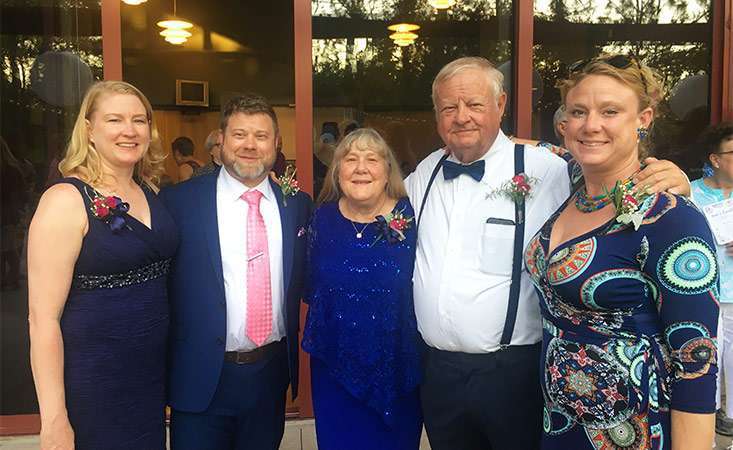 Editor's note: Want to be inspired? Keep reading for a new update on Earl Groce, a stage IV pancreatic cancer survivor who continues to have treatment success on a clinical trial. We first brought you his story two years ago, and we checked in to see how he was doing in May 2019.
Earl Groce couldn't believe it when his doctor told him that he had pancreatic cancer.
It was stage IV.
"I've always had pretty darn good luck," he said to the doctor. "I believe it's just run out."
Today, four-plus years later, he feels differently.
Groce has been a part of a clinical trial since his diagnosis, and the results, he said, "have been tremendous."
Just recently, his MRI and CT scan (he's had around 25 of each) revealed continued good results – no sign of cancer. His CA 19-9 levels remain in a normal range – also a good sign.
At 72, Groce has had 98 rounds of chemotherapy through a clinical trial for CPI-613, a targeted therapy aimed at cancer cell metabolism. He receives the test drug in addition to FOLFIRINOX, a combination of three chemotherapeutic agents.
Pancreatic cancer patients who participate in clinical research have better outcomes. Every
treatment
available today was approved through a clinical trial. The
Pancreatic Cancer Action Network
(PanCAN) strongly recommends clinical trials at diagnosis and during every treatment decision.
Groce joined the clinical trial as a phase I study participant. The study is currently in phase III.
"If you get a chance to enroll in a clinical trial, please consider it," is Groce's message to others fighting pancreatic cancer. "Do it for your sake and the sake of future patients."
Since the diagnosis, Groce, a grandfather of three (with another one on the way), has watched them "get four years older," stood beside his son as the best man at his wedding, taken a slew of road trips, bought a condo on an N.C. beach and celebrated 51 years of marriage to his wife Juanita.
"I want to see thousands of pancreatic cancer patients have the same great life after diagnosis that I've had," he said.
He knows his diagnosis is not cause for celebration, but being alive certainly is.
"Nothing changes your attitude like being told, 'You are going to die pretty soon.'
"So every time someone says to me, 'Have a good day!' I respond that EVERY day is a good day."
January is Pancreatic Cancer Clinical Trials Awareness Month.
Contact PanCAN's Patient Central
for free, in-depth and personalized resources and information on pancreatic cancer, including a free search for clinical trials you may be eligible for.
The treatments mentioned in this story may not be appropriate or available for all patients. Doctors take many things into account when prescribing treatments, including the stage and type of cancer and the overall health of the patient.