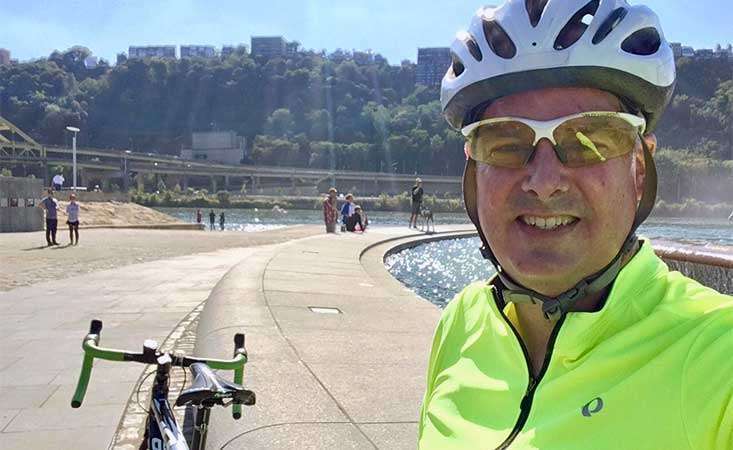 A week after his 50th birthday, Robert Ulery visited an urgent care clinic because of serious stomach pain. The issue turned out to be pancreatitis, caused by a mass on his pancreas. After a three-day hospitalization, Ulery learned he had stage IV pancreatic cancer that had spread to his liver. Then he started chemotherapy.
Ulery, a husband and father of three children, asked his doctor questions about his diagnosis and pancreatic cancer treatments. Radiation therapy was not an option for Ulery at the time, but he continued to bring it up in ongoing discussions with his doctor.
"We have to advocate for ourselves," Ulery said. "I'm a big believer in that."
You are your own best advocate. The Pancreatic Cancer Action Network (PanCAN) strongly recommends that you discuss your treatment goals with your healthcare team and know all of your options at every stage of your disease.
After seven months of chemotherapy, Ulery's tumor shrunk by 75 percent. At that point, his doctor referred him to a radiation oncologist.
After reviewing Ulery's results, the radiation oncologist built a case for him to receive more treatment, which included removing part of his liver. Ulery started radiation therapy in January 2018 that further shrank his tumor.
Ulery continues to advocate for himself. He connected with PanCAN's PanCAN Patient Services to get a personalized list of clinical trials he may be eligible for. He's reviewing the list with his doctor.
"Standard care will support me," Ulery said, "but clinical trials could mean a difference."
For those who are newly diagnosed, Ulery shared some tips:
Contact the Pancreatic Cancer Action Network and start educating yourself.
If you're searching for information online, make sure you get it from reliable sources.
Try to be active even when you're feeling fatigue. It's better if I make myself walk when I'm fatigued. My wife and I live close to a mall, where we'll go walk.
Be positive and hopeful! Some people defy the odds. Maybe you're next.
Go live.
"I was scared when I was diagnosed," Ulery recalled. "Reading stories about stage IV survivors would give me hope. Now, I try to be one of those people."
Contact PanCAN Patient Services for free pancreatic cancer treatment information and resources.