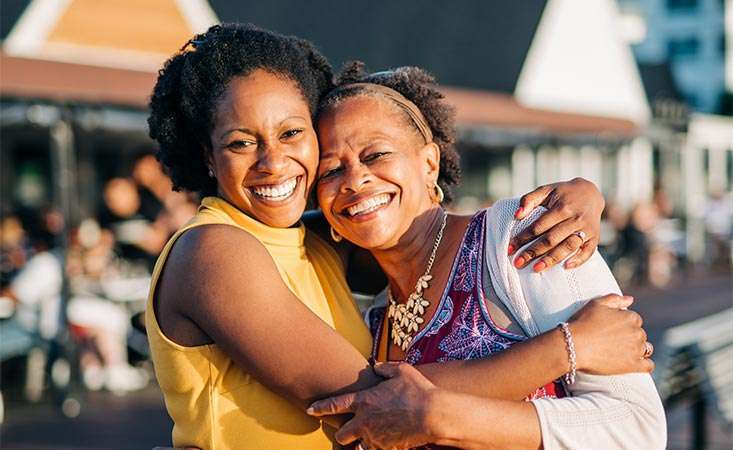 Editor's note: Today we continue a series of stories celebrating – and remembering – beloved mothers in honor of Mother's Day. 
She's a superwoman who shows up for everyone.
To Ivy Watts, she's best friend and also, "Mom."
Superwoman Sang Strong embodies strength in all that she does, and that's more important than ever because she was diagnosed with pancreatic cancer in September 2019.
It was Father's Day weekend last year when Ivy first learned that Sang had not been feeling well. Weight loss and digestive issues were among her symptoms, but bloodwork had revealed nothing out of the ordinary. Finally, when Sang developed jaundice months later, a CT scan revealed a tumor.
A stage 2 survivor, Sang had the Whipple procedure in early 2020 and is undergoing treatment.
"Mom brings out the happy and good in everyone, and she always has a smile on her face," Ivy said. "People are drawn to her. They're attracted to her light."
Community and a Common Purpose
At last year's PurpleStride Boston, the  Pancreatic Cancer Action Network's (PanCAN) 5K walk, Sang, Ivy and their family and friends, who formed a team to participate and fundraise, were comforted to find that same light and positivity reflected onto them.
"When my mom was diagnosed, our family was searching for meaning in the whole thing," Ivy said. "It was a really scary and sad time, and we needed to find hope."
An online search for "cancer walks" led them to PurpleStride, and Ivy was delighted to see that the walk was coming to Boston, close to where they live.
"It felt like a no-brainer for us to get involved and it turns out, it was a really great decision," Ivy said. "That day was so inspiring and gave us the hope we were desperate for."
A favorite memory of Sang's and Ivy's at last year's PurpleStride was meeting Craig Irving, a fellow PanCAN volunteer who lost his sister to pancreatic cancer.
Sang and Craig had immediately clicked – they're both from Mississippi originally, and their connection grew from there.
"Are you a survivor?" Craig had asked Sang. She replied, "I am surviving, but I will be a survivor. I'm fighting right now, and I always will be, because I fight through any challenge that comes my way."
Craig pulled her close for a hug, and then rallied the crowd in an uplifting chant.
"SANG STRONG! SANG STRONG!" The unison voices enveloped the PurpleStride attendees and especially encouraged Sang, Ivy and their entire team.
"Seeing other survivors and people who were all fighting for this community was one of the most empowering moments of my life," Ivy said. "The connections we made there were really encouraging."
As their PurpleStride team set off on their walk, they were overwhelmed with emotion: the pathway lined with survivor stories; the feeling that they were making a difference and changing lives; being together with a whole community of people there for a common purpose.
"Get involved with PanCAN if you're looking for hope," Ivy tells others. "With this disease, you see the stats and can't help but to bucket yourself, thinking 'What category will we fall into – will we be a statistic, too?'
"PurpleStride started out as a day of hope for us and turned into something far more. My mom was filled with so much joy."
Just this week, the family celebrated Mother's Day. Sang was surrounded by love and purple flowers.