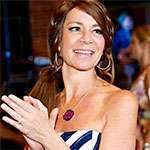 Sorority Sisters for Life: Team RoRo Honors One of Their Own
There was not one woman in the Florida State University Alpha Chi Omega (AXO) house between August 1989 and May 1992 who did not know and love Robin Tubbs. Anne Reed, Robin's dear friend and sorority sister, describes Robin as one-of-a-kind.
"She was caring, sweet and irreverent in the most endearing way – she was a leader and never was afraid to be herself. She had the most beautiful and infectious laugh and was a friend to all," Anne said.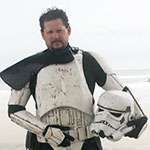 Stormtroopers Fight Pancreatic Cancer for Pee Paw
They are the 501st Legion, an army of Stormtroopers fighting on behalf of the bad guys in the movies. But in real life, they are an army of "Star Wars" enthusiasts dedicated to doing good deeds.
For one Stormtrooper and 501st Legion member Michael Johnson, of Florida, doing a good deed just scratches the surface. He joined forces with other Stormtroopers to raise awareness for pancreatic cancer when his dad was diagnosed with the disease.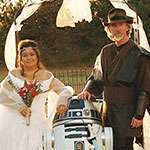 A Stormtrooper's Journey to Bring a New Hope to Pancreatic Cancer
Kevin Doyle is an accomplished sketch artist, a member of the 501st Legion of Stormtroopers and a "Star Wars" aficionado who made national headlines when he walked 501 miles of hope in honor of his late wife, Eileen, who passed away from pancreatic cancer in 2012.
The "Star Wars" series has always been a passion of Kevin's. "When A New Hope was released in 1977, it changed my life and the way I see the world. I was mesmerized," he said.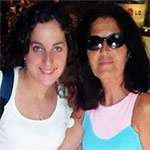 Every Day Is Mother's Day for Researcher Fighting Pancreatic Cancer in Her Mom's Memory
Two-time Pancreatic Cancer Action Network research grant recipient, Florencia McAllister, MD, always knew she wanted to be a scientist. And her parents' love and sacrifices helped make that possible.
"I grew up in a working class-neighborhood in Pergamino, a small countryside town in Argentina," McAllister said. "My parents sent me to a private school in my town. I still remember how much they struggled financially to allow me to receive such a high-caliber education."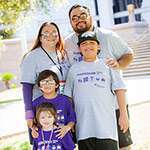 You Are Never Too Young to Wage Hope
At 11 years old, Marcelino Canuas II proves you are never too young to Wage Hope! He has been volunteering with the Pancreatic Cancer Action Network since he was 6. He was recently asked to write a school essay about the importance of community service, and out of 900 fifth-graders, his essay won 1st place! He will receive an award from the superintendent at a school board meeting this month. Marcelino II is the son of Elizabeth and Marcelino Canuas, who are both volunteer leaders in the Phoenix Affiliate of the Pancreatic Cancer Action Network. His younger brother and sister also support the cause, so volunteering is a family affair!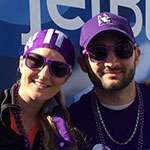 Wife and Husband Who Volunteer Together Make Bigger Impact as a Team
For Candace Tejidor and her husband, Andres, teaming up together in the fight against pancreatic cancer allows them not only to help others but to take part in a mutual interest – volunteering. Both serve in volunteer leadership roles with the Miami Affiliate of the Pancreatic Cancer Action Network. Candace is the Volunteer Chair, and Andres is the Affiliate Chair.
They're not alone in this shared interest. Many couples and family members serve alongside each other as volunteers in the same affiliate – a testament to how volunteering for the organization is important for families affected by this disease and can sometimes help them heal.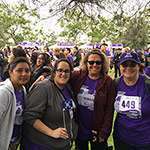 Students Dance Their Hearts Out to Fight Pancreatic Cancer
Who knew you could raise awareness about a disease and fight it by dancing? Students at Sally Ride Elementary: A SMArT Academy, located in Los Angeles and named after famous astronaut and philanthropist Sally Ride, showed their spirit and determination to raise awareness for pancreatic cancer by participating in the school's dance-a-thon.
The students that participated in the event ranged from kindergartners to fifth-graders. They were filled with happiness and excitement to help others and had so much fun that they wanted to stay longer.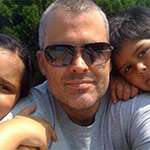 Ian's PurpleStride Family
Our theme for May is "A Family Affair," but not all families are blood-related. One of our top fundraising teams from PurpleStride New York City, Ian's Team: I'm a Believer, is one such family. The team was formed in support of Ian Van Tuyl, who was diagnosed in February with late-stage pancreatic cancer. But this family's story begins long before that.
Ian started working at 2U, an online learning company, back in 2010 and was immediately welcomed into the fold. As the Chief Content Officer, Ian oversees the team that works with university professors to develop their courses. His co-workers describe him as a straight shooter full of transparency who genuinely cares about those around him. His team is very close, collaborating with each other and helping to ensure everyone achieves success through teamwork and delicious team lunches (great food makes everyone more efficient).