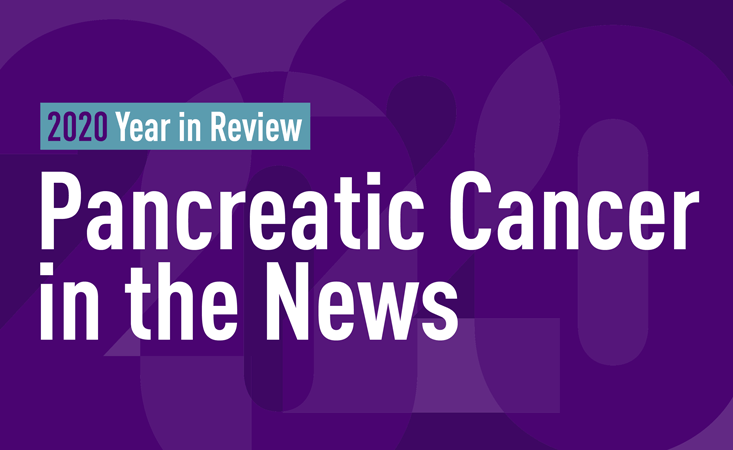 Editor's note: We're wrapping up 2020 by highlighting key things that have happened in the Pancreatic Cancer Action Network (PanCAN) community in the last year. Today, we feature the many ways PanCAN and the disease made it into the news media.
Pancreatic cancer is relatively rare, but it's touched so many people we know. This year, the disease earned a lot of attention in the news, which has helped raise awareness of the critical need for increased research funding, better treatments and more hope for pancreatic cancer patients.
Here are some of the many ways the disease – and PanCAN – caught the public's attention this year.
While the U.S. was beginning to see everyday life change due to the onset of a global pandemic, PanCAN made news with published research from our Know Your Tumor® precision medicine service that showed that patients who are able to get treatment that matches their tumor biology live an average of one year longer than those who cannot get such treatment.
And despite the pandemic, PanCAN was able to launch Precision PromiseSM, our groundbreaking new approach to pancreatic cancer clinical trials, and start enrolling patients at world-class cancer institutions nationwide in 2020. The media covered it this fall.
Unfortunately, 2020 was also marked by pancreatic cancer taking the lives of many high-profile people. The world, and media, joined us in mourning the deaths of Quiet Riot drummer Frankie Banali, Rep. John Lewis, Supreme Court Justice Ruth Bader Ginsberg and TV celebrity Alex Trebek this year.
November was one for the record books as purple flooded the world and brought attention to the disease during Pancreatic Cancer Awareness Month.
Lisa Niemi Swayze helped these efforts by speaking out about why she continues the fight against pancreatic cancer more than a decade after her husband Patrick's death.
And Mindy Kaling generously brought PanCAN major media attention by becoming an ambassador and sharing her personal stories about losing her mom to the disease.
Plus, so importantly, all year long passionate advocates, volunteers and fundraisers across the country helped raise awareness in their communities and beyond.
Thank you for helping get the word out about this disease in a year that was challenging, at best. Pancreatic cancer doesn't stop for a pandemic – and neither will we.