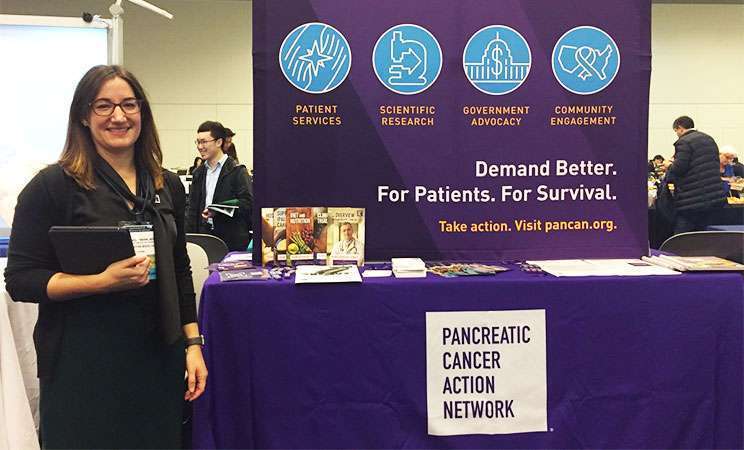 A large group of Pancreatic Cancer Action Network (PanCAN) leadership and Scientific and Medical Affairs staff are attending the 2019 Gastrointestinal Cancers Symposium, taking place in San Francisco, Jan. 17 to 19.
On Friday, Jan. 18, poster presentations will highlight findings from three of PanCAN's key clinical initiatives, designed to provide pancreatic cancer patients with the tools to consider all treatment options and to share their data with the community, informing best practices.
"We are thrilled to spotlight results from our Know Your Tumor® precision medicine service, clinical trials database (available to patients and healthcare providers through Clinical Trial Finder) and Patient Registry at this important meeting," said Victoria Manax, MD, chief medical officer at PanCAN.
The key findings described in the posters include:
Effective Chemotherapy for Patients with DNA Repair Alterations
Every pancreatic tumor is different. PanCAN strongly recommends molecular profiling of your tumor to help determine the best treatment options.
Patients can access molecular profiling through their treating institution or through PanCAN's Know Your Tumor precision medicine service.
Results from the first 640 pancreatic cancer patients to receive Know Your Tumor reports were published last year, showing that about 27 percent of patients had a "highly actionable" alteration within their tumor. This means that there is scientific and clinical evidence that a certain drug or type of medicine would be particularly effective for patients with that alteration.
Among the highly actionable alterations that may be present in pancreatic cancer patients' tumors are defects in DNA damage repair.
"When cells can't fix damage to their DNA, many errors and mutations can accumulate to promote tumor growth," Manax explained. "But evidence has shown that patients whose tumors have defective DNA damage repair are particularly responsive to certain chemotherapy drugs."
Data are being presented at the conference today by PanCAN's partner Perthera, a comprehensive precision medicine company. The findings suggest that pancreatic cancer patients whose tumors have DNA damage repair defects live longer when treated with platinum-containing chemotherapy. In the absence of platinum agents, there was no survival difference between patients whose tumors had defective or intact DNA repair mechanisms.
More Patients Are Enrolling in Clinical Trials Later in Their Treatment Journeys
PanCAN maintains the most comprehensive database of current pancreatic cancer clinical trials information in the United States.
In partnership with the pharmaceutical company Tyme Technologies, Inc., data from PanCAN's clinical trials database were analyzed to determine how many patients search for clinical trials after having received two or more previous treatment regimens.
Manax said, "We found that about 31 percent of clinical trials searches conducted by our world-class PanCAN Patient Services Case Managers in 2018 were for pancreatic cancer patients looking for their third (or more) treatment option."
She added, "This percentage is up from 25 percent in 2016 – suggesting that more patients are considering clinical trial enrollment later in their treatment journey."
Pancreatic cancer patients who participate in clinical research have better outcomes. Every treatment available today was approved through a clinical trial.
PanCAN strongly recommends clinical trials at diagnosis and during every treatment decision. PanCAN has been focused on providing a deeper look into clinical trials during January, National Pancreatic Cancer Clinical Trials Awareness Month.
Patients Struggle with Managing Fatigue, Pain and Depression
PanCAN's Patient Registry is a global online database created to look for patterns in treatments, side effect management and diagnostics that will lead to improved treatment options and outcomes for patients.
Previously, registry data analyzing the prescription and use of pancreatic enzymes were presented at two national conferences. The results highlighted the importance of the proper dosage and timing of pancreatic enzymes to alleviate symptoms like indigestion and weight loss.
At this year's Gastrointestinal Cancers Symposium, a poster will be presented that focuses on pancreatic cancer patients' experiences with symptoms and side effects like fatigue, depression and pain.
Seeing healthcare professionals who focus on symptom management and supportive (palliative) care improves outcomes and is critical for your quality of life. PanCAN strongly recommends that symptom management and supportive care should be provided early in patients' diagnosis as well as during and after treatment.
"Through patient and caregiver participation in our Patient Registry, we learned that nausea is the best managed symptom or side effect that pancreatic cancer patients experience," Manax said. "By contrast, fatigue, pain and depression were generally unmanaged – causing emergency room visits and hospitalizations."
She continued, "We greatly appreciate patients' and their loved ones' willingness to share their experiences with us through the Patient Registry. Now, we need to educate the healthcare community about the need to address and manage these debilitating symptoms and side effects to improve and extend patient lives."
In addition to the poster sessions, today is devoted to pancreatic cancer-related keynote lectures and presentations at the Gastrointestinal Cancers Symposium. PanCAN is also hosting an informational booth for attendees to learn more about the organization, its research and clinical efforts and its support resources for patients.
"The Gastrointestinal Cancers Symposium is always a highlight of our year," Manax said. "The meeting brings together a few thousand healthcare professionals from around the world, with a focus on treating patients with diseases like pancreatic, esophageal or colorectal cancer."
She added, "I am so proud of PanCAN's remarkable programs and services that generate critical data to inform the medical community and – most importantly – aim to help patients facing pancreatic cancer live longer and better lives."
Contact Patient Services
with any questions about the diagnosis or treatment of pancreatic cancer and for information about our programs and services.