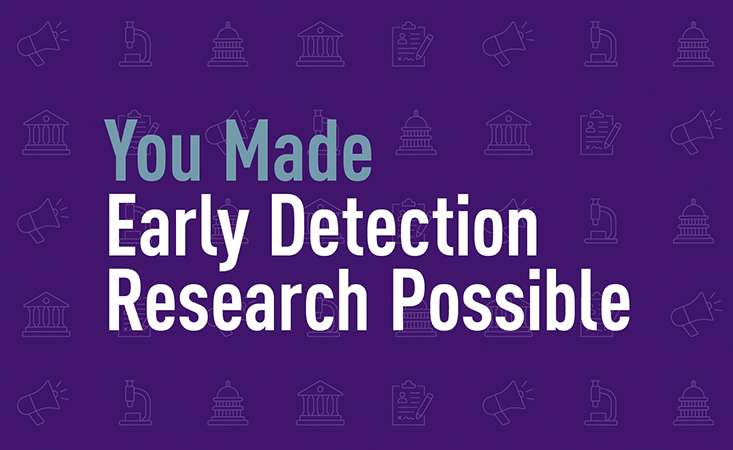 Editor's note: In honor of the recent announcement of PanCAN's Early Detection Initiative, we're sharing stories that give you a look into how the initiative came about and the people who made it possible. Today, we're highlighting the role advocates and the federal government played in the initiative's launch.
PanCAN's Early Detection Initiative is a transformative clinical trial designed to see if imaging at the time of a new diabetes diagnosis in certain people can find pancreatic cancer earlier. Did you know that advocates raising their voices to urge Congress to prioritize pancreatic cancer research paved the way for this work?
The Law that Paved the Way
In January 2013, the Recalcitrant Cancer Research Act was signed into law. It was the first substantive legislation to bring federal attention to pancreatic cancer research.
"This big win was the outcome of five years of hard work by passionate, dedicated PanCAN advocates and volunteers – who sent 76,000 emails, made 14,000 calls and participated in 1,500 meetings to let Congress know this was important to them," said Meaghan Slater, associate director of advocacy at PanCAN. "Since its passing, it has led to important pancreatic cancer research progress."
As a result of the law, the National Cancer Institute (NCI) brought together working groups to create a scientific framework for pancreatic adenocarcinoma (the most common type of pancreatic cancer) as well as other cancers with low survival rates.
The pancreatic cancer framework outlined four key areas in need of research. One of these areas was early detection, and another was understanding the relationship between pancreatic adenocarcinoma and diabetes.
Research suggests that in a small subset of people diagnosed with diabetes after the age of 50, their diabetes was caused by a pancreatic tumor. Studying this population may help the pancreatic cancer research community find better ways to detect the disease early in people who don't have a family history.
When the NCI started work in the areas detailed in the scientific framework, one of the initiatives developed was the Pancreatic Cancer Detection Consortium, which focuses on novel molecular and imaging biomarkers for the early detection of pancreatic cancer. Another initiative was the New Onset Diabetes (NOD) Study.
Studying People with New-onset Diabetes to Find Pancreatic Cancer Earlier
An effort supported by the National Institutes of Health (NIH) and involving PanCAN, the American Diabetes Association and multiple medical institutions across the country, the NOD Study is collecting blood samples and patient information from participants who have been diagnosed with diabetes and meet other criteria. This will help researchers better understand the relationship between high blood sugar and pancreatic cancer. The goal is to find biomarkers in this patient population that can be translated into a screening tool.
PanCAN's Early Detection Initiative will also collect blood samples and adds imaging tests for a group of participants at the time of their diabetes diagnosis. This will allow us to see whether this process is an effective way to find pancreatic cancer earlier in this group. And the blood samples will be pooled with samples collected through the NIH's NOD Study.
These studies will change the future of how pancreatic cancer is diagnosed.
PanCAN will continue to collaborate with the NCI on both studies, which complement each other, to ensure we're using all available resources to push early detection forward for this disease.
"We value our partnership with the NCI and others who have been involved with the NOD Study and Early Detection Initiative," said PanCAN's chief science officer Lynn Matrisian, PhD, MBA. "These large, collaborative efforts have been critical to making progress against this complex disease."
This was all made possible by the thousands of voices that spoke up and told Congress that pancreatic cancer research should be a priority.
And your contributions don't stop there. Thanks to advocates like you, Congress created a dedicated pancreatic cancer research program at the Department of Defense and dedicated $15 million to that program this year. Your efforts have also contributed to substantial increases in pancreatic cancer research funding at the NCI year over year.
We are all advocates, passionate about changing the future of pancreatic cancer. One person makes a big difference. Together, we can do so much more. Join us for PanCAN Action Week 2021, kicking off June 14 with "Voices in Action," an inspiring evening of heartfelt stories to honor those we love and remember those we've lost. Then PanCAN Action Week 2021 continues June 15 and 16, when we all go to Congress with a unified message about why ongoing, increased research funding for pancreatic cancer is critical.
You make it all happen –
donate today
to support PanCAN's comprehensive approach to fighting pancreatic cancer, including transformative research programs like the Early Detection Initiative.