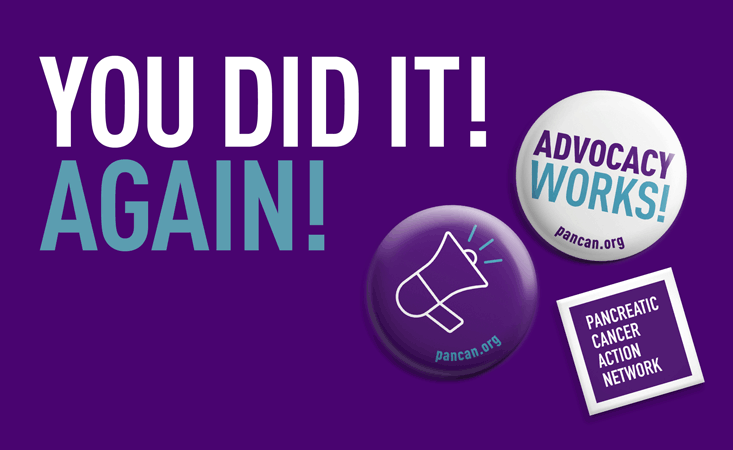 Thousands of advocates delivered a strong message to Capitol Hill: Make pancreatic cancer a national priority.
And Congress responded.
Congress just passed its fiscal year 2021 budget that included a $9 million increase for the Department of Defense's (DoD) Pancreatic Cancer Research Program – from $6 million to $15 million!
In addition, the budget includes an increase in the country's investment in biomedical research with $42.9 billion going to the National Institutes of Health (NIH) and $6.56 billion going to the National Cancer Institute (NCI).
The Pancreatic Cancer Action Network (PanCAN)'s advocacy efforts focus on increasing the federal investment in cancer research and educating Congress about pancreatic cancer and why increases in research funding will accelerate progress for patients.
"I am amazed by our relentless advocates who passionately let Congress know how pancreatic cancer has impacted their lives and about the need for research funding to advance early detection tests and new treatments," said Julie Fleshman, JD, MBA, president and CEO of PanCAN.
"When PanCAN advocates tell their personal stories about how pancreatic cancer has impacted their lives, Congress takes action. Advocacy works!"
The NIH and NCI play an important role in funding biomedical research at universities and academic institutions across the United States. Congress has once again demonstrated its commitment to providing sustainable and predictable research funding. An increase in overall cancer research funding then boosts funding for pancreatic cancer research.
In addition, Congress created the Pancreatic Cancer Research Program at the DoD in December 2019 – the first federal program with funding set aside specifically for pancreatic cancer research – in response to PanCAN's advocates.
PanCAN's Chief Science Officer Lynn Matrisian, PhD, MBA, took an active role in making recommendations on the types of funding opportunities to offer through the new program, discussing the current state of pancreatic cancer research and identifying gaps in knowledge.
Encouragingly, more than 300 scientists submitted letters of intent for this year's Pancreatic Cancer Research Program funding opportunities.
Because of the tremendous interest in the program – and the tremendous urgency in the field – PanCAN's grassroots advocates asked Congress to increase the program's funding from $6 million in 2020 to $10 million for next year.
Inspired by the death of their colleague Rep. John Lewis (D-GA) to pancreatic cancer earlier this year, members of the House of Representatives made a recommendation to increase the funding even more – to $15 million.
"This is an amazing way to carry on the legacy of John Lewis, an incredible leader and a giant in U.S. civil rights," Fleshman said.
"And since Rep. Lewis' death, we've also lost Justice Ruth Bader Ginsburg and Alex Trebek. The news of this increased funding brings a reason to celebrate in the midst of so much sorrow in the pancreatic cancer community this year."
On Capitol Hill, there continues to be strong bipartisan support for pancreatic cancer research funding. We are grateful to our champions in Congress who spearheaded the effort, Reps. Anna Eshoo (D-CA), David McKinley (R-WV) and Joe Kennedy (D-MA), and Senators Sheldon Whitehouse (D-RI) and Mike Crapo (R-ID). We also extend our thanks to Rep. Andre Carson (D-IN), who, along with Eshoo, introduced the amendment for an additional $5 million in honor of John Lewis.
Other key legislators, including prominent members of the House and Senate Appropriations Committee, Reps. Pete Visclosky (D-IN) and Kay Granger (R-TX), and Senators Chris Coons (D-DE), John Boozman (R-AR), Richard Shelby (R-AL) and Richard Durbin (D-IL), ensured that the funding remained intact throughout budget negotiations.
Despite the ongoing pandemic, our advocates worked tirelessly and turned out in force to make their voices heard with their legislators. They called, emailed, tweeted and even set up virtual meetings with their elected officials to let them know why advancing pancreatic cancer research was important to them.
Increased funding for pancreatic cancer research will lead to more scientists focused on the disease and new and better ways to detect, treat and prevent it.
None of this would be possible without your support and your courage in raising your voice.
"This Congressional win didn't happen because of any one advocate or one action – it happened because of the collective power of our unstoppable grassroots force," Fleshman said. "Huge thanks to everyone who made this happen."
Send a note
to thank your members of Congress for increasing the federal research investment in pancreatic cancer.