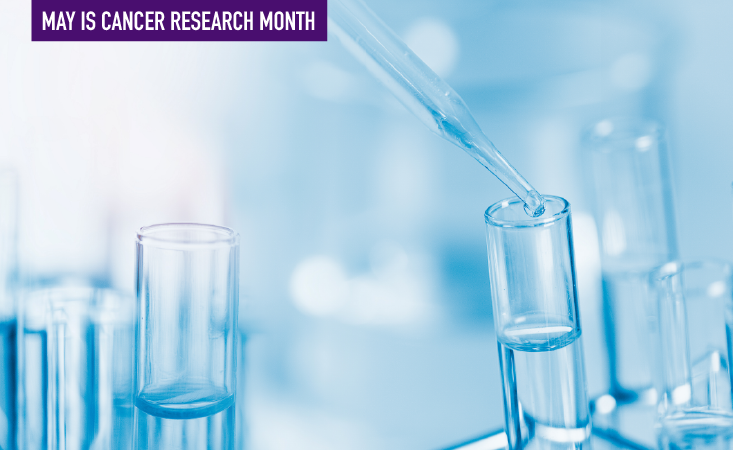 May is Cancer Research Month. All month long, we'll highlight how – thanks to generous donors –  PanCAN is leading the way in pancreatic cancer research, funding innovative grants and conducting groundbreaking scientific and clinical initiatives that continue to build momentum toward increased survival.
Check out our PanCAN blog for updates with:
You'll also want to join us on Thursday, May 26, for a free webinar, "The Impact of Your Gifts: How You're Advancing Pancreatic Cancer Research." Julie Fleshman will moderate, and Lynn Matrisian will serve on the panel alongside noted researchers and physicians who will discuss PanCAN Precision Promise, PanCAN Early Detection Initiative and more. You will also hear from a PanCAN donor about why funding pancreatic cancer research is important to her.
When PanCAN was founded, only a handful of scientists were focused on pancreatic cancer and the five-year survival rate was just 4%. Little was known about the disease. Today, you're funding a growing, vibrant research community that includes over 200 of the best and brightest scientists who have received PanCAN grants. They're making real progress: The five-year survival rate has increased to 11% and by 2030, our goal is to help increase the survival rate to 20%.
Our comprehensive strategy addresses pancreatic cancer from both ends of the spectrum – early detection to effective treatments – and we are uniquely positioned to advance the most promising research. Through PanCAN Patient Services, we speak with more pancreatic cancer patients and families than any institution in the world, and we weave the patient's voice and perspective through everything that we do. We're known as a convener in the pancreatic cancer field, bringing together critical groups of people to work toward our vision of a better world where people with pancreatic cancer do more than survive – they thrive.
Achieving this vision is only possible with your help.
If you attended or supported PanCAN PurpleStride, the ultimate event to end pancreatic cancer, on April 30, know that you helped advance research through your fundraising and donations. We are so grateful!
Give today
to advance progress in pancreatic cancer research.