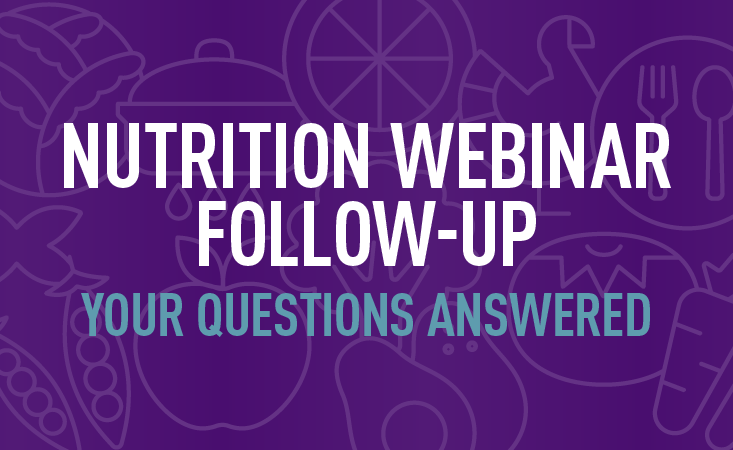 On March 24, 2022, PanCAN hosted a webinar titled "Diet and Nutrition: What Pancreatic Cancer Patients and Caregivers Need to Know." Over 1,300 patients and caregivers tuned in to hear dietitians Maria Petzel and Jeannine Mills, PanCAN Patient Services Manager Diiehma Bates and pancreatic cancer survivor Jennifer Lambert address a range of topics. We fielded questions from the audience, but we weren't able to get to all of the ones that came in during the hour we had together! Here, we follow up on additional questions from webinar attendees and dive deeper into some topics of interest.
Miss the "Diet and Nutrition: What Pancreatic Cancer Patients and Caregivers Need to Know" webinar on March 24?
Watch the recording
What is the difference between a dietitian and nutritionist?
A dietitian is a healthcare professional trained in food, nutrition, biochemistry and physiology. They must complete either an undergraduate or graduate degree in nutrition and an internship certified by the Academy of Nutrition and Dietetics. Lastly, they must pass a national registration exam. Some states require licensure, so some dietitians may be both registered and licensed.
The terms "nutritionist" and "dietitian" are not interchangeable – "nutritionists" are not professionally regulated. A person can refer to themselves as a "nutritionist" without a degree or successful completion of a registration exam. However, since all dietitians are nutritionists, some refer to themselves as a registered dietitian/nutritionist.
Read more about the benefits of adding a dietitian to your care team.
How do you know what dose of pancreatic enzymes is right for you?
The recommended type and dosage of pancreatic enzymes must be individualized for each person. Generally, most people should start by taking 10,000 – 20,000 lipase units with snacks and 20,000 – 40,000 lipase units with meals. Patients should not exceed 2,500 lipase units per kilogram of body weight per meal (assuming four meals per day). For example, a person who weighs 150 pounds (68kg) could safely take up to 170,000 units of lipase at one meal. Some individuals adapt to different doses of enzymes throughout their care, so it is important to discuss with a doctor or dietitian the appropriate type and dose of pancreatic enzymes at regular visits.
Read more about pancreatic enzymes.
Is there financial assistance for patients who can't afford pancreatic enzymes?
For those struggling with the cost of enzymes, there are resources to help. PanCAN suggests:
Check your insurance's prescription formulary to find out if one brand is preferred over another, which should cost less.
Look into patient assistance programs by visiting the drug manufacturer's website or NeedyMeds.org.
If you are on Social Security, apply for the Extra Help plan.
Contact PanCAN Patient Services for additional resources, to help find assistance programs and to talk through your options. PanCAN has partnered with the Patient Advocate Foundation to offer help with financial and insurance-related challenges. Patients are assigned a case manager to address their specific issues.
What are some nutritional recommendations for patients with diabetes?
People with pancreatic cancer are also at risk for diabetes. To control blood sugar levels, people with diabetes may need changes in diet and, sometimes, insulin therapy. Those with diabetes may be advised to eat:
Foods with complex carbohydrates, such as starch and fiber, instead of refined versions, such as white breads or pastries
High-protein foods
Small amounts of healthy fat with each meal and snack
Foods from each food group: whole grains, fruits and vegetables, fat, protein
It's important to talk to a registered dietitian who has experience with both diabetes and cancer to figure out what dietary changes you need.
Read more about managing long-term nutritional challenges, including diabetes.
What are some tips for combating weight loss?
Maria Petzel, senior clinical dietitian for the Pancreas Surgery Program at MD Anderson Cancer Center and a former member of PanCAN's Scientific and Medical Advisory Board, offers some tips about how to combat weight loss:
Track your food intake. Simply tracking everything you eat can help you eat more.
Get exercise/do weight training. It seems counterintuitive to patients, but it can help with appetite and preserving lean body mass.
Every night, plan and schedule your meals and snacks for the next day. I can't stress this enough; it is really helpful.
Make eating a social activity. This can also be a good thing for friends and family who want to do something to help. They can set up a rotation of people to come visit while you (or a loved one) are eating a meal. The social time can be a distraction when the patient doesn't feel like eating.
Read additional tips about controlling weight loss.
Are probiotics helpful for patients with pancreatic cancer?
The use of probiotics appears helpful in improving tolerance of and support for treatment and radiation-related diarrhea. Further research is needed to confirm the effects of probiotics when used in patients with pancreatic cancer. Sources of probiotics include foods such as yogurt, kefir, buttermilk, tempeh, sauerkraut and cottage cheese. Therapeutic foods such as DanActive™, Activia® and dietary supplements such as Align®, Culturelle® and Florastor® also contain probiotics.
Read more about probiotics and additional strategies to manage diarrhea.
Should patients with pancreatic cancer consider the keto diet?
The term "keto" is used very loosely to describe a wide range of low-carbohydrate diets that are controlled in protein and extremely high in fat.  Scientific evidence is lacking for use of a low carbohydrate or keto diets in humans with pancreatic cancer and therefore we cannot draw any conclusions about efficacy of these types of diets.
The level of fat required for a true ketogenic diet has the potential to displace adequate protein intake, posing a high risk for unintentional weight loss, especially for those experiencing fat malabsorption.  And like other diets that severely limit some categories of foods, individuals are also at risk for deficiencies of important vitamins and minerals.
Read a dietitian's recommendations related to the keto diet and several other popular diets.
How do I find a dietitian who specializes in patients with pancreatic cancer?
PanCAN strongly recommends that all patients with pancreatic cancer consult with a registered dietitian. Here are some options to find a dietitian:
Contact PanCAN Patient Services for help seeking out a dietitian and navigating questions and concerns related to nutrition.
A patient's oncologist or cancer center often has recommendations for dietitians.
Visit the Academy of Nutrition and Dietetics' website, eatright.org, to search for a dietitian in your area.
The Commission on Dietetic Registration, at cdrnet.org, maintains a list of board-certified specialists in oncology nutrition by state.
Contact PanCAN
Patient Services
for comprehensive information about diet, nutrition and living with pancreatic cancer, as well as resources to find a dietitian and additional questions to ask when meeting with a dietitian.