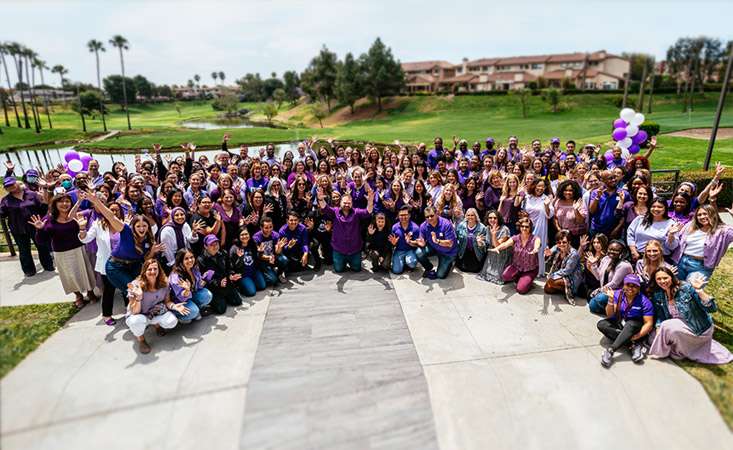 Editor's note: PanCAN would not be the organization it is without its tireless and dedicated volunteers. To celebrate Volunteer Appreciation Week, Community Engagement Coordinator Paula Mukherjee chatted with a few of her fellow Community Engagement team members who also started in a volunteer role.
Nine years after my first PanCAN PurpleStride, my journey led me to join PanCAN as a member of the Community Engagement department. Going from a PanCAN volunteer to a PanCAN team member in a volunteer-facing department has been fascinating and deeply rewarding, and I often reflect on how my volunteer experiences inform my work and shape my goals.
I had the great pleasure of chatting about these topics with some of my Community Engagement colleagues who also started as PanCAN volunteers: Cody Ayers (Community Engagement Coordinator), Snapper Freeman (Community Relationship Manager), and Emily LaSalle (Community Engagement Coordinator).
Paula: How did each of you find PanCAN? 
Emily: PanCAN was found for me. I lost my dad to pancreatic cancer in April 2010, less than two weeks after my 11th birthday. He was only sick for four months. My mom probably found the affiliate from the PanCAN website; I know that we used PanCAN Patient Services when my dad was sick. She went to a couple meetings by herself with the Orange County Affiliate and really fell in love with the people there. They welcomed her in with open arms when everything was still really fresh for her. Eventually she brought me and my sister into the fold as well. Our first PurpleStride was in November 2010. I don't remember much of my first PurpleStride because I was so young. Now, I don't remember my life without PanCAN. PanCAN has been part of my life for more years than it hasn't.
The most transformational experience was my first PanCAN Advocacy Day. I was 15, going into my sophomore year of high school. I had never been to D.C. before. I was with the adults and treated like an adult – at least how I remember it. For the California delegation, the head volunteer chose me to tell my story to a lead member of Senator Diane Feinstein's staff. We were in a big atrium, and I stepped forward and told him about my dad. After we had that meeting, he pulled me aside and said, "Keep doing what you're doing. The world needs more people like you." I'll never forget it; it changed my life. I learned that my story is worth telling; people are going to believe me and listen to me, even if I'm young; and that members of Congress are just people with jobs. Their doors are right there, and I can just walk in.
I continued to get more and more involved. Do you remember the "Hope's Alive" song by Erin Willett from The Voice that was played at all the PurpleStride events? It was recorded in Los Angeles and a bunch of survivors in the area were asked to come and sing as backup singers. I'm a singer and Roberta Luna from Orange County (now Communications Chair) invited me. I met a former PanCAN staff member, Ashley Ostrega, who gave me her card and told me that I should come work for PanCAN. We kept in contact, and I interned for PanCAN in between my sophomore and junior years in college. I got to really understand "sparkle spirit" and the energy of PanCAN staff. When I graduated from college, I worked in Development at PanCAN and now Community Engagement.
Snapper: I think it's so amazing. That blew me away.
Cody: I found PanCAN in 2019, right before the world shut down. I was looking for a race after I moved from Kansas to Nashville. My grandmother had donated to PanCAN right after my stepdad passed away from pancreatic cancer in April 2010, but I didn't get heavily involved until moving to Nashville. I ended up meeting with Christina McClary, the Tennessee Affiliate's Mission Chair. She wanted me to get further involved and asked me to serve as the PurpleStride Chair.
Snapper: Prior to 2016, I had never heard of pancreatic cancer. I was in Houston working at a track meet with one of my mentors and he came down with a stomachache. He thought he just ate some bad food and said, "Oh, you know, we're out of town. I'll be fine in a couple days." Two weeks later, back in Atlanta, he still had that same stomachache, and his wife took him to the hospital. That's when he got diagnosed. Three months later, I was at his funeral.
I volunteered for PurpleStride that same year, and I was overcome with emotion. I didn't realize how many families were affected by this and were coming together for this cause. I will never forget the sea of purple. It was like my mind took a picture and just captured that moment. I made a vow that I will forever do anything that I can for pancreatic cancer. I went from the Teams and Individual Development Chair to PurpleStride Chair and served in that role for a couple of years. During this time, I was working for the Alzheimer's Association in a similar role to what I do now.
In 2019, another one of my mentors in track and field passed away. I didn't find out until after his funeral that he died from pancreatic cancer. He didn't want anyone to know. He had known about all the work that I was doing with PanCAN. Him not even being able to talk to me about it – that hurt just as much as my first mentor passing away.
Coming over as a staff member, it's definitely one of those things where I'm like, "Oh, this is forever. This is meant to be." I remember telling Kevin Sims (now Vice President, Volunteer Field Relations & Engagement) years ago, "We need a satellite office in Atlanta. We're the capital of the South." With me being here, we kind of have a satellite office now. I could go on for days about PanCAN. It's truly my heart.
Paula: I definitely had moments as a volunteer where I would think, "I wish this was my job. I like this more than my job." I feel very lucky to have been able to do that. Why did you decide to make the leap from volunteer to staff?
Cody: I would have to say it was after PurpleStride last year, getting that feeling of, "Okay, what's next?" You've made these relationships and connections with all these people, you've heard their stories, but there's still work to be done. That's why I started looking at becoming a staff member. We are building relationships, sharing stories, and connecting volunteers with other volunteers who are going through the same thing or did in their past.
Snapper: I see how critical our work is. There's so much more work that should be done with pancreatic cancer. I always tell people, "If we had a hundred people in this room and we asked 88 people to leave, the 12 people that are still here are representative of the five-year survival rate." That's why we've got so much work to do. For me, it was a no-brainer. Those stars really aligned. It's forever my mission to do whatever I can for PanCAN.
Emily: After the training and love that I received as a PanCAN volunteer and intern, I knew that I would be safe here and that I would have the space to grow. It's where I wanted to go after graduation. I'm working on my master's degree right now and so much of it is on management and nonprofits. I've been able to share not just the work that we do at PanCAN, but how the organization operates as a real model for excellence in management. I knew that it was special here, but it's been so cool to be in these classes and realize, "My organization operates like this."
Paula: Community Engagement is a volunteer-facing department at PanCAN. How have your own volunteer experiences shaped your interactions with volunteers?
Emily: There's a perspective that we have as staff members – there's just a level of understanding. It's another added layer of respect and admiration that we can offer people who are doing this work. I only knew my own affiliate as a volunteer. To really understand and see what volunteers are doing across the country, not just in my little affiliate home, has been really cool. The amount of good work that people are doing nationwide is just astonishing.
Paula: We also understand the vulnerability people have when they join us. For many, they're first interacting with us during such tough times in their lives. I know what that's like. I'm glad that part of my life is useful in this way.
Snapper: I feel like I'm better able to support my volunteers because I used to be a volunteer.
Cody: I've been there. I've had my feet on the ground. I know what some of their experiences are, and some of their struggles. I hear what they're going through and I allow them to vent. I'm honest and open about my experiences as well.
Paula: Have you found that your volunteer background has shaped your professional goals?
Emily: Yes, for sure. I've taken a special interest in supporting youth and student groups and seeing ways PanCAN can engage those groups. We'll have conversations about different places where we can search for volunteers, and I'll add, "Let's source all of the community colleges in the area," or "What are the ways that we can bring youth in?"
Advocacy is obviously a really big part of my volunteer experience, even though I was never the Advocacy Chair. I've always taken a special interest in that, too. What are the ways that I can engage my local leaders and support advocacy efforts here?
Snapper: You hear, "Go find that job where it doesn't feel like work." I'm 38, about to be 39. I've been working for a while and I wish I had found PanCAN 15 years ago, honestly. The work that we're doing is so amazing.
Paula: I also changed career paths because of PanCAN. As a volunteer you build so many skills. I realized when I was redoing my résumé that I had learned a lot from being a volunteer.
Cody: I have a background in hospitality, so I wasn't always in the nonprofit world. For me, it's always about building relationships. When I lost my stepdad, I made a commitment, not only to him but to myself, that I'm going to keep fighting. Transitioning over to the professional side and working for PanCAN – it's still about building those relationships, fundraising, communicating, and getting sponsorships so we can make a bigger impact.
Paula: What do you want volunteers to know about what it's like to work for PanCAN?
Emily: I know exactly what I'm going to say! I want volunteers to know that the community of respect, common purpose, and passion that we feel in the affiliates is exactly reflected here. The staff is right there with you.
Snapper:  This is something that I would do whether I was getting paid for it or not. If I hadn't come over as staff, I'd still be volunteering for PanCAN.
Paula: The one thing that says everything about our organization is that we have a "mission moment" presented at every all-staff meeting. No matter what role you're in, you're going to hear personal, human stories about how our work has made an impact on someone. I love that and I want volunteers to know that's always central to us.
Emily: I brought that up in so many of my grad classes! It keeps the team grounded.
Snapper: I tell people all the time that we are volunteer-led, volunteer-driven, and that I work for the volunteers. Those are my bosses.
Cody: Volunteers are not alone. We have been in their shoes. We understand where they're coming from, through the struggles and through the joyful times. We are all here for the same reason.
You can make a difference for pancreatic cancer patients.
Volunteer
with your local affiliate!