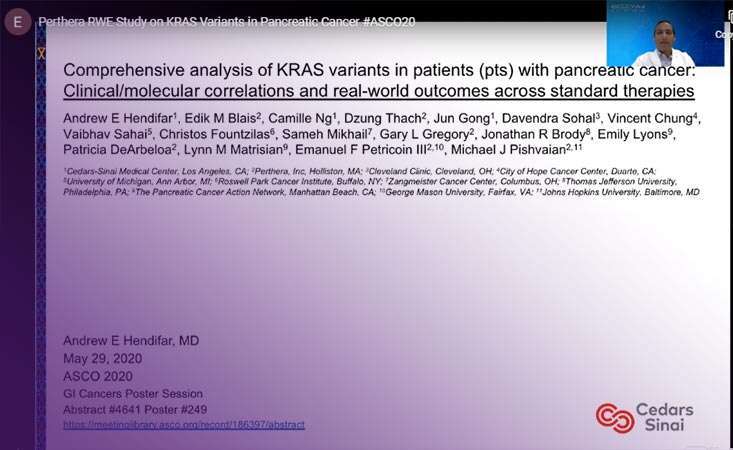 The theme for the 2020 American Society of Clinical Oncology's (ASCO) Annual Meeting was "Unite & Conquer: Accelerating Progress Together." The meeting – which was virtual this year – took place May 29-31, convening tens of thousands of oncologists and other healthcare professionals, researchers, survivors and patient advocates from across the globe.
The Pancreatic Cancer Action Network (PanCAN) typically sends a group of its Scientific and Medical Affairs team to attend the ASCO annual meeting. This year, they participated from home.
The virtual meeting included talks and posters representing progress in the fight against cancer, information about treating cancer patients during the coronavirus disease (COVID-19) pandemic and updates on clinical trials.
📢 Announcing the #ASCO20 Virtual Scientific Program Featured Voices! Follow on Twitter and/or Instagram for a range of expert insights https://t.co/OXTqD4Ea1E pic.twitter.com/tR5xaRlBH3

— ASCO (@ASCO) May 26, 2020
Four poster presentations involved PanCAN's staff and reported on some of the organization's key scientific and clinical initiatives.
Projecting cancer deaths into the future
In 2014, PanCAN published highly cited work in the journal Cancer Research that indicated deaths from pancreatic cancer would surpass breast cancer and colorectal cancer by 2030 – pushing pancreatic cancer to the second leading cause of cancer-related deaths in the U.S.
Initially, the team thought the shift to the second leading cause of cancer deaths would occur around 2020.
The first half of the projection came true in 2016 – when more Americans were estimated to die from pancreatic cancer than breast cancer for the first time. That shifted pancreatic cancer from the fourth to the third leading cause of cancer-related deaths, where it's currently placed today.
"Our newer data show that the gap between pancreatic cancer deaths and deaths from colorectal cancer is closing more slowly than we first anticipated – which is good news," explained Lynn Matrisian, PhD, MBA, chief science officer at PanCAN and co-author of the study.
The results, featured prominently in the ASCO Daily News, now predict that pancreatic cancer deaths will surpass colorectal cancer closer to 2030.
"We felt it was important to look back at our initial projections and assumptions to see if anything had changed," Matrisian said.
"Progress is being made in efforts to improve pancreatic cancer patient outcomes through better treatment options and early detection strategies, and these are clearly making an impact."
The costs of screening
Despite progress, there is currently no standard early detection test for pancreatic cancer, and the only population considered appropriate to routinely screen for the disease is those with a known genetic syndrome or a strong family history.
However, efforts are underway to validate another high-risk population – those who've been newly diagnosed with diabetes after the age of 50.
"Our research partner, Dr. Suresh Chari, has extensively studied the relationship between new-onset diabetes and subsequent diagnosis with pancreatic cancer," Matrisian said. "The scientific and clinical evidence are strong that in a subset of people, their new diabetes diagnosis is actually a symptom of pancreatic cancer."
Chari and Matrisian, along with the National Cancer Institute and other partners, are working to define criteria to identify the higher-risk subset of diabetes patients and determine whom would benefit from CT scan imaging of their pancreas.
In addition to scientific and clinical evidence, however, it's important that a proposed screening and early detection test is financially responsible, too. Cost effectiveness is a key determinant for whether a test becomes integrated into clinical practice.
The research team utilized a cost-effectiveness model developed by Dr. Joshua Roth of the Fred Hutchinson Cancer Research Center. Encouragingly, the analyses presented at the ASCO meeting suggest that offering CT scans to a higher-risk subset of patients with new-onset diabetes has the potential to detect the disease in its earlier stages and can be cost-effective.
More evidence of the benefits of precision medicine
In March 2020, PanCAN and its partners published a pivotal study showing that pancreatic cancer patients who are able to go on treatment that aligns with their tumor biology live an average of one year longer compared to patients who aren't.
Patients in the study were enrolled in PanCAN's Know Your Tumor® precision medicine service, which provides patients and their healthcare teams information about the specific biological features of their tumor and any genetic changes they were born with. Based on this information, each patient's Know Your Tumor report includes a personalized list of treatment options, including clinical trials.
Check out poster 4641 #ASCO20 showing @Perthera data on #KRAS variants in #pancreaticcancer patients. Many patients were analyzed through #PanCAN's Know Your Tumor #precisionmedicine service. https://t.co/tFVwSIb4UF

— PanCAN (@PanCAN) May 29, 2020
In addition to providing patients individualized information about their tumor and genetic makeup, Know Your Tumor allows investigators to look at groups of patients with similar characteristics and identify trends.
For example, we published in late 2019 that patients with genetic changes that lead to DNA repair deficiency were significantly more likely to benefit from treatment with certain chemotherapies – those containing platinum, like the combination chemotherapy FOLFIRINOX – than chemotherapy that did not contain platinum.
These results were further validated in a larger subset of patients and presented at the 2020 ASCO annual meeting. In addition, the research team, led by Perthera, Inc., scrutinized groups of patients whose pancreatic tumors had different versions of KRAS mutations.
KRAS is the most frequently mutated protein in pancreatic cancer, and it is thought to play a critical role in the initiation and progression of the disease. However, there are different mutations that can alter different amino acids, or protein building blocks, within KRAS – all leading to a hyperactive version of the protein.
Through pancreatic cancer patients who participated in Know Your Tumor and other precision medicine studies, the team observed for the first time that tumors that had an alteration at a specific amino acid location, known as Q61, showed a poorer response to FOLFIRINOX. This alteration affects about 4% of pancreatic cancer patients.
Contact PanCAN's Patient Services to learn more about precision medicine, Know Your Tumor and other treatment options.
"The more we learn about individual patients and groups of patients, the better we'll be able to personalize their treatment options and provide them with therapies most likely to be effective," Matrisian said.
Testing terminology
As described above, a pancreatic cancer patient's tumor biology and their genetic makeup can influence their treatment decisions.
PanCAN strongly recommends all pancreatic cancer patients undergo testing to determine any molecular changes in a sample of their tumor tissue and any genetic changes they were born with, through a sample of their blood or saliva.
Both tests are available through Know Your Tumor.
However, within the pancreatic cancer and greater cancer community, there can be confusion over what to call these tests. For example, testing tumor tissue can be referred to as molecular profiling, tumor testing or tissue testing. Testing someone's genetic makeup can be called genetic testing, germline testing or genomic testing.
A team of 20 patient advocacy groups, led by the lung cancer organization LUNGevity, came together to discuss terms used to describe the tests within their cancer type and to survey patients about the terms.
PanCAN was a part of this study, represented by associate director of Scientific and Medical Affairs, Cassadie Moravek.
For future use, the group landed on "biomarker testing" to refer to testing of tumor tissue samples. For genetic (germline) testing, the group preferred "genetic testing for an inherited mutation" and "genetic testing for inherited cancer risk," describing genetic testing results that influence a patient's treatment decisions and those that impact their family's risk of developing cancer, respectively.
Matrisian said, "It's of utmost importance that patients feel empowered to communicate openly with their healthcare teams about the tests and treatment options available to them."
She added, "PanCAN's initiatives were well represented at this year's virtual ASCO annual meeting, and we're proud of the work we're doing on multiple fronts to improve pancreatic cancer patients today and into the future."
We need your help
to continue to make progress in the fight against pancreatic cancer by advancing groundbreaking scientific and clinical initiatives.