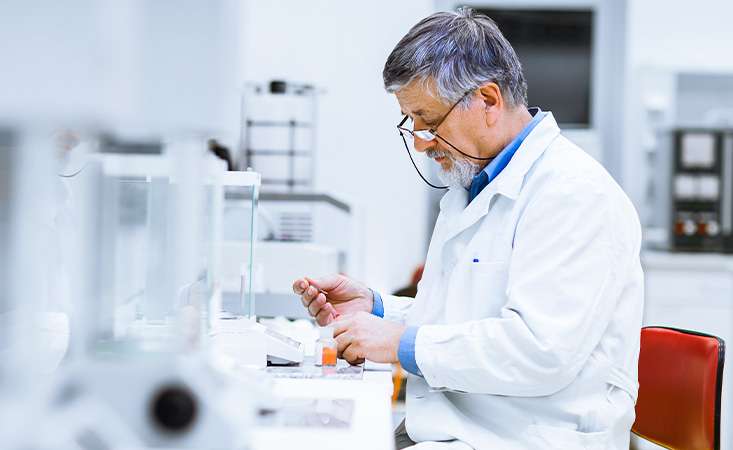 May is Cancer Research Month. Did you know that advancing research is a key part of PanCAN's work? Not only do we fund research grants, but we also conduct large-scale, groundbreaking scientific and clinical initiatives to advance research and improve patient outcomes.
Thanks to generous donors like you, PanCAN has invested approximately $126 million in research since our founding – and we have so much on the horizon.
Just last month, we announced our latest large-scale research program, our Early Detection Initiative. This $25 million study is looking at whether imaging patients when they get a new-onset diabetes diagnosis leads to earlier detection of pancreatic cancer, with the goal of finding a screening method for the disease.
And though PanCAN's Early Detection Initiative has the potential to change the way the disease is diagnosed, that's not the only way we're using research to change patient outcomes.
PanCAN's Precision PromiseSM clinical trial was created to speed progress for patients by getting new and better treatments approved more quickly. Open right now at 15 world-class institutions across the country, this trial was designed to transform the way pancreatic cancer patients are treated. In addition to testing new treatments, the trial includes supportive care to ensure more of the patients' needs are being addressed. The Precision Promise Supportive Care Committee is also publishing best practices related to supportive care, like how to manage weight loss and pain, for healthcare teams anywhere to use to deliver the best care to their patients – even patients who aren't on the trial.
Plus, through our Know Your Tumor® precision medicine service, we showed that patients who can receive treatment that matches their tumor biology live longer. We continue to provide tumor tissue biomarker testing through this service, giving patients information about their tumor's biology so their oncologists can personalize treatment.
We're also using patient information (with their permission) to share best practices and breaking down silos to make data easier for researchers to learn from.
This is all possible because PanCAN worked to build and strengthen a community of researchers studying this disease through our Research Grants Program, which continues today. PanCAN and our advocates have also played a key role in increasing the federal funding for pancreatic cancer research, leading to more researchers and research into the disease.
When PanCAN was founded in 1999, there were only a handful of researchers focused on pancreatic cancer, and funding was scarce. PanCAN changed this, awarding grants to 187 scientists at 71 institutions and advocating for federal research funding that resulted in an increase in National Cancer Institute pancreatic cancer research funding by more than 900% as well as a dedicated pancreatic cancer research program at the Department of Defense. And we're not stopping.
None of this would be possible without generous donors and advocates like you. Thank you.
You make it all happen –
donate today
to support PanCAN's comprehensive approach to fighting pancreatic cancer, including transformative research programs.