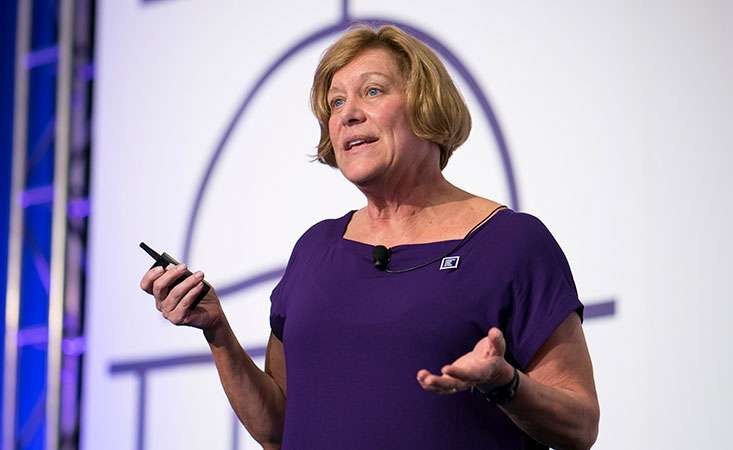 Editor's note: Last week, PanCAN announced its Early Detection Initiative, a $25 million effort to detect pancreatic cancer earlier by studying the relationship between pancreatic cancer and new-onset diabetes. Today we're speaking with PanCAN Chief Science Officer Lynn Matrisian, PhD, MBA, about her work on this and other projects that are transforming the future for pancreatic cancer patients.
PanCAN: What made you decide to join PanCAN in 2012?
Lynn: I had an extremely fulfilling career as an academic scientist. I was proud of the discoveries I'd made to help understand the tumor microenvironment – the surrounding tissue that supports and sustains the cancer cells – with a focus on cancer metastasis (spread). I also loved teaching and mentoring junior scientists entering the field.
Prior to joining PanCAN, I enrolled in a part-time MBA program, seeking skills to become a stronger leader and be better equipped to understand business challenges. When the opportunity to join PanCAN arose, it felt like a perfect fit. I could use my years of cancer research experience and business skills to spearhead new strategies to defeat pancreatic cancer.
PanCAN: What were your top priorities when you started working at PanCAN?
Lynn: Pancreatic cancer had been historically understudied and underfunded. There were many, many more questions than answers: Why was the prognosis so poor compared to other solid tumors? Why couldn't we detect it earlier or treat it better? It felt like a little knowledge could go a long way in making a real difference in fighting the toughest of the cancers.
I started by focusing on PanCAN's Research Grants Program, which launched shortly after the organization was founded. I could see the enormous impact of investing in early-career investigators who were poised to make discoveries and become leaders in the field, as well as supporting projects with potential to improve and extend patient lives. A better biological understanding of the disease from lab-based studies was necessary to come up with more effective treatment strategies and ways to detect it earlier.
To move toward treatment options that are more effective and personalized to each patient, we introduced our Know Your Tumor® precision medicine service in 2014. Precision medicine – using a patient's biological characteristics to determine the best treatment options for them – had brought great progress to other cancer types. Experts in the pancreatic cancer research and clinical community didn't think we'd find anything of interest by offering pancreatic cancer patients biomarker testing of their tumor and genetic testing for inherited mutations. But we persevered and launched the program – with success.
Early last year, we and our research partners published a landmark paper showing that pancreatic cancer patients who were able to go on treatments that align with their tumor biology lived an average of one year longer than those who weren't. It was exactly what we set out to accomplish when we started Know Your Tumor.
PanCAN: And what drove you to shift focus to early detection?
Lynn: Patients who are diagnosed with pancreatic cancer early may have the opportunity for surgical removal of their tumor, offering the best chance for long-term survival. Early diagnosis also allows more time for other interventional treatments, including chemotherapy, radiation, targeted therapies and investigational treatments through clinical trials.
We aren't going to achieve early detection by screening the entire population for pancreatic cancer. The disease is too rare, and the tests available can be too invasive and expensive and can cause side effects. So the first step in developing an early detection strategy for pancreatic cancer is identifying people who have a higher-than-average likelihood of getting or already having pancreatic cancer.
Our Early Detection Initiative focuses on adults with certain clinical features who've recently been diagnosed with type 2 diabetes.
PanCAN: Why diabetes?
Lynn: I'd been following the work of Dr. Suresh Chari for many years – he has studied diabetes as both a risk factor and a symptom of pancreatic cancer. He observed that people who were newly diagnosed with diabetes after the age of 50, and whose blood sugar and weight were rapidly changing, had a significant likelihood of being diagnosed with pancreatic cancer within the next three years. In these cases, their diabetes was caused by a pancreatic tumor that hadn't been detected yet.
Suresh's work gained traction after the National Cancer Institute (NCI) put together a consortium to study pancreatic cancer, diabetes and chronic pancreatitis in response to its scientific framework for pancreatic cancer. Two of the top four research priorities identified by the report were improving pancreatic cancer earlier detection and exploring the relationship between diabetes and pancreatic cancer. The framework was developed in response to the passage of the Recalcitrant Cancer Research Act, which was fueled by PanCAN's incredible advocates.
To make progress toward these two priority areas, NCI launched its New Onset Diabetes (NOD) Study to collect blood samples from people over the age of 50 with a new diabetes diagnosis. The blood samples will be carefully evaluated to determine whether there are clues – called biomarkers – that can indicate the early presence of pancreatic cancer in the subset of participants who have the disease.
PanCAN: How is PanCAN's Early Detection Initiative different from the NOD Study?
Lynn: We have partnered with NCI on the development and implementation of the NOD Study, and we are eager to learn more about blood-based biomarkers in the future. In parallel to the NOD Study, and in partnership with NCI and other stakeholders, we decided to launch our Early Detection Initiative to add a clinical component – imaging a subset of participants – to find out whether testing for pancreatic cancer at the time of a new diabetes diagnosis can lead to earlier detection. We'll also collect blood samples from the same subset of participants and pool them with the NOD Study samples for future analysis.
I am so proud to play a part in the work PanCAN is doing to better understand, detect and treat pancreatic cancer. With the recent launches of our two largest-scale initiatives – the Precision PromiseSM adaptive clinical trial to develop better treatment options and the Early Detection Initiative – we are accelerating progress toward a world in which all pancreatic cancer patients will thrive. And we won't let up until our vision becomes a reality.