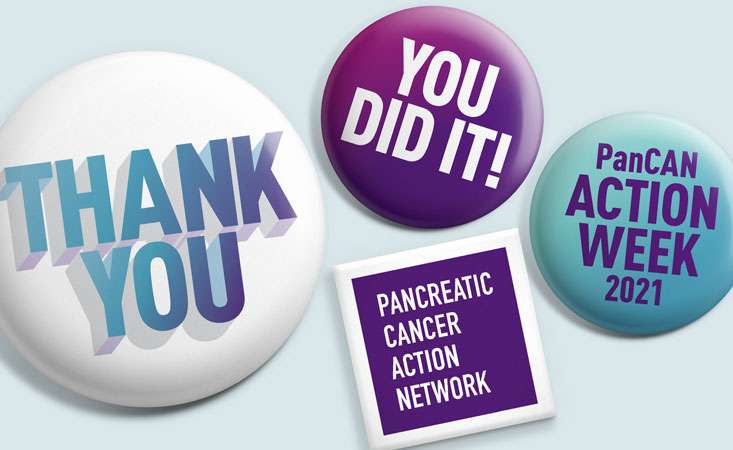 As Ian Slepian waited for his wife, Beth, to get her treatment for pancreatic cancer at the National Institutes of Health (NIH) last week, he made three important phone calls.
"I want to urge you to make pancreatic cancer a national priority," he said on the phone. "Pancreatic cancer patients can't wait. A robust federal research investment is the key to making progress against this disease, and patients like my wife are counting on you."
The calls were to his members of Congress – the two U.S. Senators and the Representative of his hometown in Maryland.
And they were very personal to both Beth and Ian.
Beth is participating in a clinical trial at the NIH – the couple knows that clinical research is critical in order to bring new, approved treatments to pancreatic cancer patients.
Ian made his calls as part of PanCAN Action Week 2021, which kicked off June 14 with "Voices in Action," a virtual event featuring stories of impact shared with the largest-ever gathering of pancreatic cancer advocates – close to 2,000 people. The event was hosted by 17-year pancreatic cancer survivor Kitty Swink, her husband, Armin Shimerman, and Jonathan Frakes, all "Star Trek" actors. Two of PanCAN's congressional champions, Sen. Chris Coons (D-DE) and Rep. David McKinley (R-WV), also shared their stories and the difference one voice can make in fight against pancreatic cancer, as did many other people affected by the disease.
"Voices in Action" was followed over the next two days by thousands of pancreatic cancer survivors, caregivers and advocates nationwide who also called and emailed their members of Congress.
All the advocates urged Congress to increase the federal investment in the Department of Defense's (DOD) dedicated pancreatic cancer research program from $15 million to $20 million. The DOD's pancreatic cancer research program was created in 2019 as a direct result of PanCAN's advocacy efforts. Additionally, advocates urged Congress to support $46.11 billion for the NIH, including $7.6 billion for National Cancer Institute.
Throughout PanCAN Action Week, Congress heard our message that pancreatic cancer patients can't wait. Advocates from all 50 states made over 12,000 calls and emails, and over 250 virtual constituent meetings were held with members of Congress and their staff. Through their hundreds of hours of advocacy efforts, PanCAN's message reached all 100 U.S. Senators and over two-thirds of the U.S. House of Representatives.
As the third leading cause of cancer-related death in the United States and with a five-year survival rate of just 10%, pancreatic cancer demands urgent action to save lives. There is no early detection test for pancreatic cancer and few effective treatments are available; therefore, research funding is crucial to solving this challenging disease. Currently, more than 80% of research funding for the disease comes from the federal government.
For more than 20 years, PanCAN has been at the forefront of advancing the national conversation about pancreatic cancer and the urgent need for an increased federal research investment. These ongoing advocacy efforts led to the creation of a scientific framework for pancreatic cancer from the Recalcitrant Cancer Research Act and increased federal funding year over year.
Thank you to everyone who made your voices heard during PanCAN Action Week 2021. Your actions make a big difference for patients fighting today, like Beth Slepian, and those who will be diagnosed in the future.
You can still
take action
by contacting your members of Congress about the importance of investing research funding into pancreatic cancer.