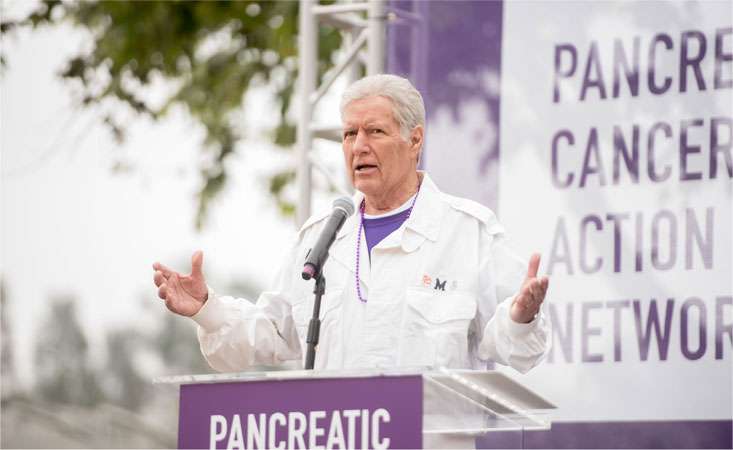 Even two years after his death, "Jeopardy!" host Alex Trebek's immense impact on the pancreatic cancer community continues to be felt.
Throughout his 20-month battle with the disease, he shared his experiences, raising awareness about symptoms and risk factors – and advocating for better outcomes through early detection.
His engagement with fellow survivors lifted their spirits and inspired optimism. When he candidly talked about treatment side effects and his struggles with depression, it encouraged others to open up about what they were experiencing and ask for help.
In May of 2019, he met survivors and PanCAN supporters and shared his story. Just two months after his diagnosis, he attended PanCAN PurpleStride Los Angeles. "Jeopardy!" staff and friends formed Team Alex in his honor, a group 200 people strong that raised nearly $60,000 to support PanCAN's mission.
At the opening ceremony, Trebek addressed the crowd and noted that the other survivors there helped remind him there's always hope – something he paid forward to countless others throughout his journey.
Trebek died on Nov. 8, 2020. After his passing, PanCAN President and CEO Julie Fleshman, JD, MBA, said, "We will forever be grateful for the awareness he brought to the disease and the cause – and especially his openness in sharing his experiences."
His many fans remembered him by supporting PanCAN: In the 24 hours after the news of Trebek's death, PanCAN received more than $55,000 in donations, a fitting tribute for all that he did for the community.
To honor Trebek's legacy, and to help patients fighting pancreatic cancer now, PanCAN invites you to join the cause during Pancreatic Cancer Awareness Month as we continue to raise awareness and funds.
Here are five things you can do to get involved this November.