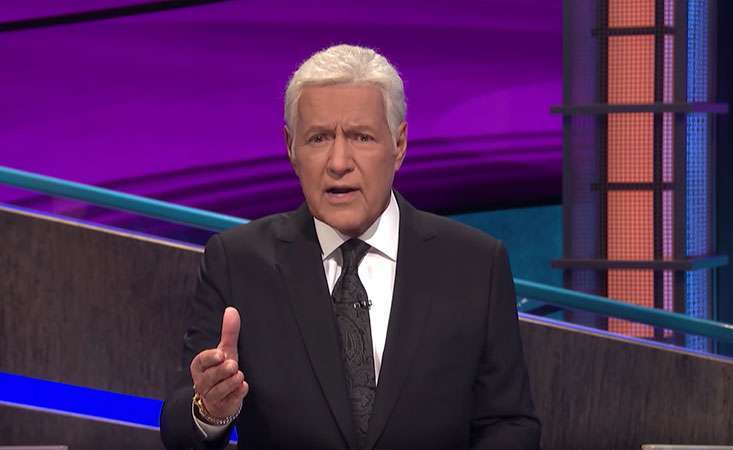 Alex Trebek shared a via video today to mark one year since he told the world he was fighting pancreatic cancer.
In it, the "Jeopardy!" host said of the past year, "I'd be lying if I said the journey had been an easy one. There were some good days but a lot of not so good days. There were moments of great pain…and sudden massive attacks of great depression that made me wonder if it was worth fighting on."
Trebek has spoken before about pain and depression, which can be side effects of chemotherapy and are symptoms of pancreatic cancer.
Today he noted the one-year survival rate for stage IV pancreatic cancer, which is 18.4%.
"I am very happy to report that I have just reached that marker," he said.
The Pancreatic Cancer Action Network (PanCAN) issued a statement to the media upon release of Trebek's health update, which said, in part:
"We are extremely grateful to Trebek for his continued openness about his treatment journey and more importantly, his strength and resolve to fight for all who look to him for inspiration. Throughout the past year, Trebek has transformed the conversation around pancreatic cancer and provided hope to people impacted by this disease."
The timing of his update coincided with some exciting news from PanCAN about patient survival.
In the midst of a #pancreaticcancer battle, #AlexTrebek radiates positivity and courage, maintaining that "if we take it one day at a time with a positive attitude, anything is possible." #WeLoveYouAlex @Jeopardy https://t.co/elPvPS8fQJ

— PanCAN (@PanCAN) March 4, 2020
Earlier this week, PanCAN announced new research that revealed pancreatic cancer patients who receive precision medicine live an average of one year longer than those who do not. This is the first study to demonstrate an overall survival benefit from treatments that are matched to pancreatic cancer patients' tumor biology.
PanCAN recommends that all pancreatic cancer patients undergo testing of both their tumor tissue (molecular profiling) and blood or saliva for genetic (germline) changes to determine if they have an "actionable alteration" and to identify treatment options for that patient.
PanCAN offers a free Know Your Tumor® precision medicine service as well as free, in-depth, and personalized resources and information on the disease through its PanCAN Patient Services one-on-one support center.
PanCAN is here for all patients – at any point in their pancreatic cancer journey.
While side effects from treatment are common, patients have options when it comes to easing or controlling them through supportive care.
Seeing healthcare professionals who focus on symptom management and supportive care improves outcomes and is critical for patients' quality of life. PanCAN strongly recommends that symptom management and supportive care should be provided early in a patient's diagnosis as well as during and after treatment.
Trebek ended today's message on an encouraging note, saying, "If I, no if WE – because so many of us are in the same situation – if WE take it one day at a time with a positive attitude, anything is possible.
"I'll keep you posted."