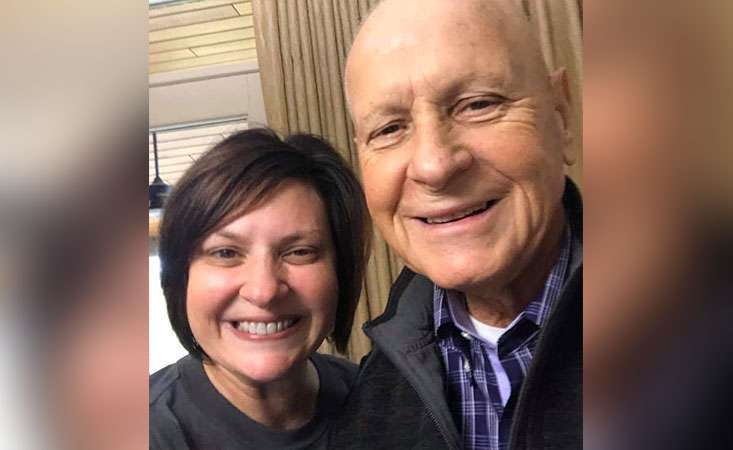 Editor's note: Enjoy our series of stories this week celebrating – and remembering – beloved fathers in honor of Father's Day. Today's story begins with an excerpt from a note we received from Nikki Williams, who found the Pancreatic Cancer Action Network's (PanCAN) Patient Services after her dad was diagnosed last year.
My father. My number one. The love of my life. The first man I ever loved.
His mild stomach pain? Well, certainly it's heartache, nothing more – his oldest child and her family had just moved away. But it isn't heartache. Nor an ulcer, or the gallbladder…
It's pancreatic cancer.
But I knew he wasn't dying in six weeks. I knew he was going to fight. I knew he would continue to play golf. And he damn well was going to keep being my dad … because I STILL needed him. And my kids needed their Nonno.
No way. Not now. I asked questions and I pushed buttons, and I asked for favors from friends and everyone I knew in the medical field. I had to do more.
But how?
Then I was handed PanCAN. And I inhaled. And I exhaled. And I smiled. And I had light. I had a place to help me and I had information, and not simply faces looking at me with an expression that said my father was handed a death sentence. Because he was not.
Thank you to an angel on earth.
Thank you, PanCAN.
Every day, I am more and more grateful.
---
Nikki Williams' father, Tony, immigrated to the United States from Italy. Hardworking and bright, he taught himself English and did well for himself and his family.
To Tony's three children and nine grandchildren, he's their world.
Last summer, just as Nikki and family had moved to New York to be with husband Travis, who had taken a job there, Tony began to experience signs that something might not be right with his health.
Blood sugar issues (he is a longtime diabetic), weight loss and occasional stomach pain. When he went in for a physical in October 2019, he mentioned all this to his doctor. Earlier bloodwork had been normal, but the doctor suggested a CT scan.
Things moved quickly. The next day, Nikki received her dad's pathology report through an app on her phone – not the typical protocol, as her dad hadn't yet received the results.
It revealed lesions on the pancreas with metastases to the lungs.
"Dad didn't even know he had pancreatic cancer yet, and I was already in the process of setting up a gastroenterologist appointment," she said.
After an endoscopy, Tony was scheduled to start chemotherapy the following week.
The gastroenterologist, Nikki said, was the first person to relay a message of hope and positivity. The next was a Patient Services case manager at PanCAN – the gastroenterologist had given Nikki information on our organization and encouraged the family to reach out.
"Most of what you hear about pancreatic cancer is negative. PanCAN gave us a whole new mindset," Nikki said. "My dad is living today, and I believe it's because of PanCAN."
PanCAN's
Patient Services
provides free, in-depth, personalized information and resources to patients and families.
Nikki and her brother soon learned of all the services and information PanCAN provides, including the Know Your Tumor® precision medicine service, which Tony also participated in. (Genetic testing and molecular profiling provided through Know Your Tumor may reveal mutations that could respond to treatments not previously considered.)
She also pored over the survivor stories at pancan.org, savoring the messages of hope.
And she passed them along to Tony.
"Those stories gave me MY breath back, and I passed that brightness on to my dad. He no longer feels this diagnosis is a death sentence, and he is not afraid."
Nikki also feels comfortable stepping in as needed to be her dad's advocate, saying, "PanCAN gave me the confidence to take charge of my dad's care. For anyone diagnosed, reach out to PanCAN. They will be there for you."
The family has since gotten involved with PanCAN in their community.
Shortly after Tony's diagnosis, Nikki, Travis and the kids moved back to Pittsburgh, near Tony. They participated in PurpleStride Pittsburgh in April; Team Tony was the third highest fundraising team. Nikki raised more than $11,500 toward the team's goal – much of it through word of mouth, online donations and Facebook fundraising.
And before the pandemic halted major league sports, Nikki was working with the Pittsburgh Pirates (Travis is president) to coordinate a special awareness event for PanCAN at the ballpark.
To celebrate Father's Day this year, the family has planned a cookout – it's an annual tradition and celebrates Nikki's birthday, too, which is just a few days prior.
Tony may even play a round of golf – a pastime he has enjoyed even while going through treatment.
"When he was diagnosed, my biggest fear was around future milestones, like Father's Day," Nikki said. "But PanCAN has opened my heart. I thread belief and hope and love and positivity through everything.
"Sure, I know that pancreatic cancer is sneaky. But how about we celebrate all the small victories?"