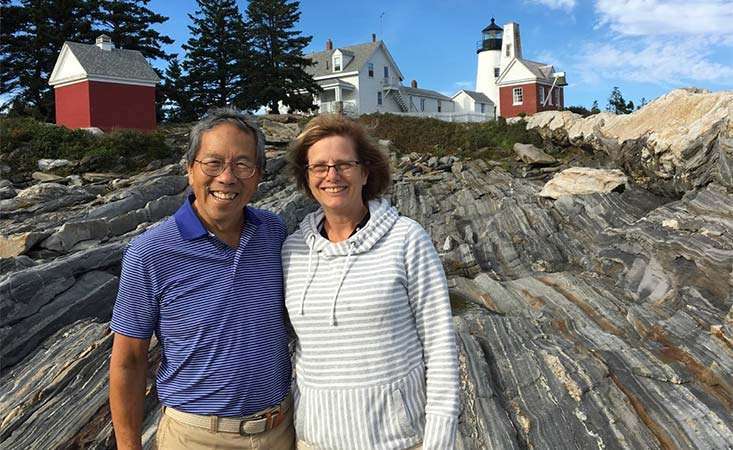 When Debbie Liang called the Pancreatic Cancer Action Network's (PanCAN) PanCAN Patient Services recently, she was quite anxious.
Liang's husband, Jack, has inoperable stage IV pancreatic adenocarcinoma (the most common form of pancreatic cancer). In a week, he was supposed to get his last chemotherapy treatment. He'd be going in for scans shortly after that. And he'd likely have several supportive care treatments in between. Then, they'd have future treatment decisions to make.
But Liang was worried about the threat of coronavirus disease (COVID-19).
Was it safe for Jack to get his chemo? To get scans? To go to the hospital for blood transfusions if needed? And what about treatment next steps?
Jack had been diagnosed in May 2017, after unexpectedly losing 20 pounds in about a month. He, his wife and his healthcare team quickly sprang into action.
After getting multiple expert opinions, Jack began a course of chemotherapy – 12 rounds of FOLFIRINOX.
His tumor didn't seem to be growing, but it wasn't shrinking much either. And he was experiencing debilitating fatigue and weight loss, along with neuropathy and mouth sores.
His healthcare team followed the first chemotherapy up with MRI-guided radiation along with an oral chemotherapy.
After 15 rounds of radiation over three weeks, the tumor had shrunk to about a third of its original size. Later testing showed no signs of active cancer.
After significant fatigue and weakness on chemotherapy, Jack took the opportunity when off treatment to fully embrace his physical health.
The couple traveled for 83 days in 2018, including a trip with two of their three children to Utah. There, Jack used his regained strength for a demanding three-mile hike at Arches National Park in May 2018 to mark the one-year anniversary of his diagnosis.
Unfortunately, in May 2019, scans revealed that the tumor on his pancreas had returned. They also showed that he had a gastrointestinal stromal tumor (GIST) that needed to be treated.
He went back on chemotherapy and eventually had surgery to remove the GIST. Four weeks after that surgery – with the green light from his medical team – he was dancing with his daughter at her wedding in New York City.
That joyous event was followed by six more rounds of chemotherapy, which he was finishing up in late March. The plan was to discuss treatment next steps afterward.
Now, Liang is concerned about how the coronavirus may impact Jack's health and pancreatic cancer treatment.
When Jack was diagnosed, Liang had contacted PanCAN Patient Services for information. She found the service so helpful that she continued to use it again several times over the coming years – including to get information about diet and nutrition, enzymes and genetic testing.
"From the start, PanCAN has been so helpful," Liang said. "If I've had any questions, I've given PanCAN Patient Services a call."
So in this recent time of increased anxiety, Liang again turned to the trusted resource. She wanted to see what PanCAN recommended and what precautions she should take.
Talking to PanCAN Patient Services helped Liang understand what to talk to Jack's healthcare team about, what to consider moving forward and what to prepare for.
For example, she realized she could talk to Jack's doctor and ask if the upcoming CT scan is necessary right away or if it can be pushed back to avoid coronavirus exposure.
She also realized she needed to know what to do if Jack got sick. So, she called his oncology nurse, who gave her best practices and information for exactly what to do in that scenario, as each institution is dealing with incoming coronavirus cases differently.
Liang particularly appreciated the fact sheet PanCAN Patient Services provided with frequently asked questions. "It is very reassuring to have this," she said.
"Talking to PanCAN Patient Services made me start thinking a different way. I needed to get all my ducks in a row, to be prepared."
Since Debbie's most recent contact with PanCAN Patient Services, Jack has received his final chemotherapy treatment and completed his CT scan. Now, the couple is discussing next steps with his healthcare team.
"PanCAN Patient Services always has such good resources and is very quick. The information they send us via email is a godsend.
"Any time we talk to someone who has been diagnosed with pancreatic cancer, we tell them to contact PanCAN. They have outstanding resources to help you navigate through your journey!"
Any treatments, including clinical trials, mentioned in this story may not be appropriate or available for all patients. Doctors take many things into account when prescribing treatments including the stage and type of cancer and the overall health of the patient.