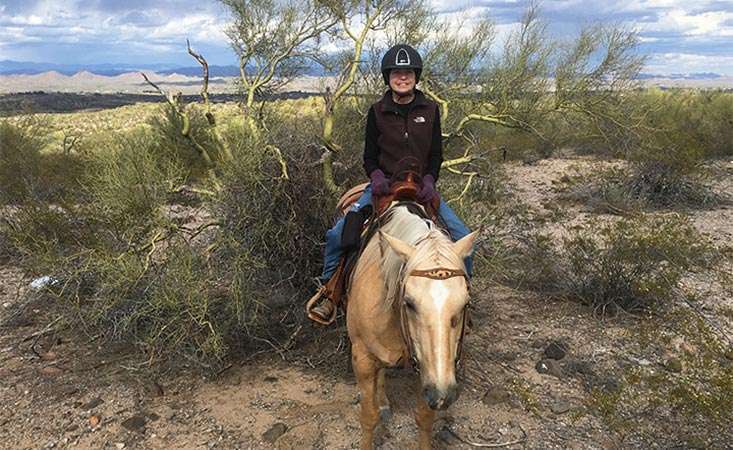 Editor's note: During Caregiver Appreciation Month, we honor the challenging but important role of pancreatic cancer caregivers by sharing the experience of Brian Rubens, who cared for his wife until she passed away in 2016. Rubens hopes to help those currently providing care and those who have lost a loved one to this disease by letting them know they are not alone.
When Dr. Karen Trimmer was diagnosed with stage IV pancreatic cancer in 2015, her husband of nearly 25 years, Dr. Brian Rubens, stopped working so he could take care of her full time.
Though Rubens knows many people are unable to leave their jobs, he was thankful he could and found it was the right decision for him.
The couple decided that a key goal in their decision-making, including Trimmer's treatment plan, would be to ensure Trimmer had the best quality of life possible.
Rubens found it important that Trimmer's healthcare team knew the symptoms and side effects she was experiencing – like pain, nausea, appetite loss and diarrhea – and that they addressed them quickly with supportive care.
He also got creative with meals to get Trimmer to eat, finding ways to fit in meals between routine activities and to boost the nutritional value of foods Trimmer found most appetizing.
Rubens is also thankful that he and Trimmer addressed practical concerns, like financial planning and advance directives, and that Trimmer made a book for him so he'd know all the household details she handled.
He said making the book also helped Trimmer: "It gave her something to do, something to focus on. It made her feel that she was helping me."
Living life to the fullest with Trimmer was also important to Rubens. Though Trimmer began chemotherapy right away, the couple managed to travel a lot: to Alaska to photograph grizzly bears, to their home in Arizona many times to ride their horses, to Virginia to visit Trimmer's mother – and even to Africa for two weeks.
"Cherish your loved one and the time you have with them like it is the last time, because one day, for all of us, it will be," he advised others.
But as many loved ones do, Rubens learned during this time how difficult caregiving can be.
"This is a pretty lonely place to be," he shared. "That's an issue with cancer in general. It's a bit of a lonely journey."
Rubens feels strongly that counseling – for both the patient and the caregiver – is critical. Immediately after diagnosis, Trimmer began seeing a counselor. "I think it really helped her," Rubens said, "especially in the beginning."
Counseling has also helped Rubens throughout the different stages of this journey. "It's a grief process that starts the very moment of the diagnosis and goes on until the person passes," Rubens shared of his experience. "And then you face a new kind of grief all over again."
Rubens' counselor gave him two pieces of advice that he found especially helpful:
You need to "fill your vessel before you fill someone else's." Self-care is critical for caregivers.
"Death ends a life, but not a relationship." The relationship will always be there.
Though he continues to grieve more than three years after the loss of Trimmer, Rubens is finding ways to move on. He returned to work. And just last month, he remarried a woman who is a breast cancer survivor and who also lost her husband.
"It doesn't diminish how I feel about Karen," he said. "I miss her all the time. I'd give up anything to have her back, but I can't. So you have to move on. Life goes on."
Of caring for Trimmer, Rubens said, "Devoting myself to caring for Karen was the singular most important thing I've done in my life. I'm very happy that she had good care, that she lived as long as she did.
"I have no regrets."