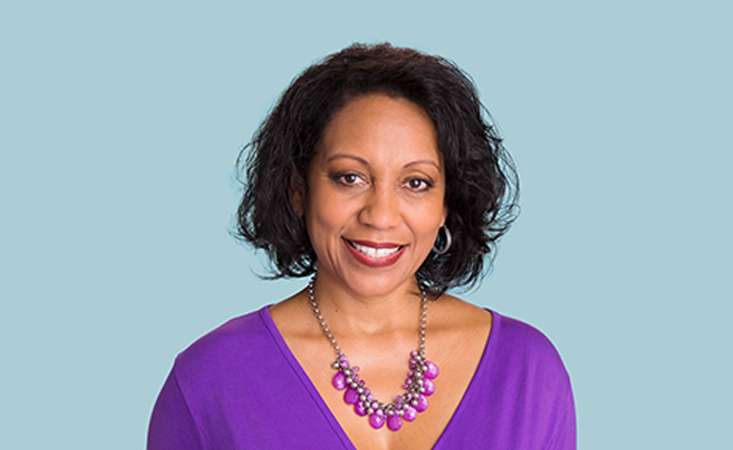 Editor's note: Pancreatic Cancer Awareness Month continues today as we share the story of pancreatic cancer survivor Teona Ducre, in her own words. The story is part of our "Talk. Test. Take Control." campaign that encourages a conversation with your doctor about genetic and tumor tissue biomarker testing if you are a pancreatic cancer patient, and genetic testing if you are a first-degree relative.
April Fool's Day 2016 was the day that I was told I had pancreatic cancer.
I had been dealing with severe back pain and excruciating stomach pain for a while – but doctors thought I just had an ulcer.
When I finally got the news that it was stage 3 pancreatic cancer, I was 41 and a single mom of two teenagers. I knew nothing about pancreatic cancer.
The next two weeks were spent at doctor's appointments that included meetings with a surgeon, bloodwork to determine tumor markers and a PET scan to see if there was cancer anywhere else in my body. That was followed by two weeks of outpatient appointments to have an endoscopy biopsy and to insert a port for chemotherapy.
Fortunately, I also found PanCAN at this time, and I called them right away.
I spoke with a PanCAN Patient Services case manager. They were so helpful – we discussed the importance of getting a second opinion, which I had already done. They gave me information about pancreatic cancer specialists in my area.
I also learned about the importance of genetic and biomarker testing after speaking with PanCAN. I had testing done through PanCAN's Know Your Tumor® precision medicine service between my initial treatment (six months of chemotherapy and surgery) and five more months of chemotherapy.
The information from tumor testing gave my medical team tremendous insight and a plan for any recurrence, which they believe will make treatment more effective should I need it in the future. My oncologist said that already having a road map for success will be an asset, especially because time is of the essence with this disease.
For patients with pancreatic cancer, understanding their tumor biology and genetic makeup can help identify the
treatment options
that may work best for them. Also, they can learn if they have inherited mutations that could impact their family's health.
Diagnosing pancreatic cancer early can dramatically improve survival. The majority of people who get diagnosed with pancreatic cancer are diagnosed at stage 4 – when the disease has spread. I am fortunate that my cancer was caught earlier.
I want to see more survivors like me.
I firmly believe that knowledge is power and that you have to be your own best advocate when it comes to your health.
Since having testing done, I have spoken with my family and both my children about how important it is for them to consider having genetic testing to see if there is a familial link.
Having a first-degree relative (a parent, child or sibling) with pancreatic cancer can increase familial
risk
. The National Comprehensive Cancer Network
recommends
genetic testing, which involves a blood or saliva sample, if the person in the family with pancreatic cancer was found to have a
genetic mutation
, didn't have testing done, or if family members are not sure if the results were positive for a genetic link.

Teona is helping PanCAN spread the word with a public service announcement about the importance of testing this November during Pancreatic Cancer Awareness Month.
Today I try to be out there in the community every opportunity I get so that I can advocate for and bring awareness to pancreatic cancer. From television interviews to events, to attending National Pancreatic Cancer Advocacy Day in Washington, D.C., and even just wearing purple, I make advocacy a priority in my life.
I also want everyone to know that PanCAN is a resource for them if they are faced with pancreatic cancer. PanCAN can help people get biomarker testing through Know Your Tumor and find more treatment options that could help them.
The African American community is more likely to be diagnosed with pancreatic cancer than all other ethnic and racial groups. Many in our community don't know very much about pancreatic cancer, and they haven't heard of PanCAN.
I want to change that. As someone who was diagnosed in my early 40s and who is also African American, I can bring a diverse perspective and share some of the challenges that might be unique to people who are diagnosed younger and in various socioeconomic environments.
The pancreatic cancer survival rate is too low. One way we are going to change that is if people have the tools they need to get diagnosed early. If they know the symptoms, if they know that genetic testing can help answer questions about potential familial risk…every bit helps.
RSVP for our free event
, "Early Detection and Better Treatments: How Testing Plays a Critical Role," on World Pancreatic Cancer Day – Nov. 18, 2021.
PanCAN is the number-one resource for pancreatic cancer patients and their families. They are investing millions of dollars in leading-edge scientific and clinical research, and it's critical that we support their efforts to accelerate progress for this disease. Please consider giving a gift to PanCAN today.
Contact PanCAN Patient Services
to learn more about pancreatic cancer, testing, treatment options including clinical trials, and other resources and services, all free of charge.
Thank you to our leading Pancreatic Cancer Awareness Month Sponsor