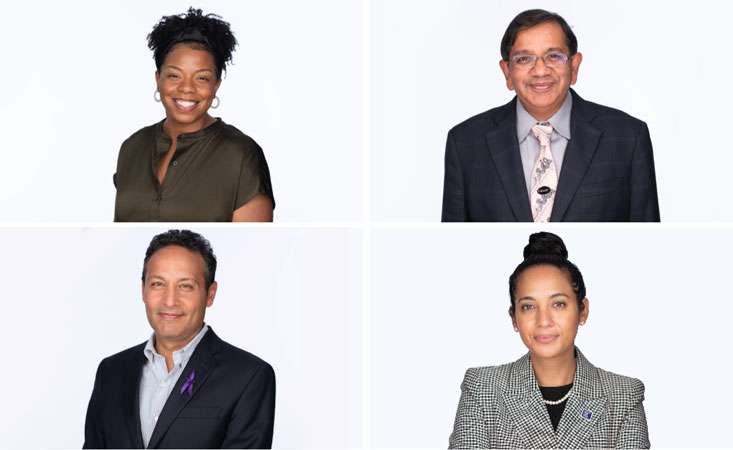 This November, during Pancreatic Cancer Awareness Month, PanCAN has been highlighting the urgent need for more research. Through the following stories and short videos, we invite you to get to know some of the scientists and physicians bringing progress to patients and their families. From seasoned researchers to the newest generation of doctoral students just starting their careers, they all point to PanCAN as the organization that brings them together and moves the field forward.
"A Really Ambitious Effort"
Anirban Maitra, MBBS, has been working in the pancreatic cancer research field for more than 20 years. He has yet to see anything like PanCAN's Early Detection Initiative, which seeks to develop a screening strategy to detect pancreatic cancer early, before the disease has spread.
"A trial of this size has not ever been done focused entirely on pancreas cancer," he said. "It's a really ambitious effort."
Research suggests that in a small subset of people diagnosed with diabetes after the age of 50, their diabetes was caused by a pancreatic tumor. The Early Detection Initiative is a randomized controlled trial that is exploring this connection. It is focused on understanding more about the relationship between changes in blood sugar and weight, and the development – and detection – of pancreatic cancer.
For Dr. Maitra, who is a co-principal investigator for the Early Detection Initiative, early detection "has the most important role to play in terms of improving survival and outcomes in this otherwise deadly disease."
"When we look at patients who are diagnosed at an earlier stage and are able to successfully undergo surgery, those patients typically live a lot longer and do better than the ones, unfortunately, who are diagnosed at a more advanced stage of their disease," he said.
A recipient of one of the first PanCAN Career Development Awards, Dr. Maitra has received many subsequent PanCAN grants and has continued to stay involved with the organization through serving on the Scientific and Medical Advisory Board. Now the scientific director of the Sheikh Ahmed Pancreatic Cancer Research Center at UT MD Anderson Cancer Center, Houston, he has seen the field grow up around him, giving him hope that better early detection methods – and other important discoveries – are on the horizon, thanks in part to the bold projects PanCAN pursues.
"What I think makes PanCAN so different is its ability to embrace ideas that are out of the box, but which need to be done for us to make a difference in this disease," he said.
Watch a short video interview with Dr. Maitra.

"New Reasons for Hope"
Andrew Hendifar, MD, wants to bring new therapies to patients with pancreatic cancer more quickly. Through his work with PanCAN's Precision PromiseSM adaptive clinical trial – which is designed to accelerate drug development – he's part of a group leading the way.
He's also focused on improving how patients feel. As Supportive Committee Chair for Precision Promise, Dr. Hendifar is interested in research that improves quality of life. He's exploring, with PanCAN grantee Gillian Gresham, PhD, how wearable technology like fitness trackers can help better understand a patient's overall well-being.
"We can measure sleep. We can measure heart rate," he said. "Some of these technologies are actually developing to the point where we can monitor your temperature, your blood tests at home. All through a wearable device."
Hendifar, who is co-director of pancreas oncology at Cedars-Sinai Medical Center, knows that every new advancement means better outcomes and the potential to save lives. In conversations with patients, he emphasizes just how rapidly change is coming.
"We always try to stay hopeful," he said. "We try to understand the seriousness of the condition and that we have a lot of work to do together. But, no doubt, the future is definitely bright. And every day, every week, every month, there's a new treatment. There's a new idea. There are new reasons for hope."
Watch a short video interview with Dr. Hendifar.

"A Project Near and Dear to My Heart"
Black Americans are more likely to get pancreatic cancer than any other racial or ethnic group in the United States and Black and Latino/a/x Americans are less likely to be referred to genetic testing, an important tool to understand risk and improve outcomes.
When it comes to troubling statistics like these, Nicolette Juliana Rodriguez, MD, MPH, is on a mission to understand how to change the system for the better.
She garnered a PanCAN Catalyst Award this year for the REGENERATE study, which stands for Racial/ethnic Equity in GENetic Education, Risk Assessment and TEsting. It aims to assess perceptions of genetic education and testing among Black and Latino/a/x groups, with a goal to advance equitable access to genetics care.
Dr. Rodriguez has been conducting focus groups with Black and Latino/a/x individuals who have a personal connection to pancreatic cancer.
"Because Black and Latino/a/x patients are disproportionately affected in many ways, it's really important to hear their voices and [learn] what we can do to make sure that they're getting the genetic education that they need regarding pancreatic cancer screening and risk assessment," she said.
The cause is personal for Dr. Rodriguez, who is a gastroenterologist at Brigham and Women's Hospital and an early career investigator in the Division of Cancer Genetics and Prevention at Dana-Farber Cancer Institute.
"As a first-generation Latina, it really is a project that is near and dear to my heart," she said. "I have seen firsthand the difficulties that my own family has had interacting with the healthcare system. And I want to learn: How can I make it easier for Black and Latino/a/x patients who are at risk for pancreatic cancer to get cancer prevention care?"
Watch a short video interview with Dr. Rodriguez.

"I Want to Get Out into the Community"
As a PhD student in the Cellular and Molecular Medicine Program at Johns Hopkins University, Brandi Glover is part of the next generation of researchers focused on pancreatic cancer.
In her thesis, she's exploring how a particular mutation, called the KLF4 hotspot mutation, is related to the formation of a type of noninvasive tumor called intraductal papillary mucinous neoplasm (IPMN) that can often lead to pancreatic cancer.
She also hopes to become part of the solution when it comes to health disparities related to pancreatic cancer.
"My inspiration for being a part of the pancreatic cancer community stems from the understanding that the African American community is disproportionately impacted by pancreatic cancer," she said. "Although I do not have a direct family connection to pancreatic cancer, I do see its impact within the families I grew up around."
One key to her success as she builds her career: mentors. She's made connections through PanCAN and she's optimistic about creating a pipeline of bright and motivated young researchers – particularly those from minority backgrounds. As more scientists from different racial and ethnic backgrounds join the field, students will have the opportunity to "see themselves in the future of what their work could potentially be."
Ms. Glover wants to give back in this way and sees her relationship with PanCAN as one that'll last.
"I want to get out into the community and be able to advocate for patients," she said. "PanCAN is doing incredible work and I hope to still be a part of this amazing organization as I go through my career."
Watch a short video interview with Brandi Glover.

We need your help now to continue to accelerate progress and inspire hope.
Donate today
.