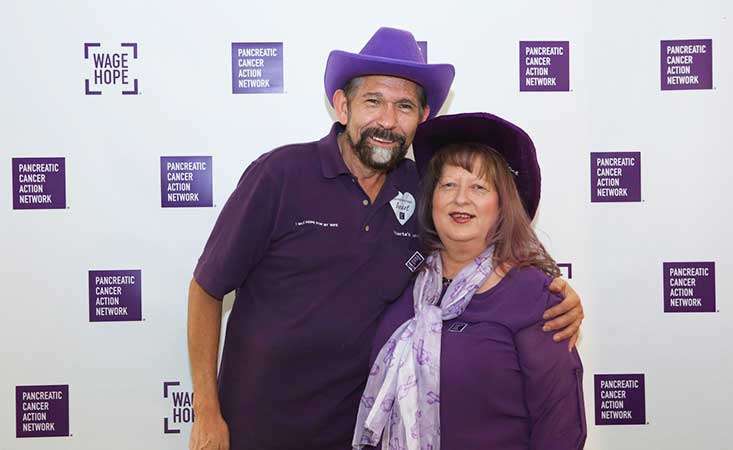 Editor's note: Pancreatic cancer survivor Roberta Luna contributed to a Huffington Post article about little things people can do to support cancer patients. Today, which marks her 17th year of survival, she's generously sharing more tips on this key topic, as well as some things caregivers can do to take care of themselves.
"I've been on both sides of the fence, as a caregiver and a survivor," said Roberta Luna of her extensive experience with pancreatic cancer. Luna, who was diagnosed in 2002, has lost four family members to the disease.
Raising funds and awareness for 15 years, Luna Demands Better for the family members she lost and for her "purple family," which includes anyone who's been affected by the disease. Today, she serves as the Orange County Affiliate Mission Chair for the Pancreatic Cancer Action Network (PanCAN), a Survivor and Caregiver Network volunteer and a Survivor Council volunteer.
Luna continued, "Through my experiences, I bring hope to those who have been diagnosed with pancreatic cancer, survivors, as well as their precious caretakers."
On April 1, the 17th anniversary of the day she was diagnosed, Luna shares some tips on ways people can support cancer patients and what caregivers can do to support themselves.
Things people can do to support cancer patients:
Send positive messages through text, email or cards. It's uplifting for patients to read encouraging notes when they're not feeling so optimistic.
Offer support. It can be hard for cancer patients to ask for help or accept it. Patients don't want to admit that they may need help, and they don't want to impose on others. If the patient declines and you're still available to help, let them know. They may change their minds.
Give comfort through gestures. Look patients in the eye, hold their hand or give them a hug. Hugs and handholding can be very comforting.
Connect them with organizations that may help. When I meet anyone affected by pancreatic cancer I recommend they reach out to PanCAN's PanCAN Patient Services. PanCAN Patient Services has valuable resources that are of great benefit to patients including clinical trial and specialist information.

PanCAN also provides resources in the form of their Survivor & Caregiver Network, which connects survivors and caregivers with others who are experiencing similar situations.

Do what you can to support the cause. Look for ways to show tangible support for the cause. My family participates every year in PanCAN's PurpleStride, the walk to end pancreatic cancer. Just by showing up, I know that my friends and family are there to support me and fight this disease with me.
Things caregivers can do to take care of themselves:
Don't feel guilty because you are healthy and your loved one is not. It's not your fault.
Take time for yourself. Take breaks, go for walks, exercise, do yoga, meditate, go to a movie or read. Stay healthy and get enough sleep. Being a caregiver is difficult, emotional and takes a toll on you. You must stay mentally and physically healthy to be a caregiver.
Talk to your support system. Find someone, besides your loved one facing cancer, you can talk to and share your feelings with. Don't keep everything bottled up.
Contact Patient Central
for more information about pancreatic cancer. Patient Central can also connect patients and their loved ones with others through our Survivor & Caregiver Network.