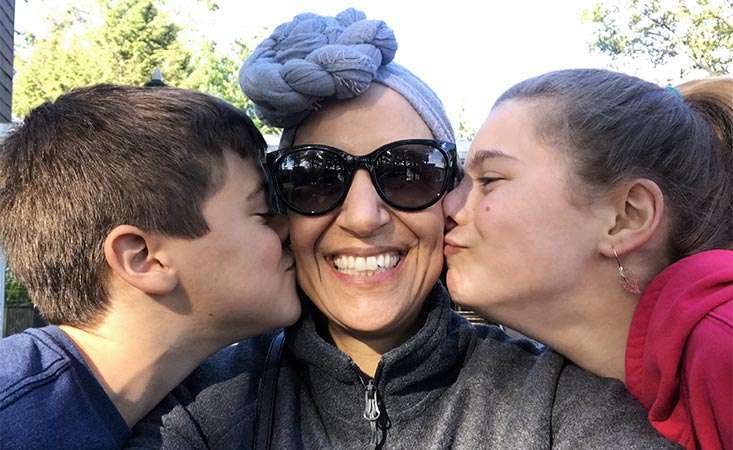 Editor's note: Today kicks off a series of stories celebrating – and remembering – beloved mothers in honor of Mother's Day. 
It's her son's 9th birthday today. Which edges out Mother's Day to some degree, admits Stephanie Shaps, MD. But she takes it in stride.
There's plenty more to celebrate – and not just today.
Shaps, her husband, son and 11-year-old daughter are all grateful for her health, because she is a one-and-a-half-year pancreatic cancer survivor. She was diagnosed at just 43 years old.
"I was healthy and active until this landed on my plate," Shaps said. "No trace of pancreatic cancer in my germline."
(Germline testing checks a person's DNA for genetic mutations, including those that may increase their lifetime risk of developing pancreatic cancer or other cancers.)
In November 2018, Shaps had intense heartburn that led to severe abdominal pain and vomiting.
Not only was she a busy mom, but she was also a busy pediatrician in Brooklyn, N.Y., at the time. She thought about her packed schedule of patients, and how she didn't have time to be sick.
But pancreatic cancer doesn't wait and it doesn't discriminate. A trip to the emergency room soon after was the start of a rollercoaster ride that is all-too-familiar for many patients and families.
Ups and Downs
A CT scan in the ER showed a mass on Shaps' pancreas. The next day, she took her scans to Memorial Sloan Kettering in Manhattan.
"I was lucky because I had connections and contacts in the medical community, and I was able to get in to see a surgeon right away."
The top of the rollercoaster, pre-surgery: Shaps was told the distal pancreatectomy would be a success because her tumor was benign.
"I went into surgery feeling very positive," she said.
But the bottom of the ride came quickly: the post-op pathology report revealed pancreatic cancer.
Then back to the top, when doctors first thought the cancer had not spread and that it was stage I. They scheduled her for six months of adjuvant (post-surgery) chemotherapy. But before starting treatment, an MRI revealed two small lesions on her liver.
Another down. Stage IV pancreatic cancer.
"I went from thinking I had a benign tumor to, 'Well, I'm blessed that it's stage I,' to, 'Oh no, it's stage IV – what do I do now?' The plan for six months of chemo got tossed up in the air as we tried to figure out the next option. It felt catastrophic."
As a doctor, Shaps is a proponent of getting second and third opinions with specialists, and that's what she did for herself.
She also found a clinical trial that seemed right for her.
The trial included a combination of chemotherapy and two immunotherapy treatments, which kept her tumors stable for nine months until the lesions began to grow substantially.
Next, Shaps consulted with an oncologist at Weill Cornell Medicine.
"We piggybacked local radiation treatments with FOLFIRINOX chemotherapy and have had very good success," Shaps said. "The liver lesions have regressed and there is no new metastatic disease. The side effects are tolerable.
"I'm in a good place."
Positive Connections
Shaps went online searching for hope shortly after diagnosis. And that's what she found through the Pancreatic Cancer Action Network (PanCAN).
"I was grappling for anything positive, and I clung to the PanCAN survivor stories. Then I saw a PanCAN PurpleStride walk coming to my area last spring, and I jumped at the opportunity to contribute by signing up and fundraising for it."
Through PanCAN, Shaps was also able to connect with fellow stage IV pancreatic cancer survivor Elise Tedeschi, who had written a letter to Alex Trebek that was published in the media. Tedeschi radiated positivity, Shaps said.
"I felt so empowered after speaking with her."
Later, Shaps went on to research and pursue several forms of alternative and complementary medicine – including Chinese medicine, energy healing, yoga and meditation practices – in addition to traditional treatment approaches.
"I read a lot of evidence-based research and have learned a lot," she said. "Sure, medical school prepped me to some degree, but I didn't know a lot about oncology. I really felt just like anybody else who gets a cancer diagnosis.
"It's scary, and even though I had seen people have chemo, until I went through it myself, there was no comparison."
Shaps touts the importance of surrounding yourself with a good team of supporters – important for patients and caregivers – who are positive and can feed you good energy.
And PanCAN reminds patients that finding a healthcare team that is available to readily answer questions, advocate for each diagnosis, and manage any side effects or symptoms throughout the journey is key.
"You also must believe you can heal," she said. "Belief is such a huge part. There are many ups and downs … good news and bad news … bright days and dark days.
"But I'm feeling very positive now. It's important for people to know that just because it's stage IV doesn't mean it's a death sentence. I'm living my life and feeling good."
Today, on Mother's Day, Shaps plans to enjoy time with her husband and kids and maybe even Zoom with extended family and friends.
"I feel so lucky to be surrounded by so much love."
Contact PanCAN's Patient Services
for information about the diagnosis, treatment and management of pancreatic cancer and connecting with other survivors and caregivers for support.
Any treatments, including clinical trials, mentioned in this story may not be appropriate or available for all patients. Doctors take many things into account when prescribing treatments including the stage and type of cancer and the overall health of the patient.