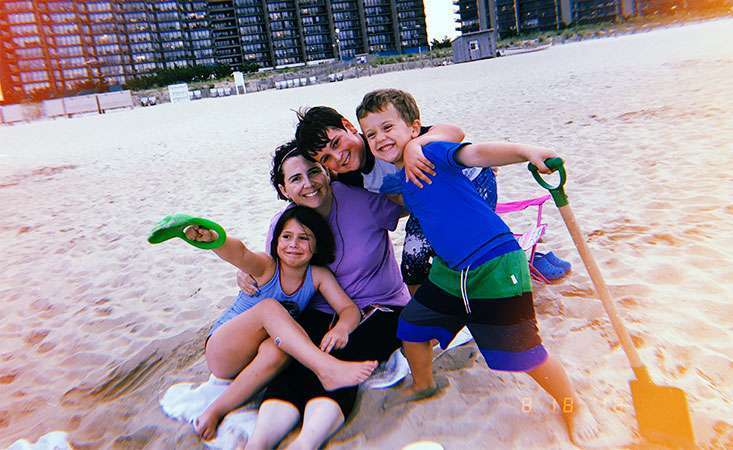 When Allison Perlis of Potomac, Md., first began experiencing symptoms of pancreatic cancer in early 2017, she dismissed them as signs of being a tired, busy mom of three young kids.
Her youngest was only 3 at the time, and she remembers bending down to bathe him and feeling a sharp pain in her back.
Perlis' symptoms accumulated and intensified – her back pain became more constant, she was feeling itchy and noticed that her urine was dark in color. But it was when a friend at her son's preschool observed that her eyes were looking yellow that Perlis went to the doctor for some bloodwork.
"I remember being told that my bilirubin was high, causing the jaundice," Perlis said. "The most logical explanation was gallstones, but none were visible on an ultrasound."
Instead, additional imaging revealed a mass on her pancreas.
Perlis, 36 at the time, instantly worried about upsetting her children. "I wanted a better sense of what we were up against," she recalled.
The alarming pancreatic cancer diagnosis – pancreatic adenocarcinoma, the most common type – was followed by more encouraging news: Perlis' tumor was initially deemed surgically removable.
Perlis started a chemotherapy regimen for a few months prior to her planned surgery. Upon receiving a follow-up CT scan, however, she and her family were surprised and disappointed by the results.
"Instead of seeing shrinkage of the tumor on my pancreas, the scan revealed new cancer growth on my liver," Perlis said.
"I was now a stage IV pancreatic cancer patient and no longer eligible for surgery."
Seeking a second opinion, Perlis started another type of chemotherapy – a combination treatment called FOLFIRINOX.
Perlis' new doctor recommended germline genetic testing – a test to determine whether she was born with any mutations that may have increased her likelihood of developing pancreatic cancer.
"My report came back showing that I have a BRCA2 mutation," Perlis said. "We were encouraged to learn that BRCA-mutant tumors often respond well to platinum-based chemotherapies, and one of the components of FOLFIRINOX contains platinum."
Indeed, Perlis' tumors shrank markedly after about four months of FOLFIRINOX treatments. She and her family then learned of another type of treatment, a targeted therapy called a PARP inhibitor, that has also shown promise in patients whose tumors had a BRCA mutation.
"The PARP inhibitor made my liver tumors essentially disappear," Perlis recalled. "We returned to my surgeon and asked whether surgery was back on the table as an option."
She continued, "My surgeon admitted it was an unorthodox approach, but he agreed, and I ended up having a successful Whipple procedure in April 2018."
Just two short months later, she and her family and friends participated in PurpleStride Washington, D.C., the walk to end pancreatic cancer. "Our team raised more than $12,000 to support PanCAN [the Pancreatic Cancer Action Network]," Perlis said, "and I was so grateful for the outpouring of love and generosity."
Throughout this entire experience, Perlis and her husband Aaron emphasize the importance of their community. "We have been supported greatly by family, friends, work, our synagogue and PanCAN," Aaron noted.
Both Aaron and one of Perlis' best friends reached out to PanCAN's PanCAN Patient Services following Perlis' diagnosis to gather information and make sure they were on the right track with decision-making.
When asked what advice she'd provide someone newly diagnosed with pancreatic cancer, Perlis emphasized: "Stay positive – it's contagious. There's so much hope, so many new studies happening all the time."
Contact Patient Services
for information and resources about the diagnosis and treatment of pancreatic cancer. To learn more about PurpleStride, the walk to end pancreatic cancer, and to find an event in your area, visit
purplestride.org
.
Any treatments, including clinical trials, mentioned in this story may not be appropriate or available for all patients. Doctors take many things into account when prescribing treatments including the stage and type of cancer and the overall health of the patient. Contact PanCAN Patient Services for personalized treatment options.