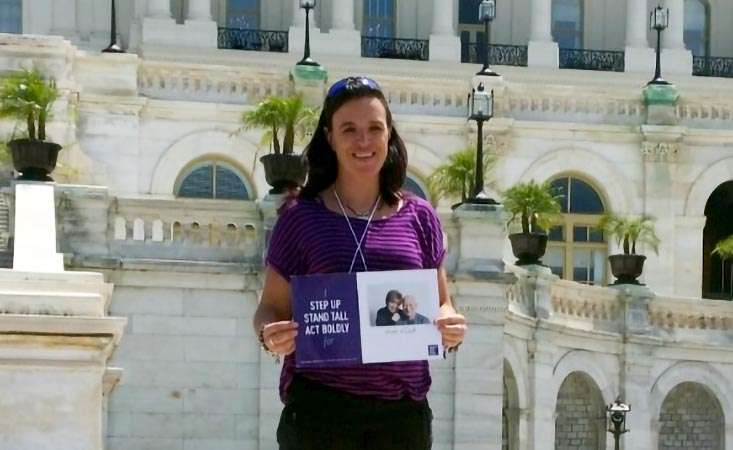 Editor's note: April 19-25 is Volunteer Appreciation Week, and we're celebrating, recognizing and thanking Pancreatic Cancer Action Network (PanCAN) volunteers by shining the spotlight on a few of the hundreds of volunteer leaders who embody passion, commitment and true grit in the fight against pancreatic cancer. Check back each day for a new story!
Over 10 years ago, Dawn Johnstone's life began to change in powerful ways that would transform how she contributes to the world and who she is today.
When her father, Bill, was diagnosed with pancreatic cancer in 2007, he displayed symptoms such as jaundice, weight loss and digestion issues.
"My dad showed some signs of the disease in advance, so we had an avenue to explore why those things were happening," Johnstone noted. After many treatments, Bill passed away 15 months later.
In 2011, Johnstone's mother, Mary Fran, went to the ER after a fall. While being examined, the medical team ran a number of tests, which revealed that her mom had pancreatic cancer. Two weeks later, Mary Fran died.
"My mom went into the hospital for something completely different. The pancreatic cancer diagnosis was totally unexpected and undetected."
From 2007-2011, Johnstone and her brother, Brett, served as the primary caregivers for their parents. "Brett and I saw both ends of the diagnosis spectrum before our parents passed away. And both ends hurt just as much."
That website changed my life
Two months after her dad passed away in May 2008, Johnstone read an article about the famous "Last Lecture" speech by Randy Pausch, renowned computer science professor and pancreatic cancer advocate and PanCAN supporter.
At the end of the article, she saw, 'For more information, visit pancan.org.' She had never been told about PanCAN or heard of the organization and its resources.
After she went to the website, she found out how to connect with her local volunteer affiliate in Chicago – a network of volunteers committed to raising awareness and funds for the cause in their community. Her mother, brother and Johnstone attended the affiliate's first fundraising event as well as the PurpleStride 2009 walk and met several other families.
Join us
for a virtual event Thursday, April 23 at 7 p.m. ET/4 p.m. PT, where we'll share how volunteer efforts are making a big difference for patients!
"The first event we went to as a family was a big start for me," Johnstone remembered. "Connecting with those other families helped me navigate through my own grief journey. Then I just wanted to help others in the same way."
Johnstone began volunteering for the affiliate and raising funds and awareness for PanCAN. She asserted, "My focus was simple, how do I get involved.
"After my parents died, volunteering challenged my grief. It challenged me to step outside of my box. And when I did, I not only found out how to help others but also myself."
Ultimately, Johnstone discovered the way to move forward with her life.
Fulfilling my purpose
Although her professional background was in banking and insurance, Johnstone explained, "Helping out the pancreatic cancer community came straight from my heart, so volunteering for PanCAN began to feel like my life's purpose."
She places her attention on the positives of volunteering and serving as a voice for those who are no longer with us.
One of the aspects of the cause that continues to drive Johnstone remains the fact that so many people are still unaware of or know little about the disease. "It all comes down to raising more awareness, because people need to know how devastating this disease can be, if there isn't early intervention."
Johnstone knows firsthand how the world's toughest cancer is not an easy fight to be in. "Over the past decade of volunteering, I've definitely learned how to take on challenges."
Taking on the power of advocating
Since 2015, Johnstone has brought the same photo of her parents to PanCAN's Advocacy Day in Washington, D.C. And every year, her grief still hits her in a different way.
"But the staff members of legislative offices remember that photo and my story, which keeps PanCAN and the pancreatic cancer cause in their minds."
The overwhelming demands of getting things done in Congress became the challenge Johnstone felt ready for by 2019. She took on the role of Advocacy Chair for the Chicago Affiliate.
At Advocacy Day 2019, PanCAN president and CEO Julie Fleshman honored Johnstone's parents and introduced her as a new Advocacy Chair and recognized the outstanding efforts of the Chicago Affiliate.
Johnstone spearheaded the effort with fellow advocates statewide to secure the support of the Illinois delegation to create a dedicated Pancreatic Cancer Research Program in the Department of Defense, funded at $6 million in its first year. In December 2019, the program got the green light from Congress.
"Advocacy cannot stop. Sending action alert emails, personally writing Congress members, sharing our stories to get funding legislation passed. It's demanding, but it's worth it!"
How personal connections change you
When Johnstone attended her first Advocacy Day in 2015, she didn't know who else was going from Illinois. As she was waiting in Midway Airport to board her flight, she started a conversation with a fellow passenger.
He commented on her purple PanCAN t-shirt. The gentleman was Mike Linse, who has volunteered at over 40 PanCAN PurpleStride events across the country. They couldn't stop talking the whole flight.
Those types of connections have been happening in heartwarming ways for Johnstone over the years with survivors, volunteers and advocates. But some alliances stand out, such as when she started connecting with others who had lost both parents to the disease.
"Other than genetic trends, it doesn't fit anything else you read. Parents have separate blood lines. Yet this disease has struck the parents of too many sons and daughters."
Johnstone focuses on reaching out to these people in need and showing up for them. "Many people cannot understand how to deal with this diagnosis in their family, especially if they've lost their parents. If I can say or do one thing that helps them, then that's all that matters."
When the pieces of the puzzle come together
Johnstone is clear about her personal goals as a volunteer:
Continue to help people know about pancan.org. "You could be going to a doctor's office for treatments for months and not hear about the resources, information and services of PanCAN that are right at your fingertips online."
Keep PanCAN at the forefront in Congress. "We have worked hard for so many years to get major legislation passed, and we simply cannot stop fighting for federal research funding."
Connect people with PanCAN through the local affiliate. "We're a support system on the local level. Just texting someone that you're thinking of them, and they're not alone, can mean so much."
For Johnstone, it's the influential people and positive stories of PanCAN and the pancreatic cancer community that motivate her to set an example as a volunteer.
She added, "All of us help each other learn how to adapt to this disease and move forward. It takes well beyond a village to get as far as we have."
Johnstone emphasizes that when it comes to volunteering, it's all about timing. And it's okay to not be ready yet.
"Even though I'd been volunteering for some time, I didn't go to Advocacy Day for years because I was still compartmentalizing my loss and grief."
She suggests beginning by just getting involved in a conversation with a volunteer locally for support until you feel like stepping up more.
"After I started volunteering, the pieces of my puzzle began to come together over something that's changed everything for the rest of my life."