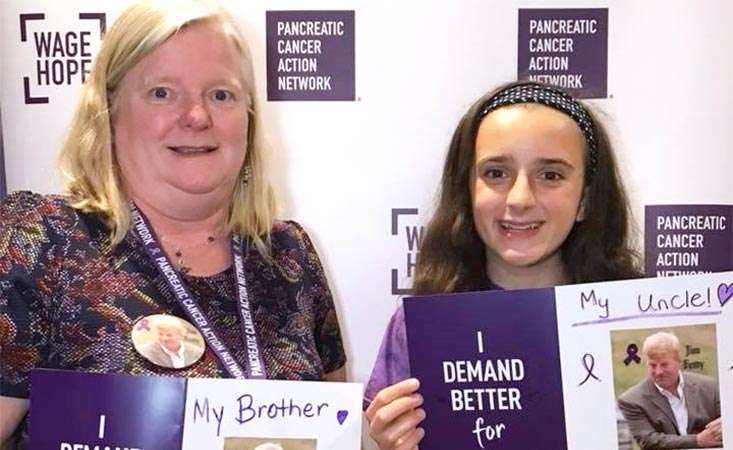 Editor's note: Mom and daughter volunteer powerhouse duo Annette Fetty-Santilli and Stephanie, 15, each received awards recently in their state of West Virginia for their incredible service to the Pancreatic Cancer Action Network (PanCAN).
Yesterday we shared part one of their story, and today we share the conclusion.
PanCAN: Looking back at your PanCAN volunteer experiences, can you each share a special moment that meant a lot to you?
Annette: When the Recalcitrant Cancer Research Act passed through the U.S. House of Representatives. Stephanie and I watched the vote on C-SPAN. We were jumping up and down, yelling and crying.
Another moment was when I received the Community Advocate of the Year Award in 2015 from PanCAN. And then yet another was when our congressman, Rep. David McKinley, read a letter on the floor of the U.S. House that Stephanie had delivered to him at PanCAN's Pancreatic Cancer Advocacy Day in 2014.
And how could I forget when, in May 2018, Stephanie and I got to host [PanCAN President and CEO] Julie Fleshman in West Virginia, because of the number of community groups we engaged in the November awareness campaign. We were so glad to show Julie West Virginia and introduce her to our contacts.
One last memory (there are so many!) – I got to participate in the West Virginia University homecoming parade as part of the Community Service Award this year. The parade was on Oct. 4, the anniversary of my brother's death – and the exact time the parade was going on was when he passed away 12 years earlier.
Talk about goosebumps.
Stephanie: I've really enjoyed going to PanCAN's Advocacy Day each year. My mom and I have seen Sen. Bernie Sanders twice, and this year, we saw Bill Gates. I really like it that the W.V. representatives are so gracious to us, and they really listen to us – even to me!
My mom and I met TJ Lucas [legislative aide] in Sen. Joe Manchin's office his first week on the job several years ago. He keeps a picture of my Uncle Jim on his desk from that first visit.
In 2018, TJ arranged for us to go see Sen. Manchin, who was on the floor of the U.S. Senate. He came out to talk with us. We got to go out on the secret balcony outside the senate floor and into the President's Room, which is not shown on the U.S. Capitol tour!
PanCAN: What do you think or hope your service might mean to pancreatic cancer patients and their families?
Annette: I wasn't able to save my brother [who had pancreatic cancer], but I can help others. I always refer people to PanCAN's PanCAN Patient Services, because I want people to have access to as many resources as possible.
Stephanie: I like knowing that I am raising awareness for this deadly disease. That, combined with raising funds and advocacy, will help find an effective treatment and a cure. I would love for a cure to be found in my lifetime.
PanCAN: What's been the most rewarding part of your service?
Annette: Two things. First, knowing I'm making a difference in the fight against pancreatic cancer, and second, the personal relationships I've formed with survivors, family members, other volunteers and my members of Congress.
I'm so sorry that pancreatic cancer brought us together, but I'm grateful I've met all these wonderful people.
Stephanie: Getting to know fellow volunteers from other states. I've learned so much about how even young people can make a difference. I've also tried to think outside the box and look for different ways of raising awareness. I did a Social Studies project on advocacy and won first place in the state!
The judges at the county fair told me that they had heard of my work. The judges at the regional fair cried after my presentation and gave me a hug and asked my name, even though they weren't supposed to. I scored 100 at both of those fairs. At the state fair, both judges had lost friends to pancreatic cancer.
PanCAN: What do you want people to know about pancreatic cancer or about volunteering to make a difference in the community?
Annette: That advocating and raising awareness impacts many people across the nation. It's been said if you can make a difference in the lives of people you have never met, then you have done something great. I feel that I am doing that.
Stephanie: I want people to recognize symptoms of the disease, so they can get treatment before the cancer has spread. I want them to have a better chance than my uncle did at living a great life. I always encourage my friends to step up and volunteer for a cause. I have inspired some friends to begin volunteering, and that is especially gratifying.
In the words of [Dr. Seuss'] the Lorax, "Unless someone like me cares a whole awful lot, it's not going to get better, it's not!"
Join Annette and Stephanie and
volunteer
with PanCAN in your community!