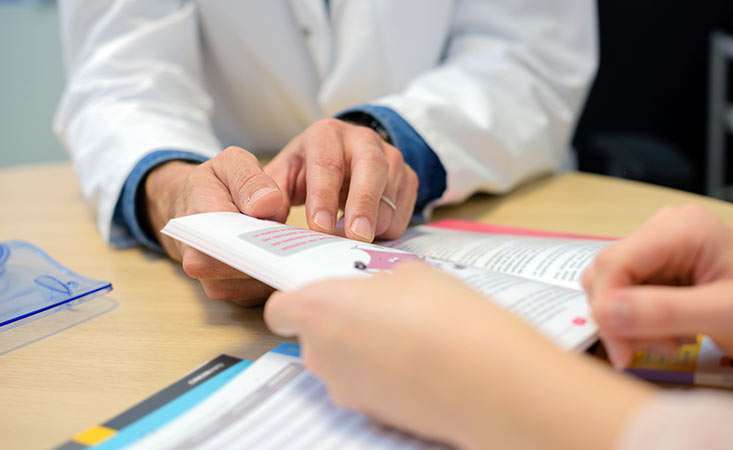 Editor's note: October is Health Literacy Month, bringing attention to the importance of making health information and the health system easy to understand. Learn why we're committed to doing this in pancreatic cancer.
Insurance, medical terms, specialists – healthcare can be daunting.
A pancreatic cancer diagnosis often adds fear, uncertainty and many new things to learn about the disease and what follows.
The Pancreatic Cancer Action Network (PanCAN) is here to help.
Our Patient Services team can help patients and their loved ones understand the vocabulary, the options and the support available. And you will work with the same Patient Services team member each time you reach out to us.
The service is always free and is available in English and Spanish.
Understand your health information and what is available to you.
Pancreatic cancer causes only vague symptoms, and there's no standard test to see if you have it.
So, it's important for people to know what puts them at risk, to know the symptoms of the disease and to speak up and talk to a doctor if you're worried about a change in your body.
You know your body best. If you're concerned about something related to your health, talk to your healthcare team.
You should also understand how the healthcare system and your insurance work – including resources available to you.
Patient navigators may be a valuable resource and are available at many hospitals and cancer centers across the country. These healthcare professionals can provide one-on-one guidance for patients as they face medical, legal or financial challenges, including helping you understand treatment options. Ask your healthcare team for patient navigators available to you.
For those diagnosed with pancreatic cancer, it's also important to know your options.
And know that PanCAN is here for you every step of the way. From free, easy-to-understand educational materials to personalized information about clinical trials, specialists and testing, we can help.