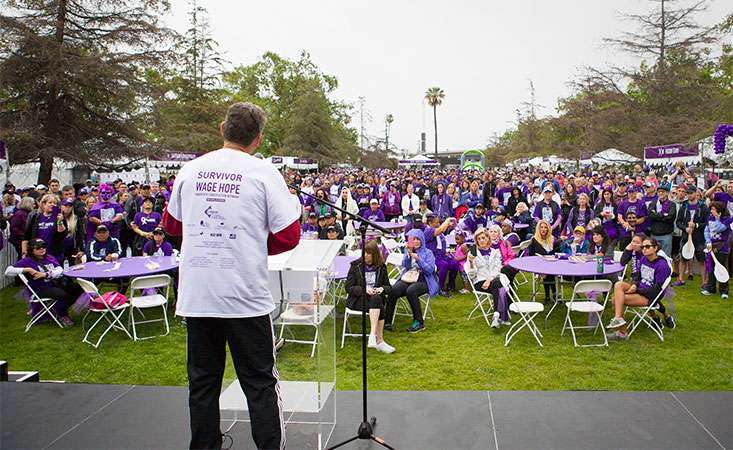 Pancreatic cancer is anticipated to become the second leading cause of cancer-related death in the U.S. around 2020. More awareness of this disease must be gained to increase knowledge, action and survival.
Here are seven facts everyone should know about pancreatic cancer, compiled by the Pancreatic Cancer Action Network (PanCAN).
1. More than 56,700 Americans will be diagnosed with pancreatic cancer this year.1
That is more than 155 mothers, daughters, fathers, sons, husbands, wives, sisters, brothers, colleagues or friends diagnosed every day.
2. It's hard to diagnose pancreatic cancer in its earlier, more treatable stages.
There is currently no standard diagnostic tool or established early detection method for pancreatic cancer.
If the cancer is diagnosed early, patients may be eligible for surgery, which offers the best chance for long-term control of the disease. But often the cancer is found too late when surgery is no longer an option.
3. Pancreatic cancer symptoms are so subtle, people may ignore them.
The symptoms for this disease can be vague and nonspecific. These include pain (usually in the abdomen or back), weight loss, jaundice (yellowing of the skin and/or eyes) with or without itching, loss of appetite, nausea, changes in stool, pancreatitis and recent-onset diabetes.
Anyone experiencing one or more of these symptoms should speak to their doctor immediately and reference pancreatic cancer.
4. There are different types of pancreatic cancer.
Pancreatic tumors are either exocrine or neuroendocrine (endocrine) tumors. This is based on the type of cell they start in. Knowing the type of tumor is important, because each type acts differently and responds to different treatments.
About 93 percent of pancreatic cancers are exocrine tumors. The most common type of pancreatic cancer is called adenocarcinoma.
About 7 percent of pancreatic tumors are neuroendocrine tumors (pancreatic NETs or PNETs), also called islet cell tumors. They often grow slower than exocrine tumors.
5. Each pancreatic cancer tumor is different, which may affect treatment options.
Some pancreatic cancer tumors have unique characteristics, like genetic alterations, that make them especially susceptible to certain treatments. These biological features can be identified through a scientific test called molecular profiling.
Knowing about a tumor's unique characteristics can help patients and their healthcare team select the treatment options — including clinical trials — best suited to the patient.
6. Pancreatic cancer is only considered hereditary in a small number of cases.
About 10 percent of pancreatic cancer cases are hereditary or familial.
If you have two or more first-degree relatives who have had pancreatic cancer, a first-degree relative who developed pancreatic cancer before the age of 50, or an inherited genetic syndrome associated with pancreatic cancer, you may have an increased risk of developing pancreatic cancer. PanCAN strongly recommends consulting with a genetic counselor to determine your risk and eligibility for a screening program.
7. Clinical trials are crucial.
Clinical trials are research studies that investigate new treatments or new combinations of treatments. Pancreatic cancer clinical trials are necessary to determine whether new treatments developed in the laboratory are beneficial to people living with pancreatic cancer.
Pancreatic cancer patients who participate in clinical research have better outcomes. Every treatment available today was approved through a clinical trial. PanCAN strongly recommends clinical trials at diagnosis and during every treatment decision.
1. American Cancer Society. Cancer Facts & Figures 2019. Atlanta: American Cancer Society; 2019.